Please tell us your name, what type of cancer you had, and when you were diagnosed:
Hi, my name is Audree Lee and I was diagnosed with breast cancer in 1980, 6 months after my mother died of cancer.
My father died 2-1/2 years before her.
They both chose Chemo and Radiation.
I was given those options, but I decided to take my health in my own hands and started by changing my diet. I had 3 months before my surgery and on the day of my surgery, as I was being checked in, I realized there was no longer a lump in my breast. I was told I had no choice in having surgery, so I did, and they found no mass or lump. Praise God! Today I still eat this new lifestyle and have been free of cancer for over 32 years.
Describe your experience with conventional doctors and treatments:
Going to the traditional doctors made me see, especially after watching my father and mother die to their hands, that their only concern was which treatment I would take from them. They were not interested in working with me if I was taking my health in my own hands, but I'm glad I did. I feel better in my 50s than I did in my 20s.
What alternative therapies did you do and which ones helped you the most?
I first just started by changing my food. It seemed to be what I did the most and there are other therapies that I added, like using a filter on my water, doing a sea salt bath, drinking herbal teas and taking supplements. I do green food therapies and learned how to relax to keep myself free from stress.
My diet consists of live foods, 80% raw, 20% cooked, juicing with nuts and seeds. I still eat the same diet today with more live foods as I found it works better for my body and I feel better when I do. I do drink herbal teas, mostly ginger because it keeps my stomach and body calm, green tea, and calming teas.
Today I eat more herbs, and live food as I have found now that I am older, I don't require very much cooked foods. It is because of the cold weather that I enjoy it from time to time. I feel better in my 50s than I did in my 20s. Life is a blessing and I enjoy sharing with others who need help.
What books, products, and supplements do you recommend?
Supplements:
Selenium, Vitamin C, Iodine, potassium, Vitamin D, vitamin A, zinc, Omega 3-6-9 Oil, Chlorophyll and Spirulina. Sometimes CoQ10
Here are some websites I recommend:
www.hacres.com
www.thecancerproject.org
www.drjudyseeger.com
www.chiphealth.com
www.meetministry.org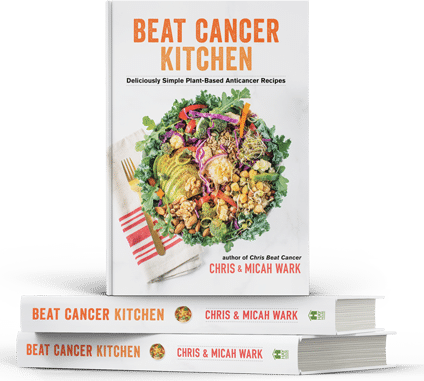 Beat Cancer Kitchen: My New Recipe Book,
Deliciously Simple Plant-Based Anti-Cancer Recipes
Get it on Amazon here
Beat Cancer Daily
365 Days of Inspiration, Encouragement, and Action Steps to Survive and Thrive
Get it on Amazon here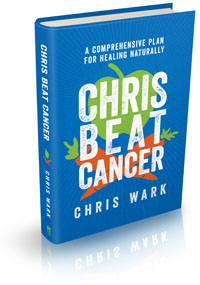 Chris Beat Cancer: A Comprehensive Plan for Healing Naturally,
published by Hay House, is a National Bestseller as ranked by USA Today, The Wall Street Journal, and Publishers Weekly!
Get it on Amazon here
, or anywhere books are sold.
I've interviewed over 60 people who've healed all types and stages of cancer. Check them out
here
. Or use the search bar to find survivors of specific cancer types.
I also created a coaching program for cancer patients, caregivers and anyone who is serious about prevention called SQUARE ONE. It contains the step-by-step strategies used by myself and everyone I know who has healed cancer with nutrition and natural, non-toxic therapies.
Watch SQUARE ONE Module 1 for free here
(((c)))
Chris Beat Cancer is reader-supported. If you purchase a product through a link on this site I may receive compensation from the affiliate partner (like Amazon). Your support helps fund this blog and my mission so my team and I can continue to do the work that we do. Thank you!