Today I have an interview with my friend and 15-year holistic terminal cancer survivor Jane McLelland, author of How to Starve Cancer.

Jane was diagnosed with cervical cancer in 1994 and did conventional treatment. In 1999 her cancer progressed to stage IV and she started incorporating complementary and alternative treatments alongside chemotherapy. In 2004 she started developing leukemia as a result of the chemotherapy and/or radiotherapy treatments she received.
Facing terminal cancer with little time left to live, Jane poured through research on old drugs with anti-cancer effects and put together a cocktail of off-label drugs and nutraceutical supplements in an attempt to block the pathways that cancer stem cells use for fuel. This metabolic approach effectively "starved" her cancer of its fuel (glucose, glutamine, and fat) and she healed herself.
Jane is absolutely brilliant and understands cancer cell biology and off-label drugs better than most oncologists. I know you will learn a lot from this interview. You may even find the breakthrough you're looking for… Enjoy!
Watch our interview below, or listen to it on the Chris Beat Cancer podcast on iTunes or Spotify.
Show Notes
-"I have strong beliefs held loosely" [00:01]
-Jane's cancer story [04:48]
-How chemo makes cancer stem cells more aggressive [10:48]
-The 'McLelland Metro Map' of cancer fuel lines [15:02]
-Leukemia caused by treatment [20:34]
-Discovering old drugs with anti-cancer effects [21:44]
-Dipyridamole [22:00]
-Berberine [24:00]
-Lovostatin [25:00]
-NSAID Etodolac [27:00]
-How cancer cells get supercharged [29:38]
-Jane's theory on why Tamoxifen causes secondary cancer [33:40]
-More on anti-cancer superstar Berberine [35:49]
-Ornish study: plant-based diet vs prostate cancer (38:40)
-Cancers that like fat [39:30]
-Jane's anti-cancer protocol [40:35]
-Tagamet (cimetidine) to boost immune function [43:20]
-Aspirin's anti-cancer effects [43:45]
-Mebendazole (pin worm drug) works like chemo drug vincristine [45:00]
-How to incorporate off-label drugs into your protocol [51:00]
-Why off-label drugs aren't being used [01:02:20]
-Chris and Jane talk about the healing journey [01:05:24]
The evidence against the ketogenic diet for cancer
A selection of articles on off-label cancer drug research:
Mebendazole as an anti-cancer agent
Mebendazole and brain cancer
Vitamin C and Doxycycline kills cancer stem cells
Doxycycline vs breast cancer stem cells
Metformin (diabetes) + Syrosingopine (hypertension) kills tumor cells
Anti-fungal drug itraconazole kills dormant colon cancer cells
Alcoholism drug disulfiram (Antabuse) lowers cancer death rate 34%
Over-the-counter cold and flu drug NAC stops cancer cell growth
Tapeworm drug NTZ fights prostate cancer
Tapeworm drug niclosamide targets p-53 deficient cancers
Anti-viral Tagamet boosts immune function against herpes and shingles
Aspirin slashes risk of gastrointestinal cancer
Aspirin may prevent cancer from spreading
Deralin + Etopan reduces post-surgical breast cancer metastasis
Off-label drug resources:
Care Oncology Clinic
The COC Protocol for Breast Cancer
Center for Advanced Medicine – Jonathan Stegall, MD
ReDO Project Database of non-cancer drugs with anti-cancer activity
Connect with Jane McLelland:
How to Starve Cancer by Jane McLelland
www.howtostarvecancer.com
…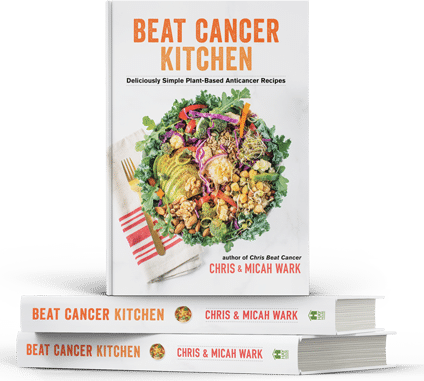 Beat Cancer Kitchen: My New Recipe Book,
Deliciously Simple Plant-Based Anti-Cancer Recipes
Get it on Amazon here
Beat Cancer Daily
365 Days of Inspiration, Encouragement, and Action Steps to Survive and Thrive
Get it on Amazon here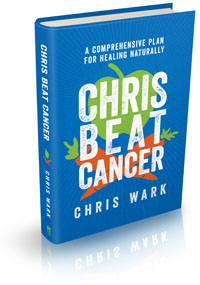 Chris Beat Cancer: A Comprehensive Plan for Healing Naturally,
published by Hay House, is a National Bestseller as ranked by USA Today, The Wall Street Journal, and Publishers Weekly!
Get it on Amazon here
, or anywhere books are sold.
I've interviewed over 60 people who've healed all types and stages of cancer. Check them out
here
. Or use the search bar to find survivors of specific cancer types.
I also created a coaching program for cancer patients, caregivers and anyone who is serious about prevention called SQUARE ONE. It contains the step-by-step strategies used by myself and everyone I know who has healed cancer with nutrition and natural, non-toxic therapies.
Watch SQUARE ONE Module 1 for free here
(((c)))
Chris Beat Cancer is reader-supported. If you purchase a product through a link on this site I may receive compensation from the affiliate partner (like Amazon). Your support helps fund this blog and my mission so my team and I can continue to do the work that we do. Thank you!