This is what we got when we yelled at Kenzie to stand still and smile for our Christmas photo.
(Yes we apologized)
Childrens photographers of the world I salute you!
Well it's that time of year again.  And I'm excited to unveil my second annual
Healthy Holidays Gift Guide for 2011.
If you're looking for some great gift ideas, here are seven phenomenal health products ranging from $15-$399.  Some of them are new discoveries and some are old favorites.
Add them to your wish list or give them to someone you love.
Note: Giving these products to someone you don't like may result in them living longer,
so keep that in mind.  ;)
________________________________________________________________
Showerwise Shower Filter
Is there anyone in the world that doesn't love to take long, hot, steamy showers?
No. There is not.
Which is why this is going to bum you out:
Taking long hot showers exposes you to more toxic chemicals than actually drinking 2 liters of the same water!
This is because toxins evaporate out of the water and are inhaled into your lungs, and they are also absorbed through your skin.
Chlorine alone has been linked to allergies, Chronic Fatigue Syndrome, heart disease, strokes, cancer, and even premature aging of your skin.
The Showerwise Shower Filter  removes 95% of chlorine as well as iron, lead, mercury, hydrogen sulfide, etc. It also inhibits bacterial, fungal and mildew growth. I never thought my shower steam had an "odor" until I installed our Showerwise filter.  I noticed right away that the chlorine odor (and who knows what else) was gone.  It comes with a massaging shower head and the Chlorgon KDF-55 filter typically last 12-18 months.
These are normally $89, but are now on sale for $69!
Buy the Showerwise filter here
________________________________________________________________
Spa Technologies – Marine Based Skin Care
Detoxify, regenerate, and rebalance your skin, naturally.
Despite all the label claims, there are very few truly natural, chemical-free, cosmetic skin care lines on the market today.  
Spa Technologies
($27-120) is my wife Micah's favorite brand, hands down.
All of their products are formulated with essential oils, botanicals, seaweed, and algae harvested off the coast of Brittany and Iceland.  If you didn't know, seaweed is nature's storehouse of minerals, trace elements, and natural antioxidants.
All products are phosphate and paraben free with no artificial fragrances, chemicals, or preservatives.
Micah especially loves the Hydrating Vitamin C &E Complex and I use the Organic Revitalizing Sea Cleanse to wash my face and shave with every day.
Buy Spa Technologies products here
_________________________________________________________________
Waterwise 8800 Distiller
Despite many recent trends in drinking water, we're still using our Waterwise 8800 Countertop Water Distiller ($399), because steam distillation removes more contaminants than any other method.  We add minerals back in with a pinch of sea salt.
We fill it up every night before bed and the next morning we have a gallon of pure, clean H20 ready to drink.  It's especially gratifying to look in the boiler and see all the crud it has removed from our drinking water like fluoride, chorine, lead, and bacteria.
If you have a large family, you should order an extra carafe.  That way you can always have one in the fridge and one filling up in the distiller.  The 8800 distills a gallon of water every 4 hours.  They also have a smaller model for $297.
________________________________________________________________
Lifefactory Glass Beverage Bottles
Obviously we're very particular about the water we drink in our house, and we like to take it with us wherever we go, but plastic water bottles make our water taste plasticky and metal bottles make it taste metallic.  Sooo….
Micah and I both use the Lifefactory Glass Bottle  ($15). This is a BPA-free, soda lime glass bottle with a silicone sleeve that's easy to grip and helps protect against breakage.  It comes in 16oz and 22oz sizes, lots of colors, and they even make kids cups and baby bottles!
Buy Lifefactory Glass Bottles here
________________________________________________________________
Teavana Glass Stovetop Tea Kettle
Since we're on the glass theme, you should know that metal tea kettles leach heavy metals and metallic taste into your tea when they're exposed to high heat.
If you're familiar with this blog you may know that I recommend the Joyce Chen Ceramic Tea Kettle.
The Teavana Glass Tea Kettle ($40) is my other favorite.  They both brew clean tea without leaching anything into the water

Note: It doesn't whistle, so you better keep an eye on it, or set a timer.
Buy the Teavana Glass Tea Kettle here
_____________________________________________________________
Wildcraft! An Herbal Adventure Game
Wildcrafting is the harvesting of wild plants.
Wildcraft! An Herbal Adventure Game ($37) is a cooperative board game that teaches you how to identify and use 25 important edible and medicinal plants, especially in first aid situations.
This could definitely come in handy if the world collapses in 2012. ;)
We ordered it and can't wait to play it with the kids after Christmas, if we can hold out until then!
For kids of all ages and it's made in the USA with green materials.
When you order directly from the company they throw in a bunch of cool free stuff like a herbal medicine chart, a herbal gift ideas book, two kids books, Herbal Roots Zine, and more!
_________________________________________________________________
The Beautiful Truth:
The World's Simplest Cure for Cancer
In The Beautiful Truth ($15) Steve Kroschel and his 15 year old son Garrett embark on a cross-country road trip to investigate The Gerson Therapy and the link between diet and a cure for cancer.
They meet with scientists, doctors and cancer survivors who reveal how it is in the best interest of the multi-billion dollar medical industry to dismiss the notion of alternative and natural cures.
This is a great documentary to have in your library.
I recommend sharing it with anyone you know who is diagnosed with cancer.
Buy The Beautiful Truth here
_________________________________________________________________
Be sure to check out my 2010 Holiday Gift Guide for more great ideas!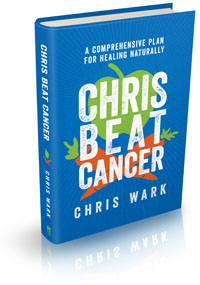 Chris Beat Cancer: A Comprehensive Plan for Healing Naturally,
published by Hay House, is a National Bestseller as ranked by USA Today, The Wall Street Journal, and Publishers Weekly!
Get it on Amazon here
, or anywhere books are sold.
I've interviewed over 60 people who've healed all types and stages of cancer. Check them out
here
. Or use the search bar to find survivors of specific cancer types.
I also created a coaching program for cancer patients, caregivers and anyone who is serious about prevention called SQUARE ONE. It contains the step-by-step strategies used by myself and everyone I know who has healed cancer with nutrition and natural, non-toxic therapies.
Watch SQUARE ONE Module 1 for free here
(((c)))
Chris Beat Cancer is reader-supported. If you purchase a product through a link on this site I may receive compensation from the affiliate partner (like Amazon). Your support helps fund this blog and my mission so my team and I can continue to do the work that we do. Thank you!