Welcome to my fourth annual Healthy Holidays Gift Guide!
If you're looking for some great (and healthy) gift ideas (of course you are), just scroll down baby.
As usual, there are some oldies-but-goodies and some newbies. Enjoy!
The Berkey Water Filter
#1 on the list this year is the incomparable
Berkey Water Filter
because it was recently rated
#1 for contaminant removal
by Natural News Water Filter Labs.
The Berkey removes bacteria, cysts, parasites, and toxic chemicals to levels higher than 99.99%, and the optional fluoride/arsenic filters reduce 95% of fluoride.
The Berkey is portable, requires no power or water pressure, and will even filter pond water. The two main filters will purify 6,000 gallons of water before needing replacement.
If you drink 10 gallons of water a week, the main filters will last over 11 years, costing only a few pennies per gallon.
Totally awesome to have in an emergency like Katrina, or Sandy, or zombies.
We even take ours on vacation with us.
The cutie in the picture is my sister, right after we put hers together.
I love my Berkey so much I made a video about it here.
p.s. They have a great shower filter too.
Get more info and price Berkey Water Filters here
(Use the coupon code "chris" for 5% off check out)
Radical Remission


In this New York Times bestseller, my friend Dr. Kelly Turner details her research on people who have healed cancer and reveals the nine common factors that can lead to a spontaneous remission from cancer—even after conventional medicine has failed.
This is a phenomenal book and a must-have in every cancer patients library.
Annmarie Gianni Skin Care

Annmarie Gianni Skin Care is made from organic, natural and wild-crafted ingredients.
No weird toxic junk or secret ingredients. They have several sample kits that made the list.
The $20 GetAway Travel Kit includes the Aloe Herb Facial Cleanser, Ayurvedic Scrub, Purifying Mud Mask, Dead Sea Facial Scrub, Neroli Toning Mist, Coconut Body Oil, Repair Serum and Herbal Facial Oil. Bonus! The GetAway kit includes a $10 off coupon to use on any full-size item purchase.
There are three different $10 sample kits to choose from, based on your skin type. Plus the sample kit also comes with the $10 off coupon for a full-size item purchase, which will essentially make your sample kit free!
Micah and I have both used many of Annmarie's products and they are wonderful. Our absolute favorite is the Aloe Herb Facial Cleanser.
Get the $10 Annmarie Gianni sample kit here
Get the $20 GetAway Travel Kit here
The Tower Garden
In the spring of 2013, I bought an aeroponic vertical garden called the Tower Garden.
I grew a bunch of veggies and herbs, and it was super fun.
In the spring of 2014, I took a selfie with my Tower Garden every day for two months and made this 60 second time lapse video. If you haven't seen it, prepare for mind-blownage.
Also try not to be distracted by my fabulous wardrobe changes.
The Tower Garden is super eco-friendly, using only 10% of the water and land space as a regular garden.
It will grow food anywhere there is sunlight and permissible temperatures, and is especially great for folks who don't have a yard to plant in. You can put it on your porch, deck, patio or in a sunroom. You can also grow indoors with grow lights.
It's fed with liquid nutrients which are a blend of earth and sea minerals formulated for aeroponic growing
The Tower Garden comes with everything you need to get started including seeds, Tower Tonic, pH kit, a manual and an instructional dvd.
I made a more detailed video about the Tower Garden that you can watch here
Or you can go directly to the Tower Garden website here
Dollar Shave Club
If there's one thing I always forget to buy, it's razor blades. So invariably every few months I find myself with nicks and razor burn, shaving with a dull blade for several weeks until I finally make a special trip to go buy new blades. That was until Dollar Shave Club came into my life…
Now Micah and I both use the "4X" and we get 4 replacement blades automatically shipped to our house every month for only $6. Shave time. Shave money.
Find out more here.
Le Creuset Cast Iron Cookware
Le Creuset is the best of the best when it comes to cast iron cookware. And this 20-piece set is currently 41% off on amazon! Not sure for how long though… It comes in a variety of beautiful colors (shown in cherry red) and has a lifetime warranty.
Here's the link
Nothing says "I love you" like a subscription to Carbonite online backup service. LOL!
But seriously, if someone you care about isn't backing up their computer online they risk losing all of their files, photos, and videos if their hard drive fails, or if their computer is lost or destroyed.
I used to get tiny periodic panic attacks about this before I signed up for Carbonite. Now I don't.
Backing up my computer with Carbonite costs me $60 per year ($5 per month), and they give you a $20 gift card for signing up, which you can spend on sites like amazon. Cool deal.
Carbonite. For the person who has everything… on their computer.
Learn more here.
Jim Gaffigan Mr Universe DVD
The most popular item on last year's list is back!
It's the hilarious and super clean comedy of Jim Gaffigan.
Laughter is good medicine, but I should warn you…
This could be deadly if you try to watch it while eating.
Definitely do not watch this while eating.
Buy one for yourself and ten copies for gifts.
You're welcome.
Buy the Jim Gaffigan: Mr. Universe DVD here
L'Equip XL Juicer
Faithful readers of this blog know I have a Champion Juicer ($300), but I think the best inexpensive juicer is the L'Equip XL Juicer ($119).
It has a has a 3″ feeding tube, stainless steel bowl, blade and basket, and it's fast, easy to use, easy to clean up, takes up very little counter space, and comes with a 6 year warranty.
Get the L'Equip XL Juicer here


I bought a Mountain Air Organic Mattress in April 2014 (Surprise honey!) and it's dreamy.
This is the most expensive item on the list, but worth every penny. Since you spend a third of your life sleeping, a high-quality, organic, chemical-free mattress is one of the best investments you can make.
Watch my interview with owner Joyce Robertson here
Mention chris beat cancer or use the discount code CBC15 and you will get a 15% discount on your entire purchase! Plus free standard shipping.
www.MountainAirOrganicBeds.com
The Vitamix Blender
And again this year I shall close with one of the special ladies in my life: The Vitamix.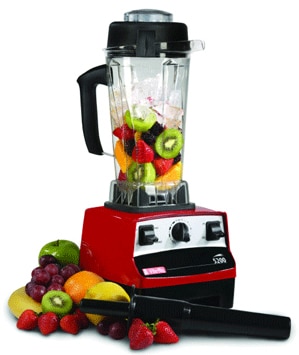 Built in the USA with at least 70% American components, and comes with a 7-year warranty, a 30-day free trial and free shipping.
Also includes 400 recipes for smoothies, blended veggie juice, nut butters, soups, salsa, guacamole, healthy ice cream, even how to churn fresh butter and mill whole grains.
And it comes in red, white, black and stainless. We have a red one which often travels with us.
Vitamix also sells reconditioned models with a 5-year warranty at a substantial discount.
And that concludes this years gift guide, hope it gave you some good ideas!
Be sure to check out my previous gift guides for more of my faves from years past.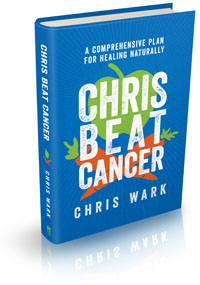 Chris Beat Cancer: A Comprehensive Plan for Healing Naturally,
published by Hay House, is a National Bestseller as ranked by USA Today, The Wall Street Journal, and Publishers Weekly!
Get it on Amazon here
, or anywhere books are sold.
I've interviewed over 60 people who've healed all types and stages of cancer. Check them out
here
. Or use the search bar to find survivors of specific cancer types.
I also created a coaching program for cancer patients, caregivers and anyone who is serious about prevention called SQUARE ONE. It contains the step-by-step strategies used by myself and everyone I know who has healed cancer with nutrition and natural, non-toxic therapies.
Watch SQUARE ONE Module 1 for free here
(((c)))
Chris Beat Cancer is reader-supported. If you purchase a product through a link on this site I may receive compensation from the affiliate partner (like Amazon). Your support helps fund this blog and my mission so my team and I can continue to do the work that we do. Thank you!