My Healthy Holidays Gift Guide is back! And this time… it's personal. ;)
Last year I did a huge giveaway for my 12-year cancerversary, which was a lot of work, and might return in 2017… In the meantime, if you're looking for some great last minute healthy gift ideas, just scroll down darlin'.
As usual, it's a mix of classic favorites and new discoveries. Enjoy!
The Berkey Water Filter
Number #1 on my list is always the
Berkey Water Filter
. Always.
The Berkey removes bacteria, cysts, parasites, and toxic chemicals to levels higher than 99.99%, and the optional fluoride/arsenic filters reduce 95% of fluoride.
The Berkey is portable, requires no power or water pressure, and will purify 6,000 gallons of water before needing replacement. If you drink 10 gallons of water a week, the main filters will last about 11 years, costing only a few pennies per gallon. We often take ours on vacation with us, and it's awesome to have in case of an emergency like Katrina, or Sandy, or a Walking Dead type scenario.
The Berkey was rated #1 for contaminant removal by Natural News Water Filter Labs.
I've been enthusiastically endorsing the Berkey for years and I get thank-you messages constantly from readers who've bought one and love it.
I made a video about the Berkey here. And I use a Berkey shower filter as well.
Get more info and price Berkey Water Filters here
(Psst… Use the coupon code "chrisbeatcancer" for 5% off check out)
A Glass Tea Kettle

Metal tea kettles leach metals like nickel and chromium into your water. Yes this includes stainless steel (research here). So I highly recommend you switch to a glass tea kettle instead. We use the Adagio Glass Tea Kettle to boil water for tea, oatmeal, etc. Works on any cooktop surface.
Get it on Amazon

Enameled Cast Iron Cookware
Stainless steel cookware also leaches metal into your food, which is why I bought enameled cast iron cookware many years ago. The brand we use no longer exists, but there are lots of similar brands on amazon. Le Creuset (shown above) is the best of the best, made in France since 1925, but brands like Lodge and Le Chef have high ratings on amazon too.
Compare cast iron cookware sets on amazon
A Foam Roller

I've become obsessed with rollers in the last couple years. I currently own four, and I might need an intervention… But seriously, foam rolling could change your life. I roll on one multiple times a day to keep my spine flexible, and to work on tight or sore muscles in my back, butt and legs. If you don't have one, you can't go wrong with a basic high-density foam roller (the smooth one).
The spikey one is the legendary Rumble Roller aka "The Punisher". This is a hurts-so-good deep tissue massaging roller used by many pro athletes. Not for the faint of heart. It's a Bad Mamma Jamma.
I also have a PowerPro 2 in 1. It's nice because you get a smooth foam roller for working on tender areas, and a multi-purpose massaging roller for everything else. I bought the PowerPro to travel with because I can stuff the hollow roller full of socks or whatever and it doesn't take up much room in my suitcase.
The Encyclopedia of Medical Breakthroughs
Nothing says "I love you" like an encyclopedia…
Who's with me!
The Encyclopedia of Medical Breakthroughs and Forbidden Treatments is an A-to-Z reference guide of effective therapies largely unused in conventional medicine. Backed by over 1,300 citations, it includes little known research on methods to treat everything from cancer, heart disease, diabetes, and Lyme, to colds and flu, hot flashes, food poisoning, arthritis, kidney stones, warts… You name it!
This is one of my favorite discoveries of 2016 and definitely worth adding to your library. Makes a great gift for the health nerd who has everything. ;)
Get the Encyclopedia of Medical Breakthroughs here
Annmarie Skin Care

Annmarie Skin Care is made from organic, natural and wild-crafted ingredients.
No toxic junk or secret ingredients. Micah and I have used many of Annmarie's products and they are "Real nice Clark. Real nice." My favorites are the Aloe Herb Facial Cleanser and Sun Love sun block.
Annmarie has three different $10 sample kits to choose from, based on your skin type. Plus the sample kit also comes with the $10 off coupon, which essentially makes the sample kit free. Awesome stocking stuffer.
They also have a $20 GetAway Travel Kit includes the Aloe Herb Facial Cleanser, Ayurvedic Scrub, Purifying Mud Mask, Dead Sea Facial Scrub, Neroli Toning Mist, Coconut Body Oil, Repair Serum and Herbal Facial Oil. The GetAway kit also includes a $10 off coupon to use on any full-size item purchase.
And they have a Holiday Sale happening right now (ends Dec 16th). Use the coupon code: 25offascholidays to get 25% Off on everything but sample kits and gift certificates.
Get the $20 GetAway Travel Kit here
Check out all their products at annmariegianni.com
DefenderShield
DefenderShield products block virtually 100% of harmful EMFs from your mobile electronic devices, including cellular radiation, wifi radiation, bluetooth radiation and extremely low frequency (ELF) radiation. I have their Laptop pad, iPhone case and iPad case.
Get DefenderShield products here
Earthing Starter Kit

When you walk outside barefoot or sleep on the ground there is an electron transfer between your body and the earth. You are grounded. But most of us aren't doing that. Earthing devices connect your body to the earth in the same way, while you work at your desk or sleep in your bed. I bought the Earthing Starter Kit shown above and use the mat above under my desk and I have the throw on my bed. You may experience a noticeable improvement in energy and sleep once you start earthing. :)
Learn more about Earthing and earthing products here
The Rebound-Air Mini Trampoline
Rebounding is my favorite low impact aerobic excercise and the most effective way to stimulate your lymphatic system, which is a critical part of your immune system.
I did this several times a day as part of my anti-cancer strategy, and my wife used rebounding workout dvds to lose weight and get back in shape after Marin was born. It's really fun and it works! I wrote a big ol' blog post about it here.
I've had a Rebound-Air since 2004. It is super high quality, folds up for easy storage, and it is the only brand I know of with a Lifetime Warranty. Cellerciser, Needak, Jumpsport and Bellicon are also quality brands.
Check out ReboundAir models and prices here
Price other rebounders on amazon

The Tower Garden
I've been growing food in a Tower Garden aeroponic vertical garden since 2013. In 2014, I took a selfie with my Tower Garden every day for two months and made this 60 second time lapse video. If you haven't seen it, prepare for mind-blownage. Also try not to be distracted by my fabulous wardrobe changes.
The Tower Garden is super eco-friendly, using only 10% of the water and land space as a regular garden. It will grow food anywhere there is sunlight and permissible temperatures, and is especially great for folks who don't have a yard to plant in. You can put it on your porch, deck, patio or in a sunroom. You can also grow indoors with grow lights.
It's fed with liquid nutrients which are a blend of earth and sea minerals formulated for aeroponic growing. The Tower Garden comes with everything you need to get started including seeds, Tower Tonic, pH kit, a manual and an instructional dvd.
I made a more detailed video explaining the Tower Garden here
Or you can go directly to the Tower Garden website to get one here
L'Equip XL Juicer
Faithful readers of this blog know how much I love my Champion Juicer ($300), but I think the best inexpensive juicer to gift or get started with is the L'Equip XL Juicer.
The XL has a has a 3″ feeding tube, stainless steel bowl, blade and basket, and it's fast, easy to use, easy to clean up, takes up very little counter space, and comes with a 6-year warranty. Normally $129…
Right now (Dec 2016) it's only $89 on amazon!
The Vitamix Blender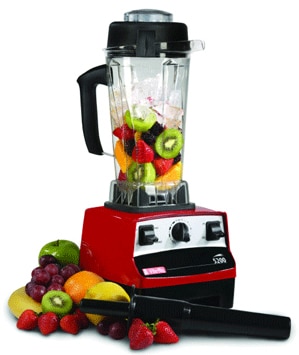 This year I'm closing with one of the special ladies in my life, my kitchen mistress: The Vitamix
Built in the USA with 70% American components, The Vitamix comes with a 7-year warranty, a 30-day free trial and free shipping.
The Vitamix comes in red, white, black and stainless. We have a red one, which often travels with us.
*Heads up! All Vitamix blenders are on sale through December 31st!*
They also sell reconditioned models with a 5-year warranty at a big discount too.
And that concludes this years gift guide, hope it gave you some good ideas! Merry Christmas!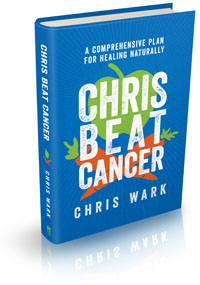 Chris Beat Cancer: A Comprehensive Plan for Healing Naturally,
published by Hay House, is a National Bestseller as ranked by USA Today, The Wall Street Journal, and Publishers Weekly!
Get it on Amazon here
, or anywhere books are sold.
I've interviewed over 60 people who've healed all types and stages of cancer. Check them out
here
. Or use the search bar to find survivors of specific cancer types.
I also created a coaching program for cancer patients, caregivers and anyone who is serious about prevention called SQUARE ONE. It contains the step-by-step strategies used by myself and everyone I know who has healed cancer with nutrition and natural, non-toxic therapies.
Watch SQUARE ONE Module 1 for free here
(((c)))
Chris Beat Cancer is reader-supported. If you purchase a product through a link on this site I may receive compensation from the affiliate partner (like Amazon). Your support helps fund this blog and my mission so my team and I can continue to do the work that we do. Thank you!