My name is Ashlie Sanders. On May 23, 2011 I was diagnosed with stage 1 infiltrating ductile carcinoma breast cancer. I was 34 years old. Due to the size of my tumor (about the size of a marble) and my young age, my doctors wanted to treat it very aggressively.
I had just been pregnant and lost a baby at 16 weeks pregnant two months earlier. My doctors then told me that I would probably never have another child because of the estrogen sensitive cancer that I had and because the chemo would kill most of the viable eggs I had.
On May 25, 2011 I went to my church's Wednesday night service. Approximately 40 people gathered around me and prayed for at least 30 minutes that night. That Saturday night, my chest (my tumor was in my chest wall) started vibrating and it vibrated for three days. When I had surgery less than three weeks later (surgery was delayed because of me. I was unsure I wanted to have surgery), my tumor had disappeared. Only the metal marker that my surgeon had placed in the tumor was still in the biopsy cavity. The tumor clearly showed on an MRI, PET scan, and two chest x-rays. My surgeon removed the biopsy cavity and 2 lymph nodes and all tissue inspected by pathology showed no cancer cells at my follow up after surgery. My surgeon and oncologist still recommended the most aggressive plan of radiation treatments due to my age and the initial size of the tumor. And a second opinion recommended chemo as well.
After three months of prayer and my family's support behind me, I decided to walk away from all other traditional treatment options and instead embrace nutrition therapy.
I sought a nutritionist and started juicing. I tried to juice about 40 oz. of carrots, kale, garlic, apples, and beets 2-3 times a week. I avoided meat and became a vegetarian. I didn't become a vegan because my nutritionist recommended that I still eat fish, cottage cheese and eggs. And because I was very thin at the time from all the stress, she was afraid I would drop even more weight. It took a while to embrace the new lifestyle, but I stuck with it.
At my 8 month appointment with my breast cancer surgeon for check-up, I was still cancer free. The following month, February, 2012 I learned I was pregnant again. Due to the fact that all of my traditional doctors told me that they would recommend an abortion due to the fact that I had estrogen sensitive breast cancer, I decided to use a midwife instead. I juiced my entire pregnancy and ate healthy and had no ultrasounds or tests to determine defects of the baby.
We had faith that the Lord would take care of us both and He did!
November 15, 2012 I delivered our second son at a home water birth. He was perfect and a very plump 8 lbs. 12 oz. We named him Elijah John after the faith of Elijah and John the Baptist. He has developed much faster than our first and is standing up and trying to walk at 7 months old.
I am still here and doing great! And our sons are healthy and strong as well. I make juice drinks that I turn into smoothies for my 4 year old son and I drink juice drinks and my 7 month old nurses and drinks my veggie milk.
What books, products, and supplements do you recommend?
I follow Juicing Vegetables on facebook, gerson therapies, and information from my nutritionist. I also like the book The China Study.
I have used my Jack LaLanne Juicer at least 2-3 times a week for the past 2 years.
Thanks so much for letting me share my journey. You are an inspiration to me Chris. When I made my decision to walk away from traditional treatment, I could find no one online or in books that did what we both did. I had to pray and depend on the Lord. Thanks for encouraging me!
My email is ashlie [at] ashliesandersphotography [dot] com
Thank you so much Ashlie!
Nothing gets me more excited than testimonies of miraculous healing because they show the power of God at work in the world. And I love that fact that after being healed she chose to take control of her health, radically change her diet, and honor God with her body. She took the path of faith rather than the path of fear. Whether we are healed instantly or gradually, we are all responsible for what we put in our bodies. Clearly Ashlie understands that.
Is anyone among you in trouble? Let them pray. Is anyone happy? Let them sing songs of praise. Is anyone among you sick? Let them call the elders of the church to pray over them and anoint them with oil in the name of the Lord. And the prayer offered in faith will make the sick person well; the Lord will raise them up. If they have sinned, they will be forgiven.  Therefore confess your sins to each other and pray for each other so that you may be healed. The prayer of a righteous person is powerful and effective. -James 5:13-16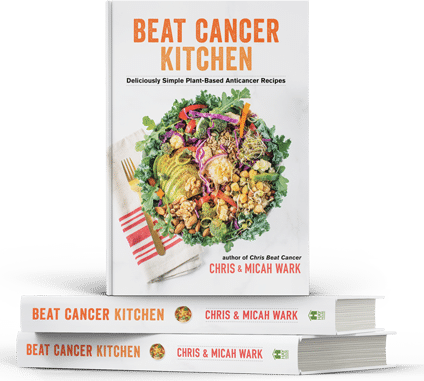 Beat Cancer Kitchen: My New Recipe Book,
Deliciously Simple Plant-Based Anti-Cancer Recipes
Get it on Amazon here
Beat Cancer Daily
365 Days of Inspiration, Encouragement, and Action Steps to Survive and Thrive
Get it on Amazon here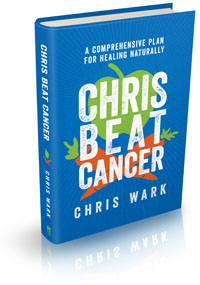 Chris Beat Cancer: A Comprehensive Plan for Healing Naturally,
published by Hay House, is a National Bestseller as ranked by USA Today, The Wall Street Journal, and Publishers Weekly!
Get it on Amazon here
, or anywhere books are sold.
I've interviewed over 60 people who've healed all types and stages of cancer. Check them out
here
. Or use the search bar to find survivors of specific cancer types.
I also created a coaching program for cancer patients, caregivers and anyone who is serious about prevention called SQUARE ONE. It contains the step-by-step strategies used by myself and everyone I know who has healed cancer with nutrition and natural, non-toxic therapies.
Watch SQUARE ONE Module 1 for free here
(((c)))
Chris Beat Cancer is reader-supported. If you purchase a product through a link on this site I may receive compensation from the affiliate partner (like Amazon). Your support helps fund this blog and my mission so my team and I can continue to do the work that we do. Thank you!