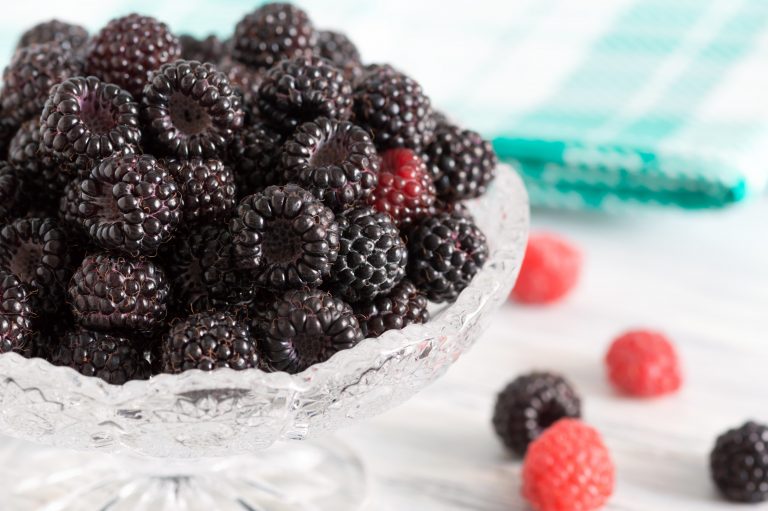 Several years ago, and somewhere down an anti-cancer nutrition rabbit hole, I discovered black raspberries.
Black raspberries are easily confused with blackberries, but they are not the same. Black raspberries are smaller, covered with tiny hairs, and are hollow like red raspberries.
Black raspberries are rare for two reasons: They require very specific environmental conditions in which to grow – 99% of them are grown in Oregon – and they have a short growing season.
Black raspberries have been studied quite a bit and have remarkable health-promoting and anti-cancer potential primarily due to their high levels of antioxidants, anthocyanins and ellagic acid.
Black raspberries have almost twice the anthocyanins as blueberries and nearly three times more than blackberries!
According to this study out of Cornell:
"Black raspberries are an excellent source of antioxidants in the human diet. With 10 or more times the antioxidant capacity than many other fruits and vegetables, even a small quantity of black raspberries added to the diet can significantly increase total antioxidant consumption. As few as four average sized berries (2.5 g each) has a greater antioxidant capacity than 100g (3.5 oz.) of many fruits and vegetables. With this level of antioxidant power, black raspberries can be an affordable, low calorie source of antioxidant in anyone's diet."
A 2008 study that I wrote about in my book found that black raspberries could stop the growth of precancerous oral lesions and even reverse cancer completely when patients applied black raspberries topically, simply spreading a black raspberry paste on the cancerous lesions in their mouth for six weeks." Amazing right?
Last year my friend and stage IV holistic survivor Kathy Mydlach-Bero blew my mind when she told me that virtually all of the black raspberry powders and extracts used in clinical research were coming from one company, and that this company also sells black raspberry powder to the public under the brand name BerriHealth. I've been a super fan ever since.

Now prepare to have your mind blown on the amazing health benefits of black raspberries in this interview with Steve Dunfield, President of BerriHealth. Enjoy!
Show Notes
-Steve's journey from semiconductors to the black raspberries [01:21]
-Sourcing superior black raspberries for a human clinical trial  [04:43]
-Quality conscious supplement companies [08:56]
-Why Steve doesn't sell black raspberry capsules [10:01]
-The first black raspberry human clinical trial [13:07]
-How black raspberry powder is produced [14:08]
-The difference between freezing and freeze drying [15:29]
-Making the time-release black raspberry patch [17:50]
-It's not a therapy, it's just food [19:56]
-Unique compounds found in black raspberries [23:14]
-Differences between a blackberry and a black raspberry [26:01]
-The difficult growing conditions required by black raspberries [27:30]
-Cancer research origins [30:47]
-Black raspberry dosage examples [33:24]
-The effects of extracts versus the whole berry [37:55]
-From clinical research to application in patients' lives [41:03]
-The bias against pursuing nutritional approaches [45:58]
-Working toward a new model of advocating for your own health [50:27]
-Exciting amounts of research that are becoming available [55:54]
-Reversing diabetes with nutrition [57:55]
-Steve's resources [59:00]
I have no financial affiliation with BerriHealth, but I did get you a coupon code! Take 10% off your order with coupon code "chris".
Links mentioned in the interview:
Black raspberry research reference library
Mastering Diabetes
Dr. Caldwell Esselstyn interview
Dr. Joel Kahn interview
Dr. Joel Fuhrman interview
…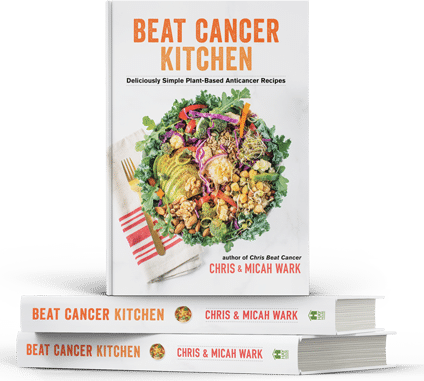 Beat Cancer Kitchen: My New Recipe Book,
Deliciously Simple Plant-Based Anti-Cancer Recipes
Get it on Amazon here
Beat Cancer Daily
365 Days of Inspiration, Encouragement, and Action Steps to Survive and Thrive
Get it on Amazon here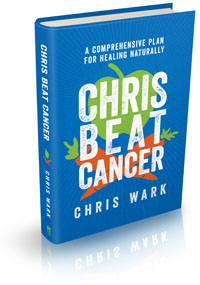 Chris Beat Cancer: A Comprehensive Plan for Healing Naturally,
published by Hay House, is a National Bestseller as ranked by USA Today, The Wall Street Journal, and Publishers Weekly!
Get it on Amazon here
, or anywhere books are sold.
I've interviewed over 60 people who've healed all types and stages of cancer. Check them out
here
. Or use the search bar to find survivors of specific cancer types.
I also created a coaching program for cancer patients, caregivers and anyone who is serious about prevention called SQUARE ONE. It contains the step-by-step strategies used by myself and everyone I know who has healed cancer with nutrition and natural, non-toxic therapies.
Watch SQUARE ONE Module 1 for free here
(((c)))
Chris Beat Cancer is reader-supported. If you purchase a product through a link on this site I may receive compensation from the affiliate partner (like Amazon). Your support helps fund this blog and my mission so my team and I can continue to do the work that we do. Thank you!