Over 90% of the corn and soy grown in the U.S. is genetically modified, therefore any food containing corn or soy that is not labeled "organic" or "non-GMO" is likely to contain GMO corn or soy.
This includes all food sweetened with high fructose corn syrup, and yes, those corn chips at your favorite Mexican restaurant.
If you start reading labels, you will be hard pressed to find any processed food that does not contain either corn or soy or both.
In 2014, Consumer Reports tested over 80 different processed foods with corn or soy ingredients to see if they contain GMOs i.e. Genetically Engineered (GE) DNA. This included popular breakfast cereals, bars, corn chips, corn tortillas, baking mixes and flours, meat substitutes, soy "dairy" products, and tofu/tempeh products.
They purchased and tested conventional products (with no label claims), organic products (which are not permitted to contain GE ingredients) as well as products with a Non-GMO Project Verified Label (which should contain no more than 0.9% GMO ingredients and have verification testing), and products with a "natural" label (which are not required to be Non-GMO despite the fact that many consumers think and believe they should).
The test results…
Almost all samples of conventional products tested contained GE corn and/or soy and the majority of the corn and or soy DNA in most of these samples was GE. This included popular brands in all categories, except soy dairy and tofu where they did not encounter any conventional products.
Products that had either an "organic" label or a "Non-GMO Project Verified" seal had negligible levels of GE corn or soy (0.9% or less) in samples. Since these labels have third party verification, they are the most reliable and consumers looking to avoid GMO ingredients should look for products with these labels.
The majority of samples of products that came from a manufacturer that made a "non-GMO" claim but was not certified by an independent third party also contained minimal amounts of GE corn or soy (0.9% or less).
Virtually all samples of products with a "natural" label (in the absence of an organic or non- GMO claim) had comparable levels of GE corn or soy as their conventional (or unlabeled) counterparts. According to a recent national poll conducted by Consumer Reports the majority of Americans expect products with a natural label to not contain GMO ingredients.
Consumers who want to avoid GMO ingredients should avoid products labeled "natural".
This label is meaningless and misleading consumers. Consumer Reports is asking the government to ban its use on food.
Samples of soy based infant formulas contained mostly GMO soy unless they carried the organic and Non-GMO label, in which case GMO content was minimal. Consumers looking for soy formula without GMO ingredients should look for USDA Organic or Non-GMO Project Verified seals.
I think soy formula is a bad idea and recommend Organic Milk-Based Infant Formula if breast feeding is not possible.
Of the 80 products tested, here are the ones found to contain GMO corn or soy
GMO Snack Bars
Kellogg's – Special K Protein Chocolatey Peanut Butter Granola Snack Bar
Nature Valley – Crunchy Oats 'N Honey Granola Bars
Nature Valley – Protein Peanut Butter Dark Chocolate Chewy Bar
Nice! – Oats & Honey Crunchy Granola Bar (Walgreens)
PowerBar – Performance Energy Chocolate Peanut Butter
GMO Cereals
General Mills – Coco Puffs, Corn Chex, Kix, and Trix,
Kashi – GoLean and GoLean Hearty Honey & Cinnamon, but not GoLean Crunch
Kellogg's – Fruit Loops
Quaker – Life Original
GMO Corn Chips/Snacks
Doritos – Oven Baked Nacho Cheese
Pirate's Booty – Aged White Cheddar
Snyder's of Hanover  – Yellow Corn Tortilla Chips
Tostitos – Multigrain Tortilla Chips
Utz – All Natural Multigrain Tortillas
Xochitl – Totopos de Maiz (And they claim to be non-GMO on the label!)
GMO Baking Mixes/Flours
Betty Crocker – Authentic Cornbread & Muffin Mix
Jiffy – Corn Muffin Mix
Krusteaz – Natural Honey Cornbread & Muffin Mix
Quaker – Yellow Corn Meal
GMO Corn Tortillas
La Banderita – Corn Tortillas
Maseca – Instant Corn Masa Flour
Mission – White Corn Tortillas
Mission – Yellow Corn Tortillas
Old El Paso – Crunchy Taco Shells
Ortega – Yellow Corn Taco Shells
GMO Infant Formulas
Enfamil – ProSobee Soy Infant Formula
Gerber – Good Start Soy
Similac – Go & Grow Soy Infant Formula
Similac – Soy Isomil
GMO Fake Meat
Boca – Original Vegan Veggie Burgers
MorningStar Farms – Grillers California Turk'y Burger
MorningStar Farms – Chik'n Nuggets
And remember this is only a partial list. It is safe to assume that if a non-organic processed food contains corn or soy (or canola), they are GMOs. Yet another reason to avoid processed food.
To see which brands made the non-GMO list, go here.
Read the full report here.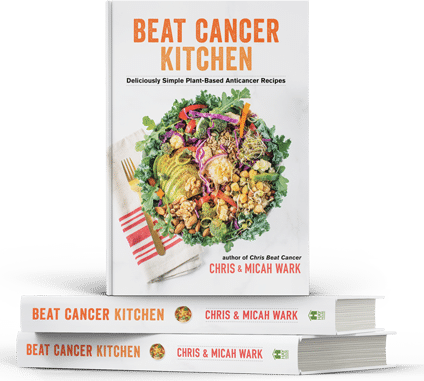 Beat Cancer Kitchen: My New Recipe Book,
Deliciously Simple Plant-Based Anti-Cancer Recipes
Get it on Amazon here
Beat Cancer Daily
365 Days of Inspiration, Encouragement, and Action Steps to Survive and Thrive
Get it on Amazon here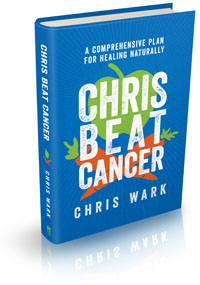 Chris Beat Cancer: A Comprehensive Plan for Healing Naturally,
published by Hay House, is a National Bestseller as ranked by USA Today, The Wall Street Journal, and Publishers Weekly!
Get it on Amazon here
, or anywhere books are sold.
I've interviewed over 60 people who've healed all types and stages of cancer. Check them out
here
. Or use the search bar to find survivors of specific cancer types.
I also created a coaching program for cancer patients, caregivers and anyone who is serious about prevention called SQUARE ONE. It contains the step-by-step strategies used by myself and everyone I know who has healed cancer with nutrition and natural, non-toxic therapies.
Watch SQUARE ONE Module 1 for free here
(((c)))
Chris Beat Cancer is reader-supported. If you purchase a product through a link on this site I may receive compensation from the affiliate partner (like Amazon). Your support helps fund this blog and my mission so my team and I can continue to do the work that we do. Thank you!