I am not a doctor.
I'm just a guy who beat cancer without chemotherapy. 
All information presented on this website should be regarded as friendly advice and opinions based on my experience and research.
This information is for educational purposes and should not be interpreted as medical advice.
I'm not making an attempt to prescribe any medical treatment — and the information contained on this website is not intended to replace a one-on-one relationship with a doctor or qualified health practitioner.
My statements have not been evaluated by the Food and Drug Administration and the information on this website is not intended to diagnose, treat, cure, or prevent any disease. I am also not a registered dietician dispensing dietary advice.
DISCLOSURE
I'm using the following modified disclosure that I copied from Tim Ferris.  (Thanks Tim!)
This blog is not financially driven. I started this primarily to share my experience and information with anyone who wants to know.  My approach to healing cancer without chemotherapy involved the use of many health-related products like nutraceutical supplements, natural body care products, kitchen tools, exercise equipment, etc. If I have a good experience with a product I recommend it to others.
Ads and affiliate programs help cover the costs involved with running this site. I could easily plaster ads all over this site and make more money. But the message is more important than the money. So if a company that makes a product I love wants to promote their products with a giveaway to buy subscribers, etc. I usually say "Yes!" (hint hint). If Pepsi wants to advertise, I say "no". I have been approached many times by organizations in the cancer industry wanting to advertise. They also got a "no".
Bottom line: I only promote products and people that I believe in. Period.
That said, beginning December 1, 2009, the FTC requires bloggers to provide disclosures whenever there could be hidden interests or unspoken biases related to recommendations.
If I ever interview someone and they pay for lunch, I would need to specify this, as I would if I use an Amazon link that gets me 8 cents instead of an Amazon link that gets me zero cents. If someone gives me a sweet t-shirt with a logo and I wear it in a photo, ditto. Disclaimers all over. 
This would be tedious for me and a continual eye sore for readers. But them's the rules.
To cover my bases and preserve your reading experience, please assume that, for every recommendation, link, person, product or service that I mention, go ahead and assume that I was compensated with:
-Huge stacks of money
-Stock options
-Food
-Clothing
-Goodie bags
-First class travel
-Limo rides
-Luxury vacations
-Chris Wark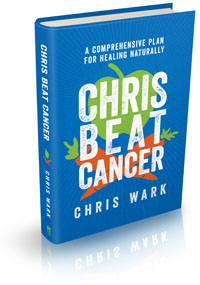 Chris Beat Cancer: A Comprehensive Plan for Healing Naturally,
published by Hay House, is a National Bestseller as ranked by USA Today, The Wall Street Journal, and Publishers Weekly!
Get it on Amazon here
, or anywhere books are sold.
I've interviewed over 60 people who've healed all types and stages of cancer. Check them out
here
. Or use the search bar to find survivors of specific cancer types.
Chris Beat Cancer is reader-supported. If you purchase a product through a link on this site I may receive compensation from the affiliate partner (like Amazon). Your support helps fund this blog and my mission so my team and I can continue to do the work that we do. Thank you!