My interview today is with "America's Healthy Heart Doc" Joel Kahn, MD.
Dr. Kahn is a practicing cardiologist and a clinical professor of medicine at Wayne State University School of Medicine in Detroit, Michigan and has treated thousands of acute heart attacks during his career.
He is the author of five books, including Your Whole Heart Solution, Dead Execs Don't Get Bonuses, and The Plant-Based Solution. Dr. Kahn has been vegan for over 40 years! And he is confident that plant-based nutrition is the most powerful source of preventative medicine on the planet.
In our interview we discuss low-carb and keto diets, legumes and lectins, optimal cholesterol levels, blood markers and tests you can take to detect heart disease, and so much more…  (show notes below)
If you care about preventing or reversing our #1 killer disease, definitely watch this interview with Dr. Joel Kahn!
Show Notes
-Hospital food promotes disease [01:53]
-Dr. Kahn's plant-based physician origin story [04:04]
-Nutritional medicine pioneers that influenced Dr. Kahn [07:00]
-What you need to know about cholesterol [17:17]
-How the dairy industry confused the science on saturated fat and cholesterol [19:45]
-Lower than average LDL cholesterol drops heart disease risk by 90% [22:00]
-What is Lifestyle Medicine? [30:00]
-Avoiding fad diets (like the keto diet) [33:03]
-Low carb diets increase death [37:00]
-Plant-based vs low carb for diabetes [40:20]
-Should we avoid legumes and lectins? [42:32]
-The relationship between cancer and heart disease [50:00]
-Early warning signs of heart disease [54:11]
-The earlobe crease connection to heart disease [54:50]
-Optimal total cholesterol is under 150 [57:15]
-Three blood markers that indicate heart disease [59:42]
-The coronary artery calcium scan [01:02:00]
-Ideal blood levels of c-reactive protein, homocysteine, and lipoprotein(a) [01:05:00]
Dr. Joel Kahn links:
The Plant-Based Solution by Dr. Kahn
Dead Execs Don't Get Bonuses by Dr. Kahn
Your Whole Heart Solution by Dr. Kahn
ATX FOOD CO in Austin, Texas
Links mentioned in interview:
Diet for New America by John Robbins
Dr. Dean Ornish study
Lester Morrison, MD study
Caldwell Esselstyn, MD website
Caldwell Esselstyn, MD interview
A Century of Cholesterol – Dr Michael Brown video
The Plant Paradox is Wrong video
Joel Kahn vs Steven Gundry on The Doctors
Plant Based Nutrition Support Group (PBNSG)
Framingham study
T Colin Campbell Center for Nutrition Studies Certification Program
American College of Lifestyle Medicine
Mastering Diabetes
…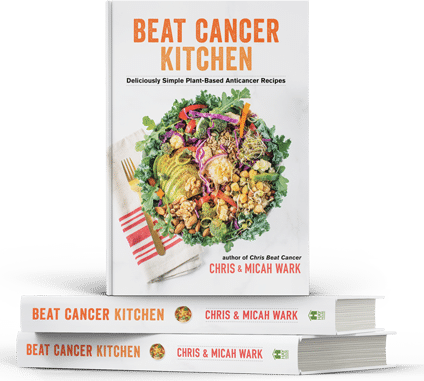 Beat Cancer Kitchen: My New Recipe Book,
Deliciously Simple Plant-Based Anti-Cancer Recipes
Get it on Amazon here
Beat Cancer Daily
365 Days of Inspiration, Encouragement, and Action Steps to Survive and Thrive
Get it on Amazon here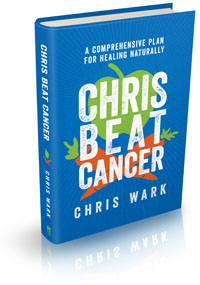 Chris Beat Cancer: A Comprehensive Plan for Healing Naturally,
published by Hay House, is a National Bestseller as ranked by USA Today, The Wall Street Journal, and Publishers Weekly!
Get it on Amazon here
, or anywhere books are sold.
I've interviewed over 60 people who've healed all types and stages of cancer. Check them out
here
. Or use the search bar to find survivors of specific cancer types.
Chris Beat Cancer is reader-supported. If you purchase a product through a link on this site I may receive compensation from the affiliate partner (like Amazon). Your support helps fund this blog and my mission so my team and I can continue to do the work that we do. Thank you!