Dr. John Kelly MD is a recently retired GP from Dublin, Ireland with 40+ years of experience in the medical profession, working in the US, Africa and Ireland. Over a decade ago, he became interested in nutritional science and the link between animal protein and cancer growth and began a field trial, recommending that all of his patients with cancer adopt a plant-based diet.
The results of his trial were remarkable. All of his patients who strictly adhered to an animal protein-free diet found that their cancer stopped growing and spreading.
In December 2014, Dr. Kelly published a book entitled Stop Feeding Your Cancer and he was dubbed "The Dublin doctor who is beating cancer" in several large online media outlets.
I read the book, loved it and attempted to look him up to request an interview, but he had just retired and I couldn't figure out how to get in touch. He didn't have a website or any social media pages… I couldn't even find any interviews he'd done. I had to find this guy!
My persistence paid off. It took two years, but I eventually made the connection and got the interview. And it turned out even better than I had hoped. This is definitely a "trophy interview" for me.
My podcast is back! Sort of…
As long time followers may remember, I launched the Chris Beat Cancer Podcast in August 2015 and it quickly shot up to #1 in iTunes Health. Obviously that was a great start, but I invariably created a lot more non-paying work for myself, and without a team in place to help me, I just couldn't keep up the momentum. So the podcast slipped down the priority list and eventually into extended periods of hibernation…
Until today!
Due to A/V challenges, Dr. Kelly and I decided to do an audio-only interview, which is not only a perfect opportunity to "relaunch" the podcast, but also further adds to his mystique, don't you think? ;)
Listen to our interview on iTunes or online here (non-iTunes).
Special request
If you enjoy the podcast, please take a moment to subscribe and give it a rating and a review on iTunes. That will help me reach more people with the message of hope and healing and hopefully shoot me back up the charts this week… Thanks!
Special note
Dr. Kelly is enjoying retired life and asked me not share his contact info. Please don't ask me for it or attempt to contact him. As he said to me, "Everything I would tell them is in my book". Get it on amazon here.
Click one of the links above to enjoy this rare and fascinating interview with Dr. John Kelly! :)
The China Study by T. Colin Campbell PhD was a huge influence on Dr. Kelly. He recommends you read it and I do too!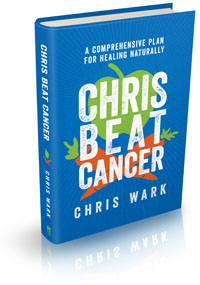 Chris Beat Cancer: A Comprehensive Plan for Healing Naturally,
published by Hay House, is a National Bestseller as ranked by USA Today, The Wall Street Journal, and Publishers Weekly!
Get it on Amazon here
, or anywhere books are sold.
I've interviewed over 60 people who've healed all types and stages of cancer. Check them out
here
. Or use the search bar to find survivors of specific cancer types.
I also created a coaching program for cancer patients, caregivers and anyone who is serious about prevention called SQUARE ONE. It contains the step-by-step strategies used by myself and everyone I know who has healed cancer with nutrition and natural, non-toxic therapies.
Watch SQUARE ONE Module 1 for free here
(((c)))
Chris Beat Cancer is reader-supported. If you purchase a product through a link on this site I may receive compensation from the affiliate partner (like Amazon). Your support helps fund this blog and my mission so my team and I can continue to do the work that we do. Thank you!