Long time followers of this blog have often heard me talk about the benefits of fasting and especially how fasting regenerates the immune system.
Today I am beyond thrilled to share an interview with the man behind that ground-breaking research and so much more: Dr. Valter Longo.
Dr. Longo was born and raised in Genoa, Italy and received his undergraduate degree from the University of North Texas, where he majored in biochemistry with a minor in jazz performance. He received his Ph.D. in Biochemistry from UCLA in 1997 and did his postdoctoral training in the Neurobiology of Aging and Alzheimer's Diseases at USC.
Dr. Longo is currently a Professor of Gerontology and Biological Sciences, and Director of the Longevity Institute at the University of Southern California. His most recent studies are on dietary interventions that can affect stem cell-based regeneration to promote longevity and reverse the course of many diseases.
Dr. Longo is recognized as a global leader in aging and nutrition with over 100 peer reviewed publications in top tier journals including Science, Nature, Cell, JAMA, Cancer Cell, Journal of Translational Medicine, and more.
Dr. Longo developed the ProLon 5-Day Fasting Mimicking Diet, which is a plant-based calorie-restricted diet that nourishes the body while producing the same beneficial effects as water fasting including autophagy, protection of healthy cells, weakening of cancer cells, stem cell and immune system regeneration, and more.
He is also author of the new book The Longevity Diet. It's a great read. Highly recommended.
I know you will enjoy this fascinating interview with Dr. Valter Longo!
(It's also on the Chris Beat Cancer podcast in iTunes, Spotify, and Stitcher)
Download interview transcript here. 
Show Notes:
– From aspiring jazz musician to longevity expert [1:31]
– The story of Biosphere 2 (not a video game) [4:44]
– How animal protein increases your risk of cancer death [11:35]
– What happens in the body when you consume excess protein [14:35]
– High protein and high sugar together drive most pro-aging and pro-cancer genes [17:27]
– The incredible benefits of fasting including stem-cell regeneration [19:35]
– Why he hates the term "intermittent fasting" [26:58]
– Skipping breakfast increases your risk of premature death [29:05]
– The Pro-Lon Fasting Mimicking Diet [31:00]
– Results of the human trials combining FMD with chemotherapy [36:38]
– My experience with the ProLon FMD  [39:08]
– Why the Fasting Mimicking Diet is superior to a long-term ketogenic diet [41:20]
– The ideal dietary macronutrient ratio [44:34]
– The non-calorie-restricted ketogenic diet does not induce repair and protection in the body [45:17]
– The remarkable results of the Fasting Mimicking Diet human clinical trial [50:35]
– How often Dr. Longo does the Fasting Mimicking Diet [54:06]
– If Dr. Longo had to eat the same 3 meals every day what they would be [56:00]
A few Ketogenic diet quotes from Dr. Longo…
"A lot of the ketogenic diets out there are artificial ones and they impose an artificial condition, which is high animal fat and high animal protein (butter and bacon). You can very quickly go from something very good to something very bad, which doesn't appear as very bad when you first do it. It could be that when you do it you lose weight and you think,"I feel good. I'm losing weight." And then eventually you could start having kidney damage, (negative) effects on IGF-1, atherosclerosis, plaque formation, etc… A lot of these ketogenic diets come from nowhere, but they (keto promoters) are able to convince hundreds of thousands of people to do it."
"The Fasting Mimicking Diet allows the natural process of starvation (autophagy, protection, stem cell regeneration) to occur. You don't interfere with the natural process. That's a key of the Fasting Mimicking Diet. In the case of the ketogenic diet, you are trying to force the system into doing something that it has never evolved to do… It's very scary and almost guaranteed a failure. Even if it's a good thing for 1-5 years, eventually the body is going to have problems… When you introduce an environment that the body has never seen before, sooner or later it is not going to be able to function in that environment."
"If you take exogenous ketones and eat a fairly normal diet it is a recipe for disaster… you are pushing the body to do two metabolic strategies at the same time and that could be problematic."
Dr. Longo's book is available now…
The Longevity Diet: Discover the New Science Behind Stem Cell Activation and Regeneration to Slow Aging, Fight Disease and Optimize Weight by Valter Longo PhD.
All book proceeds from sale of The Longevity Diet will be donated to the non-profit Valter Longo Foundation and Create Cures Foundation to promote and sponsor research on inexpensive, alternative, and integrated therapies for such serious diseases as Alzheimer's, cardiovascular diseases, diabetes, multiple sclerosis, Crohn's disease, and other diseases, both in adults and children.
The ProLon Fasting Mimicking Diet developed by Dr. Longo and his team is the result of 20 years and $26 million in research. Long time readers of this blog know I am a big fan of 3-5 water fasting. If you are intimidated by or unable to do a 3-5 day water fast, the ProLon FMD is a 5-day, plant-based, calorie-restricted ketogenic diet. It's the next best thing to water fasting, and for some people it might be better… I've done it. I highly recommend it. And I plan to do it again. Learn more here.
Selected links from the interview:
Biosphere 2
The Blue Zones
Fasting triggers stem cell regeneration of old and damaged immune system
High protein diets quadruple risk of cancer death
Skipping breakfast increases risk of death by 34-43%
Fasting Mimicking Diet regenerates insulin-producing beta cells to reverse diabetes
Additional studies related to fasting and the fasting mimicking diet can be found here.
Dr Longo's facebook page: www.facebook.com/profvalterlongo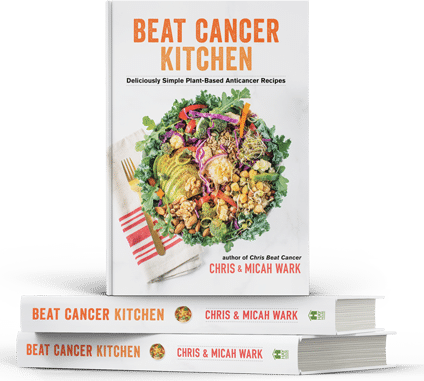 Beat Cancer Kitchen: My New Recipe Book,
Deliciously Simple Plant-Based Anti-Cancer Recipes
Get it on Amazon here
Beat Cancer Daily
365 Days of Inspiration, Encouragement, and Action Steps to Survive and Thrive
Get it on Amazon here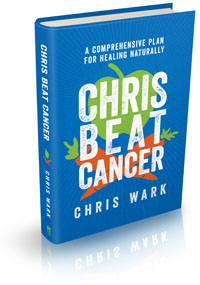 Chris Beat Cancer: A Comprehensive Plan for Healing Naturally,
published by Hay House, is a National Bestseller as ranked by USA Today, The Wall Street Journal, and Publishers Weekly!
Get it on Amazon here
, or anywhere books are sold.
I've interviewed over 60 people who've healed all types and stages of cancer. Check them out
here
. Or use the search bar to find survivors of specific cancer types.
I also created a coaching program for cancer patients, caregivers and anyone who is serious about prevention called SQUARE ONE. It contains the step-by-step strategies used by myself and everyone I know who has healed cancer with nutrition and natural, non-toxic therapies.
Watch SQUARE ONE Module 1 for free here
(((c)))
Chris Beat Cancer is reader-supported. If you purchase a product through a link on this site I may receive compensation from the affiliate partner (like Amazon). Your support helps fund this blog and my mission so my team and I can continue to do the work that we do. Thank you!