Yay! More free stuff for you!
The wonderful folks at Garden of Life have graciously offered to give away a $200 goodie bag of some of my favorite supplements to one of my subscribers.
As many of you know, I am a big fan of Garden of Life. I started taking their organic whole food supplements as part of my nutritional program to heal my body after I read Jordan Rubin's book Patient Heal Thyself back in 2004, and I still take them today.
One winner will get everything you see in the picture above:
– 2 containers of Raw Protein (my favorite plant-based protein powder)
– 2 bottles of RM-10 tonic mushroom blend for immune support (I took tons of this)
– 1 bottle of Primal Defense Ultra Probiotic Formula (and tons of this)
– Plus a shaker bottle and a tote bag, for all that totin' you do.
No purchase necessary, but you do have to do two things:
1) Subscribe to my blog
2) Share this on a social media site like: Facebook, Pinterest, Twitter, etc.
If you are already a subscriber, you don't have to resubscribe, just share it.
I will pick the winner with a double-blind random drawing on June 30, 2013.
Post your sharing links in the comments section below.
I like connecting people, and my hope is that many of you will friend and follow each other on other sites as a result of this.
This contest has ended, BUT I give away free stuff to my subscribers all the time…so you should definitely subscribe!
SaveSaveSaveSave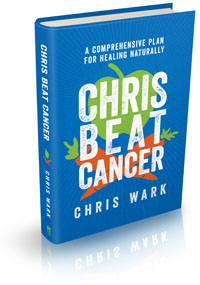 My new book
Chris Beat Cancer: A Comprehensive Plan for Healing Naturally,
published by Hay House, is a National Bestseller as ranked by USA Today, The Wall Street Journal, and Publishers Weekly!
Get it on Amazon here
, or anywhere books are sold.
I've interviewed over 60 people who've healed all types and stages of cancer. Check them out
here
. Or use the search bar to find survivors of specific cancer types.
I also created a coaching program for cancer patients, caregivers and anyone who is serious about prevention called SQUARE ONE. It contains the step-by-step strategies used by myself and everyone I know who has healed cancer with nutrition and natural, non-toxic therapies.
Watch SQUARE ONE Module 1 for free here
(((c)))
Some posts contain affiliate links to products that I have researched, use and enthusiastically endorse. If you purchase a product through an affiliate link, your cost will be the same (or discounted if a coupon code is offered) and I will receive compensation from the partner supplier (like Amazon). Your support helps fund this blog and my mission so my team and I can continue to do the work that we do. Thank you!