My third annual Healthy Holidays Gift Guide for 2013 is live!
If you're looking for some great gift ideas (of course you are), you've come to the right place.
As usual, there are some new discoveries and some old faves. Enjoy!
Jim Gaffigan Mr Universe DVD
Laughter is good medicine and you need it in high doses.
Not only is Jim Gaffigan hilarious, but unlike the majority of
stand-up comics out there today, he's also super clean.
(If I had to rate this, I would give it a PG)
Buy one for yourself and ten copies for gifts.
You can thank me later.
Buy the Jim Gaffigan: Mr. Universe DVD here
OXO 3-in-1 Avocado Sliver
Early this year our friends D-Rock and Ginger Calcote (Shout out!) gave us an OXO 3-in-1 Avocado Slicer
after I coveted theirs.
This thing is the bomb.
It makes splitting, pitting and slicing avocados super easy.
Known to inspire "Why didn't I think of that!" reactions.
Buy the XO 3-in-1 Avocado Slicer here
Man Basket
For the man who would enjoy an assortment of cool healthy stuff…
Every Man Jack Deodorant $5 (Citrus makes my armpits smell delicious)
Weleda After Shave Balm $14.50 (Comes in a handsome blue glass bottle)
Herban Cowboy Shave Soap $6 (Great lather, and super manly "dusk" scent)
Giovanni D:tox System Facial Cleansing Towelettes $9 (Love these for travel)
Lifefactory Glass Beverage Bottle $21 (This one has sporty flip top, easier to drink from)
Living Raw Cacao Truffles $5 (Coconut Kharma and Kickin' Cayenne were both exquisite)
Snapware Glasslock Food Storage Containers
We really really really love our  Snapware Glasslock storage containers.
They have an airtight lid that keeps food fresh and won't leak or spill,
and they are dishwasher and oven safe. Goodbye tupperware.
Berkey Water Filters
Berkey Water Filters
 remove bacteria, cysts, parasites, and toxic chemicals to levels higher than 99.99%. Plus the fluoride/arsenic filter reduces 95% of fluoride.
The Berkey is portable, requires no power or water pressure, and will even filter pond water. And the two filters inside will purify 6,000 gallons of water before needing replacement.
If you drink 10 gallons of water a week, the filters will last over 11 years, costing only a few pennies per gallon.
Totally awesome to have in an emergency like Katrina, or Sandy, or zombies.
We even take ours on vacation with us.
I took this pic of my sister Lindsay after we put her Big Berkey together.
I also made a video about our Berkey you can watch here.
Get more info and price Berkey Water Filters here
(Use the coupon code "chris" for a little surprise at check out)
Clean up your shower water with a Showerwise Filter. It removes 95% of chlorine as well as iron, lead, mercury, hydrogen sulfide, and more. It also inhibits bacterial, fungal and mildew growth. I never thought my shower steam had an "odor" until I installed our Showerwise filter.
Afterward I noticed right away that the shower smell (chlorine and who knows what else) was gone.  It comes with a massaging shower head and the Chlorgon KDF-55 filter typically last 12-18 months.
Buy the Showerwise Shower Filter here
L'Equip XL Juicer
Faithful readers of this blog know I have a Champion Juicer ($300), but I think the best inexpensive juicer is the L'Equip XL Juicer ($119).
It has a has a 3″ feeding tube, stainless steel bowl, blade and basket, and it's fast, easy to use, easy to clean up, takes up very little counter space, and comes with a 6 year warranty.
Get the L'Equip XL Juicer here
Nutribullet Pro 900
The Nutribullet Pro 900  ($140) is a smoothie blender that performs better in side by side tests than the Ninja blender.
It has a 900 watt motor and it's very compact, ideal for small kitchens. A lot of my health nut friends travel with it.
This a great gift or starter blender for someone on a budget.
Get the Nutribullet Pro 900 here
Vita-Mix 5200 Blender
And of course I have to close with the Vita-Mix 5200, the awesomeness of which cannot be overstated. It is Consumer Reports' highest rated blender and the single most versatile kitchen appliance on planet earth.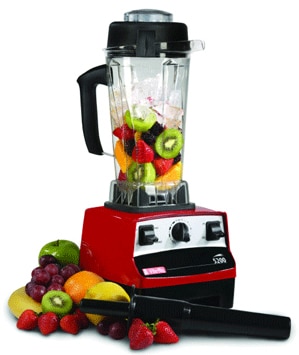 Built in the USA with at least 70% American components and comes with a 7-year warranty and 30-day free trial.
Also includes 400 recipes for smoothies, blended veggie juice, nut butters, soups, salsa, guacamole, healthy ice cream, even how to churn fresh butter and mill whole grains.
And it comes in red, white, black and stainless. We have a red one which often travels with us.
This link will get you free shipping:
Buy the Vita-Mix 5200 Blender here
Ok so that's the end of my list this year, hope it gave you some good ideas!
Be sure to check out my gift guides from previous years for more cool stuff.
What are your favorite healthy gift ideas? Post them in the comments below!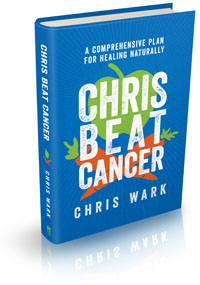 Chris Beat Cancer: A Comprehensive Plan for Healing Naturally,
published by Hay House, is a National Bestseller as ranked by USA Today, The Wall Street Journal, and Publishers Weekly!
Get it on Amazon here
, or anywhere books are sold.
I've interviewed over 60 people who've healed all types and stages of cancer. Check them out
here
. Or use the search bar to find survivors of specific cancer types.
I also created a coaching program for cancer patients, caregivers and anyone who is serious about prevention called SQUARE ONE. It contains the step-by-step strategies used by myself and everyone I know who has healed cancer with nutrition and natural, non-toxic therapies.
Watch SQUARE ONE Module 1 for free here
(((c)))
Chris Beat Cancer is reader-supported. If you purchase a product through a link on this site I may receive compensation from the affiliate partner (like Amazon). Your support helps fund this blog and my mission so my team and I can continue to do the work that we do. Thank you!