Today is the 12-year anniversary of the Chris Beat Cancer Blog! And today's interview is a follow-up with the first natural cancer survivor I interviewed, way back in 2011, Cortney Campbell.
Cortney was diagnosed with Stage II Nodular Lymphocyte Predominant Hodgkin's Lymphoma in October of 2008. This is a rare type of lymphoma and at that time she was told there were no conclusive studies on what type of conventional treatment would work. The chemotherapy suggested to her had many concerning side effects, one of which was infertility.
While touring the cancer clinic, Kevin heard, "This is not for you." And that prompted them to look for another way to heal.
Kevin and Cortney found information and inspiration from holistic survivors like Kris Carr (whom I've also interviewed) and they took a leap of faith together and focused on healing naturally with plant-based nutrition and natural therapies. And she got well!
Cortney and her husband Kevin have become dear friends over the years and today, nearly fourteen years after her diagnosis, Cortney is still cancer-free and a mom to five beautiful kids.
Cortney runs a blog called Anticancer Mom and has been instrumental in the growth of the Healing Strong holistic cancer support group community. She and Kevin also contributed entries to my book Beat Cancer Daily: 365 Days of Inspiration, Encouragement, and Action Steps to Survive and Thrive.
You're going to love this interview with Cortney and Kevin Campbell!
Watch our interview below, or listen to it on the Chris Beat Cancer podcast on iTunes or Spotify.
Show Notes
-Cortney's healing story [2:25]
-Finding your path to holistic healing [14:25]
-"If you're in doubt, don't" [18:15]
-Get a second opinion [23:30]
-Cortney's anti-cancer protocol [30:00]
-Determination is the key to success [34:10]
-Vanderbilt University study: Understanding Cancer Metabolism [38:35]
-Digestive problems, parasites, and pregnancy, oh my! [42:35]
-You cannot heal in a state of fear [45:25]
-Healed in 6 months! [47:10]
-Feeding five kids healthy food [52:50]
-Transitioning from a hard core healing diet to maintenance [55:25]
-You have to do it for you [1:10:00]
-Learn from people who've done it (my Mt. Everest analogy) [1:11:30]
-Monitor your progress carefully [1:14:40]
Connect with Cortney:
Cortney's Kickbutt Cancer-Fighting Concoction (Smoothie)
-3 to 4 cups water
-1/2 avocado
-2 Brussel sprouts
-1 leaf of kale
-1/2 apple
-3 handfuls of baby greens or spinach
-1/2 cup broccoli
-1/2 cup broccoli sprouts
-1/2 cup lentil sprouts and/or mung beans sprouts
-1/2 handful sunflower sprouts
-1/2 handful buckwheat lettuce sprouts
-1 tbsp dulse
or kelp
 seaweed
Links referenced in the interview:
…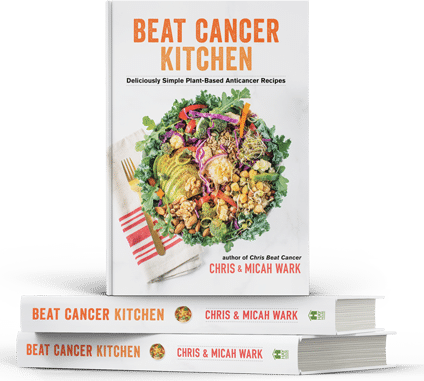 Beat Cancer Kitchen: My New Recipe Book,
Deliciously Simple Plant-Based Anti-Cancer Recipes
Get it on Amazon here
Beat Cancer Daily
365 Days of Inspiration, Encouragement, and Action Steps to Survive and Thrive
Get it on Amazon here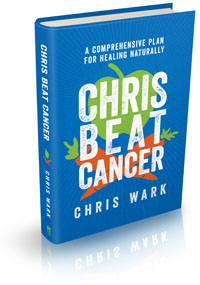 Chris Beat Cancer: A Comprehensive Plan for Healing Naturally,
published by Hay House, is a National Bestseller as ranked by USA Today, The Wall Street Journal, and Publishers Weekly!
Get it on Amazon here
, or anywhere books are sold.
I've interviewed over 60 people who've healed all types and stages of cancer. Check them out
here
. Or use the search bar to find survivors of specific cancer types.
I also created a coaching program for cancer patients, caregivers and anyone who is serious about prevention called SQUARE ONE. It contains the step-by-step strategies used by myself and everyone I know who has healed cancer with nutrition and natural, non-toxic therapies.
Watch SQUARE ONE Module 1 for free here
(((c)))
Chris Beat Cancer is reader-supported. If you purchase a product through a link on this site I may receive compensation from the affiliate partner (like Amazon). Your support helps fund this blog and my mission so my team and I can continue to do the work that we do. Thank you!