Update: Two years after healing stage 4 breast cancer, April was diagnosed with liver cancer. She passed away on Tuesday February 12th 2019. My hypothesis based on her case and others I've seen is that cannabis oil may have a dramatic tumor shrinking effect initially, but then at some point cancer stem cells can adapt and grow more aggressively. I don't have any more information on what she did in the two years after our interview. 
April was diagnosed with Stage 4 Breast cancer and turned it around in 3 months with nutrition and natural non-toxic therapies, specifically cannabis oil!
April is so full of joy, life, and energy… and I know she is going to encourage and inspire a lot of people. I am so excited to see the impact that she is going to have in the world.
You are going to love her!
Show Notes:
-April loses her ability to walk [00:02:32]
-A positive pregnancy test and a Stage 4 diagnosis [00:06:00]
-An undetectable tumor that spread cancer throughout her body [00:10:49]
-The illegal all-natural plant therapy that caught her eye [00:17:15]
-The scare tactics used on her [00:26:25]
-Refusing chemotherapy in spite of her doctor's warning [00:28:54]
-How CT Scans mislead patients (including her) [00:31:21]
-Her anti-cancer diet and lifestyle [00:41:34]
-Addressing the whole body with a holistic view [00:47:28]
-How doctors perpetuate victimhood and powerlessness [00:49:42]
-Deciding who to focus on when many people want your help [00:57:44]
April's CA 15-3 cancer marker after starting cannabis oil
April's Breakfast Smoothie:
Handful of arugula
Handful of spinach
Handful of kale
1 cup of organic berries
Half a lemon with the peel
15 apricot seeds/kernels
1 tsp hemp seeds
1 tsp ground flax seeds
1 tsp matcha green tea powder
1 tsp turmeric powder
1 tsp hemp protein powder
Top it off with organic (no sugar added) juice like acai, pomegranate or grape
Selected links from the interview:
How to make cannabis oil with Rick Simpson  (April used naphtha as a solvent)
Run From the Cure (Rick Simpson's Cannabis Documentary)
PhoenixTears.ca (Rick Simpson's website)
Natures Answer to Cancer by Rick Simpson
April's talk at her local Weston Price Chapter
…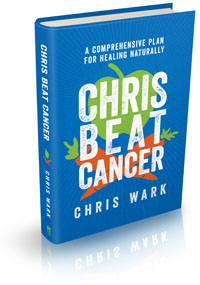 Chris Beat Cancer: A Comprehensive Plan for Healing Naturally,
published by Hay House, is a National Bestseller as ranked by USA Today, The Wall Street Journal, and Publishers Weekly!
Get it on Amazon here
, or anywhere books are sold.
I've interviewed over 60 people who've healed all types and stages of cancer. Check them out
here
. Or use the search bar to find survivors of specific cancer types.
Chris Beat Cancer is reader-supported. If you purchase a product through a link on this site I may receive compensation from the affiliate partner (like Amazon). Your support helps fund this blog and my mission so my team and I can continue to do the work that we do. Thank you!