In 2014, Julie was diagnosed with Stage IIc ovarian cancer. After using conventional treatment and making changes to her diet and lifestyle, she was doing okay – until her car was hit by a semi truck. After a difficult year of  rehab and recovery from the accident, she discovered that her ovarian cancer had metastasized to her colon… Stage IV.
After thoughtful research and consideration, and despite the pressure from her oncologist, Julie chose a different path. She chose to use integrative and natural therapies support her body's ability to heal and she restored her health.
I know Julie's perseverance and commitment to healing ovarian cancer will inspire you! Enjoy!
Show Notes
-Her cancer diagnosis and horrific treatment side effects [01:00]
-A life changing encounter with a semi truck [04:23]
-How a recurrence gave Julie a second chance at healing [07:03]
-Building the perfect modality of therapies and diets [10:11]
-Salicinium and mistletoe IV therapy [11:00]
-Why it's important to listen to your instincts & intuition [15:20]
-Doxorubicin aka "Red Death" or "Red Devil" [16:11]
-How Julie reached her ultimate goal [18:18]
-Making fact-based decisions, not fear-based decisions [21:15]
-Getting bullied by her doctors to do treatment [23:00]
-How to look for the little clues from your doctor [25:48]
-Balancing oxidative and anti-oxidative therapies [28:23]
-Julie's results: "nothing remarkable" [32:05]
-Advise for the newly-diagnosed cancer patient [34:06]
If you or someone you care about has cancer, make sure you download my free guide: 20 Questions For Your Oncologist. This is the guide that Julie used to get the answers she needed to make an informed decision about her treatment.
Selected links from the interview:
Dr. Leigh Erin Connealy
Cancer Center For Healing in Irvine, CA
Radical Remission by Dr. Kelly Turner
The Autoimmune Solution Diet br Dr. Amy Myers
Therapies/tests mentioned in the interview:
-Salicinium
–Mistletoe
-Hyperbaric Oxygen
-Localized Hyperthermia
–PEMF Therapy
-Sauna therapy
-Epsom Salt Baking Soda Baths
-RGCC Test
-Insulin Potentiated Therapy Low Dose Chemo
-Dendritic Cell Vaccine
…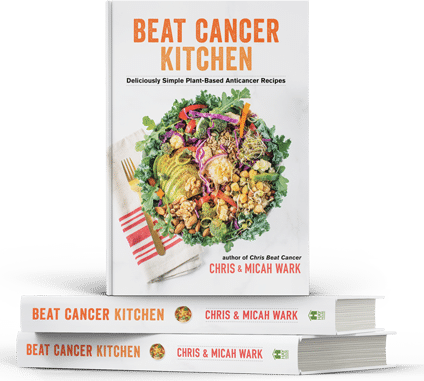 Beat Cancer Kitchen: My New Recipe Book,
Deliciously Simple Plant-Based Anti-Cancer Recipes
Get it on Amazon here
Beat Cancer Daily
365 Days of Inspiration, Encouragement, and Action Steps to Survive and Thrive
Get it on Amazon here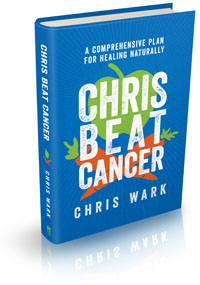 Chris Beat Cancer: A Comprehensive Plan for Healing Naturally,
published by Hay House, is a National Bestseller as ranked by USA Today, The Wall Street Journal, and Publishers Weekly!
Get it on Amazon here
, or anywhere books are sold.
I've interviewed over 60 people who've healed all types and stages of cancer. Check them out
here
. Or use the search bar to find survivors of specific cancer types.
Chris Beat Cancer is reader-supported. If you purchase a product through a link on this site I may receive compensation from the affiliate partner (like Amazon). Your support helps fund this blog and my mission so my team and I can continue to do the work that we do. Thank you!