Kathy Bero was diagnosed with Stage IV inflammatory breast cancer (invasive ductal carcinoma) in 2005. After surgery, chemotherapy and radiation treatment for breast cancer, she was diagnosed with head and neck cancer!
Drug and radiation therapy ravaged her body and she eventually made a decision to walk away from conventional treatment, take control of her situation, and make radical changes to her diet and lifestyle, including eating anti-angiogenic foods, to support her body's ability to heal.
During this time Kathy lost six friends and her father to cancer, but her commitment to hardcore anticancer nutrition and healing is the reason she defied the odds and got well!
Kathy has a phenomenal healing story and a lot of expertise on anti-cancer nutrition. I saw a local news story about her last year and I was like, "Yes! I've got to interview her!"
Enjoy!
(It's also on the Chris Beat Cancer podcast in iTunes, and Spotify)
Show Notes
-How a horse led Kathy to her cancer diagnosis [01:19]
-Maintaining a sense of humor amidst difficulty [05:29]
-Preemptively defending against inevitable recurrence [11:45]
-Anti-angiogeneis: How food fights cancer [13:00]
-Kathy's cancer-fighting garden [16:16]
-Doctors' irrational fears of vegetables [24:47]
-Kathy's book writing journey [29:40]
-Her daughters healing experience at Outward Bound [32:19]
-Reiki therapy [36:47]
-Kathy's non-diet diet [42:15]
-Working to reduce environmental pollution [52:12]
-Changing the world through education [57:13]
-On her friend Larry Mullen, Jr. [1:02:31]
-You are your own best advocate [1:11:17]
Connect with Kathy Bero:
kathymydlachbero.com
E.A.T. – An Unconventional Decade in the Life of a Cancer Patient by Kathy Mydlach Bero
Additional links from the interview:
Anticancer by David Servan-Schreiber
Foods to Fight Cancer by Richard Béliveau
Commonweal Cancer Retreat
Mastering Diabetes
Forest Bathing study
BerriHealth Black Raspberry Powder
Animal, Vegetable, Miracle by Barbara Kingsolver
Integrative Medicine textbook by David Rakel
Harvard NEER Database "Network of Enigmatic Exceptional Responders"
If you would like to learn more about anti-angiogenic foods, watch my interview with Dr. William Li on Foods That Fight Cancer.
…
Please LIKE and Share. Add your thoughts below!
----------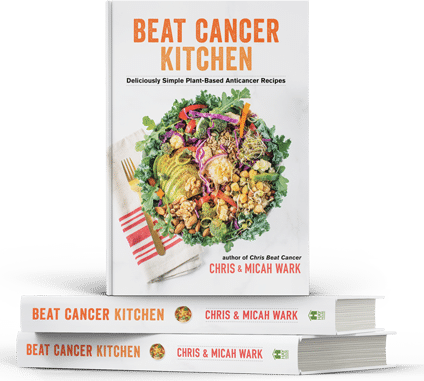 Beat Cancer Kitchen: My New Recipe Book, Deliciously Simple Plant-Based Anti-Cancer Recipes. Get it on Amazon here

----------
Beat Cancer Daily 365 Days of Inspiration, Encouragement, and Action Steps to Survive and Thrive. Get it on Amazon here

----------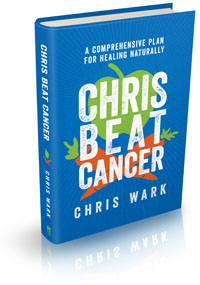 Chris Beat Cancer:
A Comprehensive Plan for Healing Naturally, published by Hay House, is a National Bestseller as ranked by USA Today, The Wall Street Journal, and Publishers Weekly! Get it on Amazon here or anywhere books are sold.
I've interviewed over 60 people who've healed all types and stages of cancer. Check them out here. Or use the search bar to find survivors of specific cancer types.
(((c)))
Chris Beat Cancer is reader-supported. If you purchase a product through a link on this site I may receive compensation from the affiliate partner (like Amazon). Your support helps fund this blog and my mission so my team and I can continue to do the work that we do. Thank you!