According to the CDC's 2016 statistics, colorectal cancer is the third most common cancer, and the third most common cause of cancer death in the United States and many other Western industrialized nations, claiming the lives of over 52,000 Americans per year.
I was diagnosed with Stage IIIc colon cancer in December 2003, at 26 years old. After surgery, I opted out of chemotherapy against my doctors advice and chose a holistic approach to build my body up with nutrition and natural therapies, rather than break it down further with treatment.
It has been known for several decades that aspirin can reduce colon cancer risk and help prevent a recurrence.
In a recent 2019 study, researchers found that aspirin use one to three times per month by older adults (with average starting age of 66 and followed for around 12 years) correlated with a 13% reduced risk of death from cancer. Those who took aspirin three or more times per week had a 15% reduced risk of death from any cancer, and a 29-44% reduced risk of death from colorectal cancer, depending on their BMI.
Aspirin use can be a double edged sword. In some cases aspirin use can result in aggressive drug-resistant cancer cells, which are harder to treat. And it also increases the risk of internal bleeding in older adults.
In 2007, my oncologist suggested I take a baby aspirin every day for prevention. But I didn't. I was wary of taking any pharmaceutical compound long term, and I assumed that I was getting as much benefit (without any risk) from three years of eating 10+ servings of fruits and vegetables per day. Years later, after starting this blog and deep diving into anti-cancer nutrition science, I learned a few things…
I learned that salicylic acid, the anti-cancer compound in aspirin, is also found in a variety of fruits, vegetables, whole grains, nuts, herbs, spices, teas, and even honey.
And the good news is… You can get the equivalent of a baby aspirin (or more) by eating a whole food, plant-based diet rich in herbs and spices.
Herbs and spices contain the highest levels of salicylates – including cayenne, cardamom, cinnamon, dill, fenugreek, oregano, turmeric, thyme, mint, basil, bay leaves, ginger, nutmeg, paprika, and more. But there's one "salicylic acid super spice" that appears to be the king, containing nearly 15 times more salicylic acid than turmeric, paprika, or red chili powder. It's cumin!
One teaspoon of cumin contains roughly the same amount of salicylic acid as a baby aspirin.
Note: Cumin should not to be confused with black cumin or curcumin, both of which also contain awesome anti-cancer compounds.
This study found that vegetarians had significantly higher urine levels of salicylic acid than non-vegetarians.
Rural Indian populations have much lower rates of colorectal cancer than many Western nations. It has been suggested that this may be due to a diet rich in spices with high levels of salicylates, especially cumin, paprika, turmeri,c and chili powder, which are staple ingredients in most curry powders.
This study found that rural Indians had serum levels of salicylic acid that were more than double the levels previously measured in Western vegetarians, and nearly four times higher than non-vegetarians.
Salicylic acid is so beneficial to the body that some researchers have even suggested it be classified as an official vitamin: Vitamin S!
It's worth noting that meat, poultry, fish, eggs, oils, and dairy products – the staples of Western diets, low-carb diets, paleo, and keto diets – all have little to no salicylic acid.
Another interesting tidbit, which will not be surprising to regular readers of this blog, was a study that found that soups made with organic vegetables had nearly six times more salicylic acid than soups made with conventionally grown produce.
Despite the mounds of research published on the benefits of salicylic acid in the body, the scientific community has never fully understood exactly how salicylic acid works against cancer. But this 2019 study, which was the impetus for today's article, shines some new light on this phenomenon.
Researchers at South Dakota State University began by investigating the mechanism by which aspirin (salicylic acid) reduces colorectal cancer risk. And they discovered that a salicylic acid metabolite called 2,4,6-trihydroxybenzoic acid (2,4,6-THBA) was able to slow cancer cell growth.
Then they decided to search for natural sources of 2,4,6-THBA and discovered that this compound is also released when flavonoids found in fruits and vegetables are broken down by bacteria in the colon.
The researchers reported that the flavonoid metabolite 2,4,6-THBA can bind to three enzymes that help cells divide. They also found that 2,4,6-THBA has a direct anti-cancer effect on colon cancer cells if they have a transporter protein called SLC5A8. But this protein is often disabled in colon cancer cells.
Researchers discovered that 2,4,6-THBA also has an anti-cancer effect in two indirect ways
They found that 2,4,6-THBA slows the rate of cell division. This gives injured pre-cancerous cells more time to repair DNA damage, and gives immune cells more time to locate and destroy existing cancer cells. Nice!
And remember, that's just the effect of one metabolite of salicylic acid – one of the thousands of anti-cancer phytochemicals (aka phytonutrients) found in fruits and vegetables!
Fruits and vegetables have incredible health-promoting power, which is why a whole food, plant-based diet is the most powerful anti-cancer diet of all.
If you enjoy learning about evidence-based nutrition and lifestyle practices for cancer prevention and healing, check out my book Chris Beat Cancer: A Comprehensive Plan for Healing Naturally.
Article sources
Medical News Today
The Flavonoid Metabolite 2,4,6-Trihydroxybenzoic Acid Is a CDK Inhibitor and an Anti-Proliferative Agent: A Potential Role in Cancer Prevention
Nutritionfacts.org
…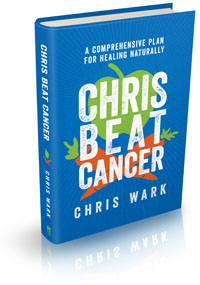 Chris Beat Cancer: A Comprehensive Plan for Healing Naturally,
published by Hay House, is a National Bestseller as ranked by USA Today, The Wall Street Journal, and Publishers Weekly!
Get it on Amazon here
, or anywhere books are sold.
I've interviewed over 60 people who've healed all types and stages of cancer. Check them out
here
. Or use the search bar to find survivors of specific cancer types.
Chris Beat Cancer is reader-supported. If you purchase a product through a link on this site I may receive compensation from the affiliate partner (like Amazon). Your support helps fund this blog and my mission so my team and I can continue to do the work that we do. Thank you!