Pomegranates are awesome fruit that you should eat more often. Pomegranates have three times the anti-oxidant activity of red wine and green tea and they have anti-inflammatory and anticancer effects in the body. Especially for breast cancer (see here, here and here) and prostate cancer.
This study reported that 8 ounces of pomegranate juice per day prolonged the prostate-specific antigen (PSA) doubling time from a baseline of 15 months to 54 months post-PE treatment in hormone-naive non-metastatic patients with rising PSA after surgery or radiotherapy.
But getting them open is tricky…
The first time I ever bought a pomegranate, I was super pumped to get it home and eat it, but my excitement quickly waned after it took me forever to pick out all the seeds, and made a huge mess. Although it was delicious, I was disappointed by the hassle.
Months later, I was lamenting about this and someone told me to deseed it while holding it submerged in a bowl of water. I tried this technique and it worked beautifully, much faster and no mess. Huzzah! I boarded the pomegranate train and became a regular consumer.
But then I discovered an even better method…
So I shot a quick video to show how to deseed a pomegranate fast, without water and without making a mess. Enjoy!
Fun Fact: Pomegranate seeds are called arils!
After posting this video someone sent me a link to this sweet little Pomegranate Tool,
which uses the same technique I demonstrated.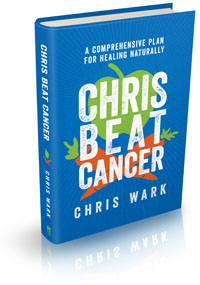 Chris Beat Cancer: A Comprehensive Plan for Healing Naturally,
published by Hay House, is a National Bestseller as ranked by USA Today, The Wall Street Journal, and Publishers Weekly!
Get it on Amazon here
, or anywhere books are sold.
I've interviewed over 60 people who've healed all types and stages of cancer. Check them out
here
. Or use the search bar to find survivors of specific cancer types.
I also created a coaching program for cancer patients, caregivers and anyone who is serious about prevention called SQUARE ONE. It contains the step-by-step strategies used by myself and everyone I know who has healed cancer with nutrition and natural, non-toxic therapies.
Watch SQUARE ONE Module 1 for free here
(((c)))
Chris Beat Cancer is reader-supported. If you purchase a product through a link on this site I may receive compensation from the affiliate partner (like Amazon). Your support helps fund this blog and my mission so my team and I can continue to do the work that we do. Thank you!