In the spring of 2013, I bought an aeroponic vertical garden called the Tower Garden.
I grew a bunch of veggies and herbs, and it was super fun.
In 2014 I decided to document the growing process. So I took a selfie with my Tower Garden almost every day for two months and put together a little time lapse for you, which is at the end of video below.
Enjoy!
One thing I forgot to mention in the video is that the Tower Garden is super eco-friendly, using only 10% of the water and land space as a regular garden.
It will grow food anywhere there is sunlight and permissible temperatures, and is especially great for folks who don't have a yard to plant in. You can put it on your porch, deck, patio or in a sunroom. You can also grow indoors with grow lights.
The liquid nutrients mentioned in the video are a blend of earth and sea minerals formulated for aeroponic growing that includes nitrogen, potassium, calcium, iron, magnesium, sulfur, boron, copper, manganese, zinc, etc.
The Tower Garden comes with everything you need to get started including seeds, Tower Tonic, pH kit, a manual and an instructional dvd.
Here's a quick little video explaining the inner workings of the Tower Garden.
Learn more about the Tower Garden here
A few tips
You can sprout the seeds included with the kit, or use your own seeds. I've done both, but my preference to order seedlings from Living Tower Seedlings. They ship them right to you, ready to plant in the Tower Garden. Super easy.
The first year I didn't use any insect spray and the bugs munched on my leafy greens pretty hard. This year I used an organic bug spray called Captain Jack's Deadbug Brew. I also manually inspected all the leaves and removed any eggs and worms every few days. Both made a huge difference.
Recommended accessories
The 8 plant extension kit, which gives you 40% more yield for an additional 13% cost. No brainer.
A dolly, for three reasons. It raises it off the ground, reducing the heat transfer from a deck or patio. It makes it much easier to rotate and relocate. And it gives additional separation from ground bugs.
The tomato cage is pretty handy too if you want to grow viney stuff like tomatoes, cucumbers, pole beans, etc.
After having such a great experience over the last two growing seasons, I decided to become a Tower Garden distributor. If you buy through my distributor portal, I get a commission. Yay!
And thanks. :)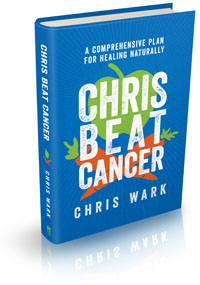 Chris Beat Cancer: A Comprehensive Plan for Healing Naturally,
published by Hay House, is a National Bestseller as ranked by USA Today, The Wall Street Journal, and Publishers Weekly!
Get it on Amazon here
, or anywhere books are sold.
I've interviewed over 60 people who've healed all types and stages of cancer. Check them out
here
. Or use the search bar to find survivors of specific cancer types.
Chris Beat Cancer is reader-supported. If you purchase a product through a link on this site I may receive compensation from the affiliate partner (like Amazon). Your support helps fund this blog and my mission so my team and I can continue to do the work that we do. Thank you!