I'm still buzzing from the Healing Strong Conference in Atlanta this past weekend.
It was a life changing event, better than I could have ever imagined….
The people. The presenters.The presence of God. Check.
And I have to admit, it was also a bit surreal. Every time I turned around someone was saying,
"Hi Chris, you don't know me but I feel like I know you, and I just wanted to thank you for your website and the work you are doing…"
I know some of my readers are going to laugh and say, "That was me!"
To all my new friends, thank you for taking the time to introduce yourself, share your story, and encourage me. I left there feeling ten feet tall and I'm looking forward to hearing your healing stories in the coming months and years. Keep me posted!
In the meantime, I was able to shoot a ton of video of the other speakers as well as some amazing natural survivors which I will be sharing on the blog in the coming weeks.
First on the list are my friends Kevin and Cortney Campbell. Cortney is a chemo-free Hodgkins lymphoma survivor since 2008. Long time readers may remember that hers was the first natural survivor story I shared besides my own. They were some of the key players in making Healing Strong happen. And I thought it would be fun to shoot a follow up video with them in person rather than over the internet.
One of the things I love about Cortney is her will to live. Like me, she was determined to do whatever it took to to get well, which for her literally meant holding her nose to get through meals of
Budwig and green smoothies every day.
She may have complained a little, but she didn't make excuses, and she didn't quit.
Also Kevin should be nominated for Survivor Spouse of the Year. He is a champion,
and by following God's direction, helped save her life. Pay close attention to what Kevin says.
There is some deep wisdom in this man.
I hope you enjoy this interview as much as I did.
Cortney Recommends:
Cancer, Nutrition & Healing by Jerry Brunetti (DVD)
Cancer-Free: Your Guide to Gentle, Non-toxic Healing by Bill Henderson
The Oil-Protein Diet Cookbook by Johanna Budwig
Crazy Sexy Cancer (DVD) by Kris Carr
Read our original interview here.
Check out Cortneys terrific blog at www.greendrinkdiaries.com
Special thanks to my buddy Joe at Cancer Dudes Live More for the t-shirt.
He interviewed me here.
(((c)))
Please LIKE and Share. Add your thoughts below!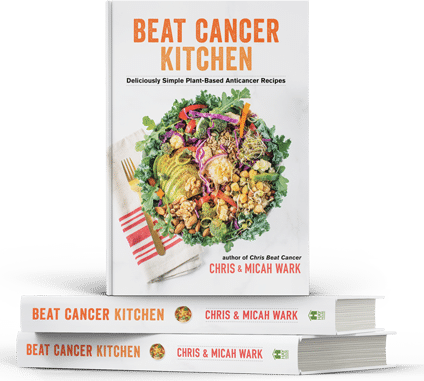 Beat Cancer Kitchen: My New Recipe Book,
Deliciously Simple Plant-Based Anti-Cancer Recipes
Get it on Amazon here
Beat Cancer Daily
365 Days of Inspiration, Encouragement, and Action Steps to Survive and Thrive
Get it on Amazon here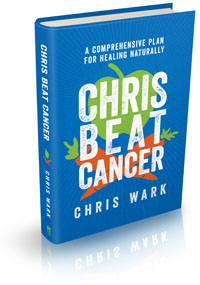 Chris Beat Cancer: A Comprehensive Plan for Healing Naturally,
published by Hay House, is a National Bestseller as ranked by USA Today, The Wall Street Journal, and Publishers Weekly!
Get it on Amazon here
, or anywhere books are sold.
I've interviewed over 60 people who've healed all types and stages of cancer. Check them out
here
. Or use the search bar to find survivors of specific cancer types.
Chris Beat Cancer is reader-supported. If you purchase a product through a link on this site I may receive compensation from the affiliate partner (like Amazon). Your support helps fund this blog and my mission so my team and I can continue to do the work that we do. Thank you!