The humble oat, a nutritious staple in the human diet for thousands of years, has been largely under-appreciated, and even demonized in recent years by people who appear to be terrified by the mere mention of this, or any (gulp) grain.
Like it or not, the oldest historical human dietary record is actually The Bible, from which we know that whole grains have been a pillar of human nutrition for 6,000 years and are the reason most of our ancestors survived at all.
But we found some bones that we think was a caveman from 2 million years ago, and we're assuming that he only ate bacon, broccoli and berries, and that he lived a long healthy life…
It was from this type of unverifiable speculation by meat lovers that the Primal/Paleo Diet was born.
And then real paleontologists discovered that our paleolithic ancestors were grinding oats into flour.
Scientific research abounds with epidemiological studies of people groups all over the world with exceptionally long life and low incidence of chronic Western diseases. The vast majority of these people groups, including rural Africans, Asians, Indians, and South Americans, eat a traditional diet rich in plant-food, especially carbohydrates including paleo no-nos beans and whole grains.
Now, having said that, some of today's grains (like wheat) have been cross-bred, hybridized and processed to death. White flour being the prime example. You should stay away from refined grains.
And unless you've actually been living in a cave, you've probably heard that gluten is a legitimate agitator for some people, causing a myriad of health problems from congestion to fibromyalgia to inflammatory bowel disease. This is true for a small percentage of people and if you have health problems, eliminating a potential agitator like gluten is highly recommended in order to get to the root cause of your health issue.
Oats are a gluten-free grain and many people with wheat/gluten sensitivities have reported that they can eat oats without any problems whatsoever. One thing to keep in mind. Oats are often processed and packaged in the same facilities as other grains, which can result in cross-contamination with trace amounts of gluten. If this is a concern for you, your best bet is Bob's Red Mill Gluten-Free Oats, which are processed in certified gluten-free facilities.
Steel cut oats vs rolled oats
Steel cut oats are cut with a steel blade. That's it.
Rolled oats are steamed, rolled and lightly toasted. Essentially pre-cooked.
Quick oats are just like rolled, except they are chopped into smaller bits so they cook even faster.
Steel cut oats are all the rage these days, but nutritionally, they are only slightly healthier, and in my opinion, they are a giant pain the rear, because they take too long to prepare. I've tried all the shortcut techniques to reduce cooking time, like soaking them overnight or chopping them up in the Vitamix, but they still take way too long, and then somehow I end up burning the oats in the bottom of the pan while the rest of the oats remain undercooked.
Basically every time I try steel cut oats, I end up with a frustrated frowny-face eating a really lousy bowl of oatmeal, and wishing I had just used rolled or quick oats.
Organic rolled or quick oats are super cheap and cook super fast.
They cost $1.70/lb (per pound!) in the bulk section at Whole Foods and cook in less than five minutes.
That's why I prefer rolled oats.
Cooking Directions
For traditional hot oatmeal I boil 2 cups of water on the stove in my Glass Tea Kettle then pour it over the oatmeal until it's fully saturated. It's ready to eat in 5 minutes.
You can put all the ingredients in a bowl and cook them together, or if you want to preserve some of the "rawness" of this meal you can stir in the rest of the ingredients once the oatmeal is fully cooked and ready to eat.
The totally raw option is to soak whole oat groats, or steel cut oats in purified water overnight, then add the rest of the ingredients in the morning when you are ready to eat it. You can eat it cold or warm it up on the stove to knock the chill off.
In the interest of simplicity, this post is all about supercharging traditional cooked oatmeal that everyone is familiar with.
Here are the ingredients
1/2 cup of oatmeal
150 calories, 5 grams of protein and 4 grams of fiber. Oats have the highest soluble fiber content of any grain, and it's a very special fiber. An immune-boosting polysaccharide known as beta-glucans, which are also found in barley, mushrooms and nutritional yeast. I also also take a beta-glucans supplement for immune support.
NOTE: 1/2 cup of dry oats is considered to be one serving, but if you don't eat a lot, 1/4 cup may be sufficient. If you are trying to gain weight, or have a huge appetite like me, use 1 full cup of dry oatmeal, which will give you 300 calories, 10 grams of protein and 8 grams of fiber before you add the rest of the goodies.
3 tablespoons of Organic Hemp Hearts
These are raw shelled hemp seeds. 10 grams of protein, 3 grams of fiber, omega 3 and 6 fatty acids, plus 45% of your magnesium and phosphorus, 110% of your manganese, 20% of your iron and zinc, 8% of your B6 and Folate, and 2% of your calcium. Get Canadian grown hemp hearts here.
2 tablespoons of Organic Chia Seeds
6 grams of protein, 6 grams of Omega-3, 10 grams of fiber, plus 10% of your magnesium, 14% of your calcium, and 8% of your iron. Get organic chia seeds here.
2 tablespoons of Organic Flax Seed
3 grams of protein, 2.8 grams of Omega-3, 4 grams of fiber, plus 5% of your magnesium, 3% of your calcium, and 5% of your iron. Get organic flax seeds here.

1-2 tablespoons of Date Sugar
Date sugar is simply dried, ground up dates. That's it.
And it has the highest antioxidant content of any sweetener.
Get date sugar here.
1 tablespoon of Organic Blackstrap Molasses
Blackstrap molasses is the second highest antioxidant sweetener.
The flavor takes some getting used to, but I love it.
In addition to the antioxidants, 1 tbsp contains 20% of your daily potassium, 15% of your iron, 10% of your calcium, 10% of your B6, and 8% of your magnesium. Get organic blackstrap molasses here.
I also add organic super antioxidant spices Ceylon cinnamon and allspice. I use 1/2 tsp of each.
A handful of organic berries
Berries have the highest concentration of anti-oxidants and anti-cancer compounds of any fruit. Blueberries, blackberries, raspberries, strawberries, mulberries, black currents, raisins… just get some berries on there!
I also add 1 tsp of organic turmeric powder and 1 tsp of Bragg nutritional yeast.
Nutrition totals for my supercharged oatmeal
1 dry cup of oatmeal, plus all these superfood fixins, has 29 grams of protein, 25 grams of fiber, about 70% of your daily magnesium, 110% of your manganese, 29% of your calcium, 48% of your iron, 20% of your potassium, 20% of your zinc, and 18% of your B6. And with the addition of berries and spices, this little breakfast will give you more antioxidants than most people get in a week on the Standard American Diet.
Oh, and it's vegan. No animals necessary. :)
For a delicious chocolatey twist, add 1/2 tbsp of raw cacao powder.
One final tip. If you want to up the calories, add almond butter, which has 90 calories and 3.5 grams of protein per tbsp.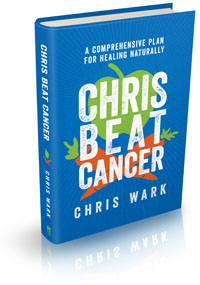 Chris Beat Cancer: A Comprehensive Plan for Healing Naturally,
published by Hay House, is a National Bestseller as ranked by USA Today, The Wall Street Journal, and Publishers Weekly!
Get it on Amazon here
, or anywhere books are sold.
I've interviewed over 60 people who've healed all types and stages of cancer. Check them out
here
. Or use the search bar to find survivors of specific cancer types.
Chris Beat Cancer is reader-supported. If you purchase a product through a link on this site I may receive compensation from the affiliate partner (like Amazon). Your support helps fund this blog and my mission so my team and I can continue to do the work that we do. Thank you!