Dr. Josh Axe is a doctor of natural medicine, and an expert in herbal medicine, nutrition, digestive health and athletic performance. Josh operates one of the world's largest natural health websites: DrAxe.com and is the author of a brand new book called Eat Dirt.
Josh tells the amazing story of how he helped his mom heal stage 4 breast cancer with nutrition and natural therapies, and we talk all about gut health, the importance of "eating dirt", and more.
Listen to the podcast on iTunes
Listen to the podcast on Stitcher
Or watch it right here!
SHOW NOTES
-How he helped his mom heal breast cancer [3:30]
-Understanding what leaky gut is [11:00]
-How the refrigerator has hurt our health [17:00]
-The African Diet Swap [17:45]]
-Josh explains the importance of Prebiotics [23:00]
-The most destructive foods aka "Gut Grenades [22:20]
-The best foods to heal the gut [28:15]
-Why raw food can be problematic for some people [23:45]
-The prescription drug connection to gut problems [34:15]
-African americans eating dirt
-Practical ways to get more dirt into your body [38:00]
-Beneficial bacteria in the ocean [41:30]
-How pets help reduce your risk of allergies [42:00]
-The five gut types [43:45]
Heads up. Josh put together a really sweet book launch deal that includes over $300 in free bonuses like his Gut Repair Cookbook, his Supplements, Herbs and Essential Oils Guide, and more.
Get a copy of Eat Dirt plus $300 in bonuses here
FYI The "dirty" probiotic supplement that Josh's mom and I both took while healing cancer is called Primal Defense. I took 3 capsules 3 times per day for many months.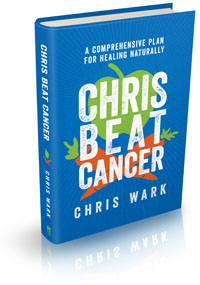 My new book
Chris Beat Cancer: A Comprehensive Plan for Healing Naturally,
published by Hay House, is a National Bestseller as ranked by USA Today, The Wall Street Journal, and Publishers Weekly!
Get it on Amazon here
, or anywhere books are sold.
I've interviewed over 60 people who've healed all types and stages of cancer. Check them out
here
. Or use the search bar to find survivors of specific cancer types.
I also created a coaching program for cancer patients, caregivers and anyone who is serious about prevention called SQUARE ONE. It contains the step-by-step strategies used by myself and everyone I know who has healed cancer with nutrition and natural, non-toxic therapies.
Watch SQUARE ONE Module 1 for free here
(((c)))
Some posts contain affiliate links to products that I have researched, use and enthusiastically endorse. If you purchase a product through an affiliate link, your cost will be the same (or discounted if a coupon code is offered) and I will receive compensation from the partner supplier (like Amazon). Your support helps fund this blog and my mission so my team and I can continue to do the work that we do. Thank you!