Kris Carr is a superstar stage IV cancer thriver, global wellness leader, filmmaker, and author of multiple bestselling books including the New York Times bestsellers Crazy Sexy Diet and Crazy Sexy Kitchen.
In 2003, at age 31, Kris was diagnosed with a rare and incurable stage IV cancer called epithelioid hemangioendothelioma. Within two weeks of her diagnosis, Kris began filming her cancer journey. Her now famous documentary, Crazy Sexy Cancer, a four-year labor of love, documented her compassionate search for a cure and how she ultimately found a life filled with more joy and happiness than she had ever known before.
Kris and I are both total goofballs, which really comes out when we get together. This is without a doubt the most fun interview I've ever done. It's been a long time coming and I am super stoked to share this with you. :)
You are gonna LOVE this interview with superstar cancer thriver Kris Carr!
Watch below or listen to the podcast on iTunes, Stitcher, or Spotify.
A reader of this blog has taken the time to translate this interview into Bulgarian.
Show Notes:
-What do a Bud Light girl and a cockroach have in common? [00:05:23]
-Too busy to notice you are sick [00:09:55]
-Learning to be a wellness warrior [00:14:05]
-Finding the right co-captain for your healing journey [00:18:44]
-Straight from the hospital to Whole Foods [00:22:00]
-The four-year video diary project that became Crazy Sexy Cancer [00:26:16]
-How Kris learned to co-exist with her disease [00:31:45]
-The pros and cons of cancer clinics [00:35:06]
-How to create our own wellness and healing [00:39:40]
-Healing versus perfection [00:43:20]
-What can you do to bring more joy into your life? [00:46:20]
-Dump the noise and get grounded [00:48:51]
-Should we worry about legumes, phytates, and lectins? [00:52:45]
-The food challenge game [00:59:54]
-A special tempeh recipe [01:05:16]
-How Kris met the love of her life [01:08:02]
-How to be a Crazy Sexy Cancer THRIVER [01:13:51]
-Building a self-soothing relationship with yourself [01:16:55]
-The Hay House Healing Cancer World Summit [01:24:01]
Selected Links from this interview:
Upaya Meditation Retreat
Busting the Bean Myth
Hippocrates Health Institute
Connect with Kris:
KrisCarr.com
Facebook
YouTube
Instagram
Twitter
Kris' Film and Books:
Crazy Sexy Cancer, the film
Crazy Sexy Cancer Tips
Crazy Sexy Cancer Survivor
Crazy Sexy Diet
Crazy Sexy Kitchen
Crazy Sexy Juice
Brands mentioned in the interview:
Annmarie Skin Care
Sufficient-C Non-GMO Vitamin C Powder
…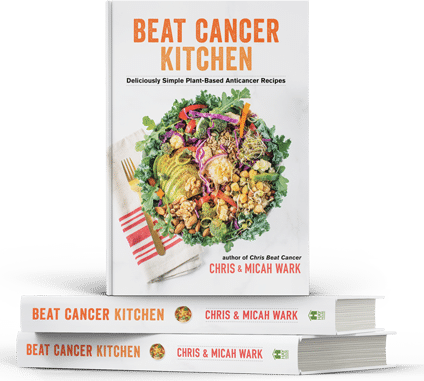 Beat Cancer Kitchen: My New Recipe Book,
Deliciously Simple Plant-Based Anti-Cancer Recipes
Get it on Amazon here
Beat Cancer Daily
365 Days of Inspiration, Encouragement, and Action Steps to Survive and Thrive
Get it on Amazon here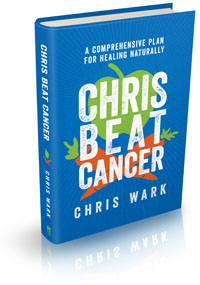 Chris Beat Cancer: A Comprehensive Plan for Healing Naturally,
published by Hay House, is a National Bestseller as ranked by USA Today, The Wall Street Journal, and Publishers Weekly!
Get it on Amazon here
, or anywhere books are sold.
I've interviewed over 60 people who've healed all types and stages of cancer. Check them out
here
. Or use the search bar to find survivors of specific cancer types.
I also created a coaching program for cancer patients, caregivers and anyone who is serious about prevention called SQUARE ONE. It contains the step-by-step strategies used by myself and everyone I know who has healed cancer with nutrition and natural, non-toxic therapies.
Watch SQUARE ONE Module 1 for free here
(((c)))
Chris Beat Cancer is reader-supported. If you purchase a product through a link on this site I may receive compensation from the affiliate partner (like Amazon). Your support helps fund this blog and my mission so my team and I can continue to do the work that we do. Thank you!