Breast cancer patients who adopt a low-fat diet are more likely to survive for at least a 10 years after diagnosis, compared to patients who eat a higher fat diet.
According to lead researcher Dr. Rowan Chlebowski, this study "found yet another health benefit to eating a low-fat diet, and more fruits and vegetables… postmenopausal women on a low-fat diet who were diagnosed with breast cancer lived longer."
His team also noted that the Women's Health Initiative (WHI) study already found that women who ate a low-fat diet were at lower odds of developing more aggressive forms of breast cancer.
Chlebowski's team looked at WHI data on nearly 49,000 postmenopausal women tracked by 40 clinical centers across the United States to research the effects of a low-fat diet on breast cancer survival.
The women were randomly selected to stick with their regular diet (a third or more of daily calories from fat) or to eat more fruits, vegetables and whole grains, and to aim for less than 20 percent of calories from fat.
Over the 8.5 years of the diet study, 1,764 of the women developed breast cancer. Outcomes for these women were tracked for an average of 11.5 years after their diagnosis.
Overall, survival for women who stuck with the low-fat diet was 22 percent higher compared to women who continued with their usual higher fat diet.
68 women in the low-fat diet group died of breast cancer, compared to 120 women in the regular-diet group. The low-fat group also had a 24% lower risk of dying from other cancers as well.
They were also less likely to die of other causes, especially heart disease. 64 women who ate fattier diets died of heart disease during the study period, while only 27 women died of heart disease in the low-fat diet group.
The take-home message, according to Chlebowski: "Following a low-fat diet — at any point in your life — can have tremendous health benefits."
Comments from Chris
It's important to note that the women in this study were doing conventional treatment for breast cancer. More evidence that diet and lifestyle choices impact survival.
This lines up with the dietary approach that I and many others have followed to heal cancer against the odds. Despite what you may have heard elsewhere, a high-fat diet is not the best diet for cancer prevention and healing.
The best evidence-based anticancer diet is a naturally low-fat, plant-based diet of whole foods: fruits, vegetables, legumes, nuts, seeds, and whole grains (like oats!), preferably organic.
I talk about this dietary approach to healing cancer in great detail on this site, in interviews with holistic cancer survivors, in my book, and in my SQUARE ONE course. Dig in!
Related article: The evidence against a ketogenic diet for cancer
Article sources
Healthday
Time
Pubmed
…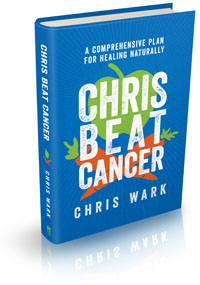 Chris Beat Cancer: A Comprehensive Plan for Healing Naturally,
published by Hay House, is a National Bestseller as ranked by USA Today, The Wall Street Journal, and Publishers Weekly!
Get it on Amazon here
, or anywhere books are sold.
I've interviewed over 60 people who've healed all types and stages of cancer. Check them out
here
. Or use the search bar to find survivors of specific cancer types.
I also created a coaching program for cancer patients, caregivers and anyone who is serious about prevention called SQUARE ONE. It contains the step-by-step strategies used by myself and everyone I know who has healed cancer with nutrition and natural, non-toxic therapies.
Watch SQUARE ONE Module 1 for free here
(((c)))
Chris Beat Cancer is reader-supported. If you purchase a product through a link on this site I may receive compensation from the affiliate partner (like Amazon). Your support helps fund this blog and my mission so my team and I can continue to do the work that we do. Thank you!