This recipe is from my new book BEAT CANCER KITCHEN: Deliciously Simple Plant-Based Anticancer Recipes, in stores November 16th and available for pre-order now! (Links below the recipe)
Merry Mary
Move over Bloody Mary, our Merry Mary is a savory tomato-based juice packed with anticancer, antioxidant, and anti-inflammatory veggies: celery, peppers, cucumber, carrots, and garlic.
Tomatoes contain a unique anticancer compound called lycopene. And high intake of tomatoes has been associated with a lower risk of multiple types of cancer including prostate, lung, stomach, colorectal, breast, and more. This is a deliciously fun and festive juice. Enjoy!
Ingredients
-1 pound tomatoes
-1 celery stalk, plus small inner ribs for garnish
-1 large cucumber
-1 medium green bell pepper
-4 medium carrots
-1 garlic clove
-1 medium jalapeño pepper (optional), plus more for garnish
-2 medium limes, cut into wedges
-Black pepper, to taste
-4 to 6 pieces pickled okra 4 to 6 radishes
-4 to 6 olives
-4 to 6 grape tomatoes
Directions
1. Feed the tomatoes, celery, cucumber, bell pepper, carrots, garlic, and jalapeño, if using, into your juicer.
2. Transfer the juice to a 2-quart pitcher and stir together. Divide the juice among 4 to 6 glasses with ice if you like it cold.
3. Garnish with a lime wedge, a sprinkle of black pepper, a rib of celery, a piece of pickled okra, a radish, an olive, and a grape tomato.
Share your pics of this recipe on social media and tag me @chrisbeatcancer #beatcancerkitchen :)
…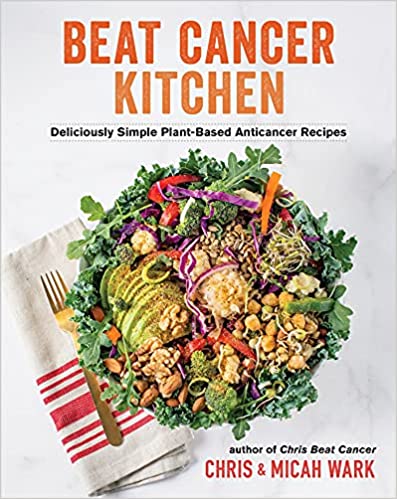 BEAT CANCER KITCHEN is a full-color cookbook with plant-based (vegan friendly) recipes for breakfast, lunch and dinner, plus soups, salads, juices and smoothies galore! There's a section with potent anticancer recipes for healing and a section with recipes for healthy living and prevention.
There are anticancer nutrition factoids sprinkled throughout the book and most importantly, the recipes are all super yummy and super easy to make! :)
BEAT CANCER KITCHEN will be in stores Tuesday, November 16th and is available for pre-order now. You can pre-order from your favorite local bookstore (they need our support!) or get it from one of these online booksellers:
Amazon
Barnes & Noble
Bookshop.org
Booktopia (AU)
Indigo (Canada)
Waterstones (UK)
Hive (UK)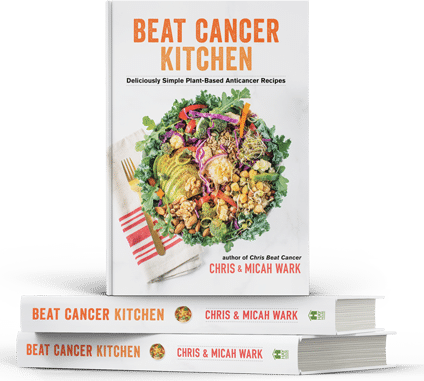 Beat Cancer Kitchen: My New Recipe Book,
Deliciously Simple Plant-Based Anti-Cancer Recipes
Get it on Amazon here
Beat Cancer Daily
365 Days of Inspiration, Encouragement, and Action Steps to Survive and Thrive
Get it on Amazon here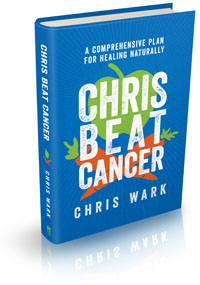 Chris Beat Cancer: A Comprehensive Plan for Healing Naturally,
published by Hay House, is a National Bestseller as ranked by USA Today, The Wall Street Journal, and Publishers Weekly!
Get it on Amazon here
, or anywhere books are sold.
I've interviewed over 60 people who've healed all types and stages of cancer. Check them out
here
. Or use the search bar to find survivors of specific cancer types.
Chris Beat Cancer is reader-supported. If you purchase a product through a link on this site I may receive compensation from the affiliate partner (like Amazon). Your support helps fund this blog and my mission so my team and I can continue to do the work that we do. Thank you!