Over the last few months my friend Ty Bollinger has been busy.
He's been crisscrossing the U.S. to interview 27 doctors, researchers, experts and survivors who all share the same mission:  Helping others Prevent and Heal Cancer.
He's put it all together in a 60 minutes style docu-series called The Quest for the Cures.
There are seven episodes airing seven nights in a row
Monday May 26th through Sunday June 1st.
Each episode will air at 9pm Eastern and again at 9pm Pacific.
(Additional replays of the show will be available the following day for anyone who can't watch the live broadcasts).
And the best part is…. it's FREE!
Here's the trailer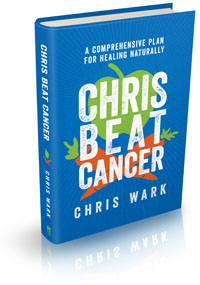 My new book
Chris Beat Cancer: A Comprehensive Plan for Healing Naturally,
published by Hay House, is a National Bestseller as ranked by USA Today, The Wall Street Journal, and Publishers Weekly!
Get it on Amazon here
, or anywhere books are sold.
I've interviewed over 60 people who've healed all types and stages of cancer. Check them out
here
. Or use the search bar to find survivors of specific cancer types.
I also created a coaching program for cancer patients, caregivers and anyone who is serious about prevention called SQUARE ONE. It contains the step-by-step strategies used by myself and everyone I know who has healed cancer with nutrition and natural, non-toxic therapies.
Watch SQUARE ONE Module 1 for free here
(((c)))
Some posts contain affiliate links to products that I have researched, use and enthusiastically endorse. If you purchase a product through an affiliate link, your cost will be the same (or discounted if a coupon code is offered) and I will receive compensation from the partner supplier (like Amazon). Your support helps fund this blog and my mission so my team and I can continue to do the work that we do. Thank you!