17 year old Megan Sherow and her mother Maria share the amazing and inspiring story of how she healed brain cancer in three months by converting to a raw food diet, after two surgeries failed, and instead of undergoing treatment at St. Jude.
(She had glial neuroblastoma)
Megan is smart, funny and bursting with life. And as you will see, she and her mom are quite the pair.
This was such a fun interview.
You. will. love. it.
Resources mentioned in this interview
The China Study The 80/10/10 Diet Diet for a New America
They used a Champion Juicer and so do I!
Megan's youtube channel is youtube.com/curedonraw
And if you find yourself around the Pennsylvania area go visit Arnold's Way Raw Food Cafe.
Related posts:
How I used the raw vegan diet to heal cancer
Earnie healed leukemia and brain cancer with veggies and vitamins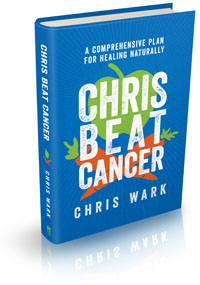 Chris Beat Cancer: A Comprehensive Plan for Healing Naturally,
published by Hay House, is a National Bestseller as ranked by USA Today, The Wall Street Journal, and Publishers Weekly!
Get it on Amazon here
, or anywhere books are sold.
I've interviewed over 60 people who've healed all types and stages of cancer. Check them out
here
. Or use the search bar to find survivors of specific cancer types.
I also created a coaching program for cancer patients, caregivers and anyone who is serious about prevention called SQUARE ONE. It contains the step-by-step strategies used by myself and everyone I know who has healed cancer with nutrition and natural, non-toxic therapies.
Watch SQUARE ONE Module 1 for free here
(((c)))
Chris Beat Cancer is reader-supported. If you purchase a product through a link on this site I may receive compensation from the affiliate partner (like Amazon). Your support helps fund this blog and my mission so my team and I can continue to do the work that we do. Thank you!