So the folks at Maximized Living have asked me to help spread the word about a new film
called "The Cause is the Cure". It tells the stories of five people who have successfully overcome cancer without chemo or radiation. These are my kind of people!
The film premiers on Saturday October 5th at more than 450 Maximized Living locations throughout the United States and Canada.
I'm very familiar with the people behind this: Dr. Ben Lerner and cancer survivor Dr. Charles Majors who co-authored the book The Cancer Killers with my friend Sayer Ji.
We're all on the same mission to help people understand cancer and healing, which is why I'm sharing this with you.
Readers of this blog know how much emphasis I put on the causes of cancer.
Despite the hype, only 5-10% of cancers are genetic. The vast majority of cancers are caused by environmental factors, as well as diet and lifestyle choices. 1 in 3 women will deal with some form of cancer in their lifetime, and for men the odds are 1 in 2. That's serious stuff. But if you change your diet, lifestyle and environment, you can reduce your risk of ever developing cancer. It's that simple.
In the film, patients who overcame cancer explain their fears, decisions and other experiences while fighting the notorious disease without the use of conventional medical therapies.
"I was given one year to live if I didn't choose to do chemotherapy or radiation," said Andrea Thompson, founder of Moving Beyond Ministries and cervical cancer survivor. "After learning the principles of Maximized Living, I knew I was in the right place."
Watch the trailer.
Maximized Living has a health program called The 5 Essentials. These are the 5 areas that must be addressed to restore health: stress, nutrition, fitness, nerve supply and toxicity.
I couldn't agree more.
Here's how they describe the film and their mission…
"The Cause is the Cure" offers cancer-killing strategies to people of all ages, backgrounds and levels of health. Powered by the 5 Essentials, this film endows people to make sustainable lifestyle changes that will have an immense positive impact on their health without of demanding a drastic lifestyle overhaul. (i.e. Small changes can produce big results)
"Research has shown that you can reduce your chances of getting cancer as well as dramatically increase your chance of overcoming it if you're dealing with this disease already," said Dr. Ben Lerner, New York Times best-selling author and co-founder of Maximized Living. "By making proactive, intelligent lifestyle changes, the average person can significantly reduce their risk of contracting this notorious disease."
Showings of the film coincide with Maximized Living's official makeover-style event entitled, "Be a Cancer Killer." This event is open to the public and will demonstrate how people everywhere can utilize the 5 Essentials to boost quality of life and avoid illness.
To find one of the 450 offices hosting the film Click Here.
(((c)))
Please help spread the word by Liking and Sharing this post!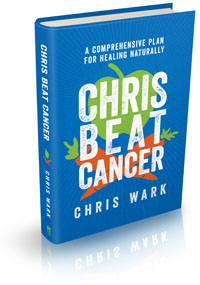 Chris Beat Cancer: A Comprehensive Plan for Healing Naturally,
published by Hay House, is a National Bestseller as ranked by USA Today, The Wall Street Journal, and Publishers Weekly!
Get it on Amazon here
, or anywhere books are sold.
I've interviewed over 60 people who've healed all types and stages of cancer. Check them out
here
. Or use the search bar to find survivors of specific cancer types.
I also created a coaching program for cancer patients, caregivers and anyone who is serious about prevention called SQUARE ONE. It contains the step-by-step strategies used by myself and everyone I know who has healed cancer with nutrition and natural, non-toxic therapies.
Watch SQUARE ONE Module 1 for free here
(((c)))
Chris Beat Cancer is reader-supported. If you purchase a product through a link on this site I may receive compensation from the affiliate partner (like Amazon). Your support helps fund this blog and my mission so my team and I can continue to do the work that we do. Thank you!