Huzzah! It's finally here!
After many requests, and years of procrastinating, I am finally pulling the trigger and launching the Chris Beat Cancer Podcast.
Continuing with the gun analogy, I would really like to come out with a bang.
So I have a big favor to ask:
1) Please listen to the episode.
2) Then, PLEASE leave a rating and/or a review on iTunes.

As you know, my mission is to reach as many people as possible. Your ratings and reviews on iTunes will shoot me up the iTunes charts. If I make it into the top 10 or top 5 in Health category this week, that will get a lot of people's attention. BANG!
Plus your feedback is very important to me. I will read EVERY review. Constructive criticism and suggestions for improvement (and future guests) are welcome.
Ok, onto the podcast…
EPISODE 1: THE PHANTOM MENACE
Just kidding. My inaugural guest on Episode 1 is superstar health blogger, author and entrepreneur Kevin Gianni.
Kevin is the founder of RenegadeHealth.com, a blog and youtube channel that documented his self-experimenation and travels around the world researching food, as well natural health and healing protocols.
He are a few more awesome things Kevin has produced:
Kevin created the The Healing Cancer World Summit in 2011 & 2012, which I was a part of.
Kevin and his wife co-founded Annmarie Skin Care, a truly all natural, organic and wild-crafted skin care line that my wife and I use.
Kevin also co-hosts the Do What You Love podcast with Fredric Patenaude, and has authored a brand new book called Kale & Coffee: A Renegade's Guide to Health, Happiness, and Longevity, which is terrific.
Now you know why I'm such a big fan of Kevin. He and I have a lot of laughs as we talk about his journey from raw vegan to overweight organic whole foodie and back to health again, and so much more
Download my podcast from iTunes and please subscribe!
Android users, you can listen with the Stitcher app.
Don't forget! Your vote counts!
If you enjoyed the show, please take a moment to give it a high rating and post a review on iTunes.

Show Notes
-Driving a grease powered RV around the country for 2.5 years [3:52]
-His journey from regular diet to raw vegan to non-vegan [10:40}
-Kevin return to animal food and subsequent binge [16:00]
-Kevin gets fat [22:15]
-The Blood Test Blueprint [25:00]
-The two macronutrients that don't work well together [32:00]
-The Blue Zones: The longest living people around the world [35:30]
-The longest living Americans [39:00]
-How Annmarie Skin Care came to be [42:00]
-How companies hide sketchy skin care ingredients [44:00]
-The surprising results Kevin got after testing 13 healthy foods in his kitchen [53:00]
-Recommended reading from Kevin [58:30]
-Doing what you love
-The guy who inspired both of us to start making videos [1:10:00]
If you enjoyed the show, please take a moment to rate and/or review it on iTunes.
Links to Kevin's endeavors
Kale and Coffee: A Renegade's Guide to Health, Happiness, and Longevity
Annemarie Skin Care
The Blood Test Blueprint
The Healing Cancer World Summit archives
Do What You Love
Kevin's cleanest testing green teas
Japanese Kukicha Kabuse Organic Green Tea
Stash Tea Organic Premium Green Tea
People mentioned
Dr. James E. Williams
Dr. Caldwell Esselstyn
Dr. Ruth Heidrich
Mark Hyman
Gary Vaynerchuk
Geoff Thompson
Books mentioned
Kale and Coffee: A Renegade's Guide to Health, Happiness, and Longevity
The Blue Zones
Ultra Prevention

ChiRunning
ChiWalking
The Maffetone Method
The Power of Vulnerability
Daring Greatly
Mindset
Crush It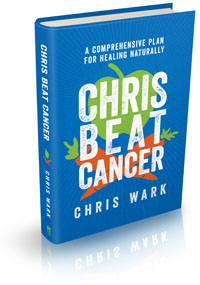 Chris Beat Cancer: A Comprehensive Plan for Healing Naturally,
published by Hay House, is a National Bestseller as ranked by USA Today, The Wall Street Journal, and Publishers Weekly!
Get it on Amazon here
, or anywhere books are sold.
I've interviewed over 60 people who've healed all types and stages of cancer. Check them out
here
. Or use the search bar to find survivors of specific cancer types.
Chris Beat Cancer is reader-supported. If you purchase a product through a link on this site I may receive compensation from the affiliate partner (like Amazon). Your support helps fund this blog and my mission so my team and I can continue to do the work that we do. Thank you!