To strengthen your body's ability to fight cancer, you need to eat what I ate:
The biggest, baddest, healthiest salad on the planet!
It consists of raw organic vegetables, sprouts, nuts, seeds, and homemade dressing.
This salad is super healthy, delicious and will fill you up without zapping your energy.
A raw food diet was a huge part of my anti-cancer strategy and I ate this salad every day, sometimes twice a day, during the first few years of my chemo-free cancer journey.
I wanted to put as many vitamins, minerals, nutrients and enzymes into my body as possible and there's no better way than juicing and eating fresh raw organic fruits and vegetables.
There's really no secret formula to this salad, but there are some guidelines to follow:
Absolutely no cheese, meat, or store-bought salad dressing.
It is important that you use organic produce, which is free of toxic chemical fertilizers and pesticides.
And of course wash everything before you eat it. Then just chop it all up and throw it in a bowl!
Note: You're might need some bigger bowls.  Mine doesn't look very big in the photo, but it holds over 6 cups. That's six servings of vegetables! 10+ servings per day of fruits and vegetables is ideal for cancer prevention and healing.
The Giant Cancer Fighting Salad
-Start with the most nutrient dense dark leafy greens: Kale and Spinach. (Do not exceed 10 cups per day)
-Broccoli (The best source of sulforaphane which promotes liver detoxification, and Indole-3-carbinol, an anticarcinogenic compound )
-Or Broccoli Sprouts (Concentrated sulforaphane & I3C. Do not exceed four cups of sprouts per day)
-Cauliflower
-Purple cabbage (cheapest source of antioxidants per ounce in the world!)
-Slice of red onion, (yellow or green onions may actually be better)
-Leeks
-Artichokes
-Red, Yellow, or Green Peppers
-Mushrooms Bella, Cremini, Shiitake, etc.
-1/2 an Avocado
-Squash
-Zucchini
-Raw Sunflower seeds (sprouted is better)
-Raw Almonds (sprouted is better)
-Sprouted Garbanzo Beans
-Sprouted Mung Beans
-Sprouted Red or Green Lentils
Then I top it off with either one of these naturally fermented foods:
-Sauerkraut
I like Bubbies Old Fashioned Sauerkraut because it is made with only three ingredients: cabbage, water and salt.  It is fermented and cured with all natural enzymes intact and there is no vinegar added. (Bubbies Kosher dill pickles are super tasty too.) Look for it in the refrigerated section of your local grocer or health food store.
-Kimchi (Pronounced "Kim Chee")
Kimchi is a spicy Korean version of sauerkraut typically consisting of fermented cabbage, onions, garlic, and pepper. Kim Chi has high concentrations of Vitamin C and Carotene in addition to Vitamin A, B1, B2, Calcium, Iron and beneficial lactic acid bacteria.
Recognized as one of the Top Five "World's Healthiest Foods" by Health magazine.  Also in the refrigerated section.
Fermented foods are great for digestion and repopulate your intestinal flora with beneficial bacteria essential for health and a strong immune system.
My Homemade "Zesty Italian" Salad Dressing
This is hands down the healthiest salad dressing on the planet!
It's super easy and delicious.  Here's how you make it:
-Add 1 tbsp organic extra virgin olive oil to your salad
-Add 1 tbsp organic cold-pressed flax oil to your salad
-Lightly drizzle Bragg Organic Apple Cider Vinegar to taste (another super healthy fermented food!)
Then shake on as much of these Four Cancer-Fighting Spices as you can stand:
-Organic Oregano
-Organic Garlic Powder
-Organic Turmeric or Curry Powder
-Organic Cayenne Pepper (this will spice it up quick, go easy the first time)
I can't tell you many times I have eaten this salad! Over a thousand I bet.
And what's funny is I have several books filled with of raw food recipes, but the Giant Salad ended up being my staple meal.
Most days I ate it for lunch and dinner. I didn't mind eating the same thing every day because it was simple and quick to prepare.  I didn't have to put any time into planning my meals. I knew exactly what to buy at the grocery store every week, and it's so delicious and full of flavor it never got old!
One final note: The salad really doesn't have to be "giant", I make big ones because that's what it takes to fill me up. Not everyone needs to eat that much. A small version is fine too. Just focus on getting as many nutrient dense vegetables in there as you can and make it big enough to satisfy your appetite.
Watch a video of me making this salad and dressing here
…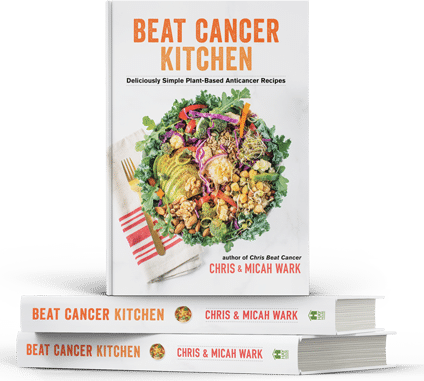 Beat Cancer Kitchen: My New Recipe Book,
Deliciously Simple Plant-Based Anti-Cancer Recipes
Get it on Amazon here
Beat Cancer Daily
365 Days of Inspiration, Encouragement, and Action Steps to Survive and Thrive
Get it on Amazon here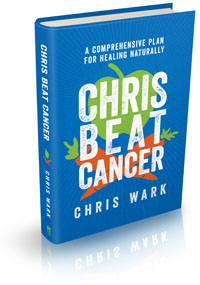 Chris Beat Cancer: A Comprehensive Plan for Healing Naturally,
published by Hay House, is a National Bestseller as ranked by USA Today, The Wall Street Journal, and Publishers Weekly!
Get it on Amazon here
, or anywhere books are sold.
I've interviewed over 60 people who've healed all types and stages of cancer. Check them out
here
. Or use the search bar to find survivors of specific cancer types.
I also created a coaching program for cancer patients, caregivers and anyone who is serious about prevention called SQUARE ONE. It contains the step-by-step strategies used by myself and everyone I know who has healed cancer with nutrition and natural, non-toxic therapies.
Watch SQUARE ONE Module 1 for free here
(((c)))
Chris Beat Cancer is reader-supported. If you purchase a product through a link on this site I may receive compensation from the affiliate partner (like Amazon). Your support helps fund this blog and my mission so my team and I can continue to do the work that we do. Thank you!