Dandelion root fights cancer!
The Dandelion Root Project started in 2009 in a bid to investigate the anti-cancer effects of dandelion root extract against cancer cells. 
Dandelion root tea has been proven to kill various types of cancer cells in the lab and in animals (including colon cancer, leukemias, melanoma, and pancreatic cancer), and is now being tested in phase 1 human clinical trials for end stage blood related cancers (leukemia and lymphoma).
In this fascinating 2014 TEDx talk, Dr. Siyaram Pandey PhD describes his research on the remarkable anti-cancer effects of dandelion root tea.
Dr. Pandey also mentions the anti-cancer effects of Long Pepper extract. More about that here.
Dandelion root can be harvested out of your yard, or anywhere you see it growing. Dig up the root, chop or grind it finely, put 1/2tsp -1 tsp in a tea bag, steep in boiling water for 20 minutes and drink it.
If you harvest large amounts of dandelion root, make sure you dry it out (dehydrate it) before storing.
Dosage: 2 or more cups of Dandelion root tea per day
You can also get bulk Dandelion root tea or Dandelion root powder on amazon.
The most potent form is powdered Dandelion Root Extract, which can consumed whole in tea, juice, smoothies, etc. It is currently being investigated in the clinical trial mentioned above to determine the maximum non-toxic daily human dose.
Two sources for bulk Dandelion Root Extract and Long Pepper Extract are kalyx.com and nutricargo.com
And it's food!
The Dandelion leaves (aka greens) contain vitamins A, K, C and B6, thiamin, riboflavin, calcium, iron, potassium, manganese, folate, magnesium, phosphorus, and copper. Eat the greens in a salad, cook them in a soup or blend them into a smoothie.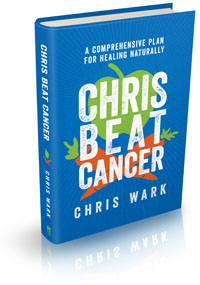 Chris Beat Cancer: A Comprehensive Plan for Healing Naturally,
published by Hay House, is a National Bestseller as ranked by USA Today, The Wall Street Journal, and Publishers Weekly!
Get it on Amazon here
, or anywhere books are sold.
I've interviewed over 60 people who've healed all types and stages of cancer. Check them out
here
. Or use the search bar to find survivors of specific cancer types.
I also created a coaching program for cancer patients, caregivers and anyone who is serious about prevention called SQUARE ONE. It contains the step-by-step strategies used by myself and everyone I know who has healed cancer with nutrition and natural, non-toxic therapies.
Watch SQUARE ONE Module 1 for free here
(((c)))
Chris Beat Cancer is reader-supported. If you purchase a product through a link on this site I may receive compensation from the affiliate partner (like Amazon). Your support helps fund this blog and my mission so my team and I can continue to do the work that we do. Thank you!