Numerous studies have shown that regular consumption of fruits and vegetables is associated with reduced risk of chronic diseases such as cancer and all-cause mortality. And although technically not a vegetable, edible mushrooms (a fungus) are definitely in the healthy food group.
Mushrooms are known for their immune boosting and anticancer properties. Mushrooms are rich in bioactive compounds, including phytochemicals (alkaloids, phenolic acids, flavonoids, carotenoids), polysaccharides (like beta glucans), selenium, vitamins B, C, D, niacin, thiamin, and riboflavin, and the powerful antioxidants ergothioneine and glutathione.
The largest meta-analyses on mushrooms and cancer ever, which was just published, found that people who ate 18 grams of mushrooms per day, which is just two medium-sized mushrooms, had a 45 percent lower risk of cancer compared to those who didn't eat mushrooms.
The researchers evaluated 17 studies from 1966 to 2020, which included over 19,500 cancer patients.
"Mushrooms are the highest dietary source of ergothioneine, which is a unique and potent antioxidant and cellular protector," said Djibril M. Ba, a graduate student in epidemiology at Penn State College of Medicine. "Replenishing antioxidants in the body may help protect against oxidative stress and lower the risk of cancer."
Other researchers have suggested that ergothioneine is worthy of vitamin designation due to its antioxidant, cytoprotective, and anti-aging/longevity properties. Higher blood levels of ergothioneine have even been associated with a lower risk of cardiovascular disease and death.
Shiitake, oyster, and maitake mushrooms have higher amounts of the sulfur-containing amino acid ergothioneine than white button, cremini and portabello mushrooms, but the researchers found that people who incorporated any variety of mushrooms into their daily diets had a lower risk of cancer.
The strongest association found was for breast cancer, which showed a 45% reduction in risk with daily mushroom consumption. Researcher Djiril M. Ba noted that data on preventing other cancers was limited because most of the studies they analyzed did not include other forms of cancer.
"Overall, these findings provide important evidence for the protective effects of mushrooms against cancer," said coauthor John Richie, a Penn State Cancer Institute researcher and professor of public health sciences and pharmacology. "Future studies are needed to better pinpoint the mechanisms involved and specific cancers that may be impacted."
This reminds me of another study, which I talk about in my book Chris Beat Cancer, which found that Chinese women who at an average of 15 mushrooms per month long with drinking 15 cups of green tea per month had a 90% reduced risk of developing breast cancer compared to women who didn't consume green tea or mushrooms regularly. That's only half a mushrooms and a half a cup of green tea per day. There may be a special anticancer synergy between those two foods…
Regardless, the takeaway is pretty simple. Eat mushrooms daily!
I ate mushrooms twice per day every day on my Giant Cancer-Fighting Salad. I also take mushroom supplements for additional immune support. I alternate between Host Defense MyCommunity capsules and Stamets 7 powder, and Beta Glucan from Better Way Health.
Sources
Advances in Nutrition
Penn State
PubMed
…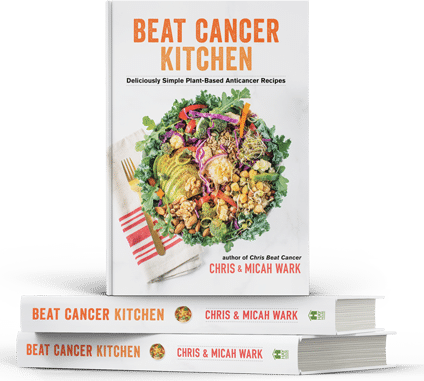 Beat Cancer Kitchen: My New Recipe Book,
Deliciously Simple Plant-Based Anti-Cancer Recipes
Get it on Amazon here
Beat Cancer Daily
365 Days of Inspiration, Encouragement, and Action Steps to Survive and Thrive
Get it on Amazon here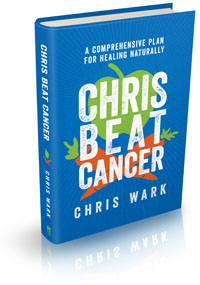 Chris Beat Cancer: A Comprehensive Plan for Healing Naturally,
published by Hay House, is a National Bestseller as ranked by USA Today, The Wall Street Journal, and Publishers Weekly!
Get it on Amazon here
, or anywhere books are sold.
I've interviewed over 60 people who've healed all types and stages of cancer. Check them out
here
. Or use the search bar to find survivors of specific cancer types.
Chris Beat Cancer is reader-supported. If you purchase a product through a link on this site I may receive compensation from the affiliate partner (like Amazon). Your support helps fund this blog and my mission so my team and I can continue to do the work that we do. Thank you!