Before I got cancer I ate whatever I wanted, which was a lot of processed food and fast food.
Micah and I both worked a lot and didn't prepare fresh meals often. I ate bacon, eggs, sausage biscuits, cereal, and toaster waffles for breakfast; and Super Sized
fast food for lunch, which was usually a double cheeseburger, fries and a coke. Dinner was either a microwave dinner, or something like George Forman grilled chicken breast, or bacon-wrapped filets with a cooked vegetable side.
I drank soft drinks, and ate candy bars, chips, basically whatever I wanted, whenever I wanted.  I've always had a high metabolism and don't gain weight easily, so I assumed I had a free pass. Little did I know, I was poisoning and polluting myself with the high amounts of meat, dairy, sugar, salt, oils, and processed foods in the Western Diet. And for what it's worth, I didn't smoke cigarettes and drank very little alcohol. I would have a few glasses of wine or a few beers occasionally.
A lot of folks are asking me what I eat now, so what I think I'll do here is a basic overview of the food I eat the most, and expound on this stuff more in individual posts.
I am not a vegetarian or a vegan, but a lot of my meals are.
I eat oatmeal for breakfast pretty much every day.
I eat a lot of Raw Organic fruits and vegetables, seeds, and nuts.
Giant Salads are the easiest way for me to eat a lot of vegetables every day.
I make smoothies every day with frozen berries, spinach, kale, bananas, dates, almonds, walnuts, and anything else I can cram in there.
I also drink fresh Vegetable Juice that we make in our kitchen with our Champion Juicer.
I eat lots of starchy vegetables like organic brown, black and red rice, beans, peas, lentils, quinoa, white and sweet potatoes, and squash, usually for dinner.
I occasionally eat Organic Sprouted Grain Breads like Ezekiel 4:9 Bread and Manna Bread.
Most breads are made with refined flour and are fast-burning carbs that turn to sugar in your bloodstream, spiking your insulin.  Sprouted Grain breads are slow burning carbs (low-glycemic) and the healthiest bread you can eat.
The recipe for Ezekiel 4:9 Bread came straight out of the Old Testament.  It's a combination of six sprouted grains and legumes that form a complete protein with 18 amino acids.  It comes in a standard sandwich-style loaf of bread.  It doesn't taste like regular bread and it's more hearty and whole-grainey (if that's a word). The original and cinnamon raisin are both great.  Ezekiel also makes other good stuff like a grape-nuts style cereal, sprouted english muffins, and tortillas.
Manna Bread is a cake-like sprouted bread with no yeast, salt, oil, or sweeteners.  It comes in a small dense loaf and is heated at low temperatures.  It's not exactly raw, but it's close.  It's not sandwich bread, it's more like a specialty bread you'd have with a meal.  We really love the Fruit and Nut, Carrot Raisin, and Cinnamon Date.  Cut a thick slice then warm it up in the toaster oven with a pat of butter…………I'm drooling on the freaking keyboard right now!
You're gonna find those kinds of healthy breads in the frozen food section of Whole Foods, Trader Joe's and even some traditional groceries. They need to be frozen because they don't have a bunch of chemical preservatives in them. Key words to look for: Sprouted Grain Breads
Organic Almond Butter is a staple in our house. It tastes amazing and is super healthy.
It costs more than PB, but it is so worth it.
I love to make Almond Butter and Honey Sandwiches with Ezekiel Bread.
I put cinnamon on it and sometimes throw in a banana, as a tribute to The King.
This pic was taken while on vacation at the lake. 
I was not able to sustain a healthy weight on the raw vegan diet. I was eating a ton of food but I was 6'2″ 130 lbs. In 2004, after 90 days raw, my nutritionist recommended adding some cooked foods back to my diet and a few servings of clean meat per week.  Clean meat is free-range organic or wild caught. i.e. free-range chicken, grass-fed beef or lamb, wild game, and wild-caught Alaskan sockeye salmon. No farm-raised or gulf of mexico fish for me. Read my post about how toxic farm-raised fish is here.
I eat very little meat and dairy, it accounts for about 2-3% of my diet.
The healthiest, longest living cultures around the world, with the lowest rates of Western diseases like cancer, heart disease and diabetes, eat diets that are at least 95% plant-based. That translates to eating animal products somewhere between a few times per week to a few times per month. One of my my rules is I only eat meat if I know where it comes from, which means I hardly ever eat meat in restaurants with the exception of some wild caught fish, like Alaskan salmon.
I don't eat the meat of scavengers which basically means pork, catfish, shrimp, oysters, lobster, etc.

Scavengers are bottom feeders.  Their role in nature is to eat the stuff no other animal will eat; disgusting stuff like other dead animals. Shellfish clean the ocean by absorbing pollutants. These are not healthy meats. I used to eat bacon and bbq sandwiches several times a week before I got cancer.  Not anymore!
In preparation for this post, I snapped pics of my last three meals:
All made by my wonderful, perfect, amazing, beautiful wife Micah.
Here's a simple Veggie Sandwich she made me for lunch yesterday:  Toasted Ezekiel Bread with raw mild cheddar cheese, sliced cucumber, sliced avocado, sliced red bell pepper, lettuce, a little bit of Newman's Own Ranch dressing on one side and spicy mustard on the other, and topped with Four Cancer Fighting Spices: Garlic, Oregano, Cayenne, and Curry Powder.  Absolutely Fabulous! 

This is what Micah made for dinner last night:
Chickpea Salad Over Brown Rice
Two 15 oz cans of garbanzo beans.  6 roma tomatoes, sliced.  4 oz. crumbled feta cheese.  1/4 cup fresh mint leaves.  1/3 cup apple cider or wine vinegar.  1/4 cup olive oil. Mix it up in a bowl and serve over brown rice or grilled pita wedges. Delish and so simple!

Here's what I ate for dinner tonight before finishing this post:  All the credit goes to Micah again.  I love you baby.
Quinoa and Black-Eyed Pea Croquettes with lightly sautéed zucchini strips and a baked sweet potato with butter and cinnamon.  They were awesome.  Get the recipe HERE.
Please LIKE and Share. Add your thoughts below!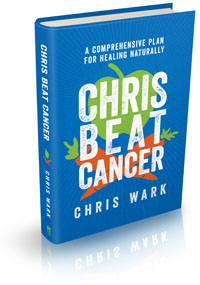 My new book
Chris Beat Cancer:
A Comprehensive Plan for Healing Naturally,
published by Hay House,
is a National Bestseller as ranked by USA Today, The Wall Street Journal, and Publishers Weekly!
Get it on Amazon here or anywhere books are sold.
I've interviewed over 60 people who've healed all types and stages of cancer. Check them out here. Or use the search bar to find survivors of specific cancer types.
I also created a coaching program for cancer patients, caregivers and anyone who is serious about prevention called SQUARE ONE. It contains the step-by-step strategies used by myself and everyone I know who has healed cancer.
Watch SQUARE ONE Module 1 for free here
-->
(((c)))
Some posts contain affiliate links to products that I have researched, use and enthusiastically endorse. If you purchase a product through an affiliate link, your cost will be the same (or discounted if a coupon code is offered) and I will receive compensation from the partner supplier (like Amazon). Your support helps fund this blog and my mission so my team and I can continue to do the work that we do. Thank you!