In today's video I am going to show you everything in my organic plant-based pantry!
It's important to note that my diet was more strict when healing cancer, and mostly raw, which I cover in detail in my book, and the SQUARE ONE course.

The purpose of this video is to show you my post-cancer pantry, my "new normal" as they say, although it's not new for me.
Pre-emptive Answers:
My cancer-prevention diet is an organic, whole foods, 98-99% plant-based diet with a variety of raw and cooked foods.
Yes, I know buying in bulk would save us money, but my wife is in charge of "food inventory management", so I let her buy the way she wants.
No, I don't worry about lectins and you shouldn't either.

You might notice an opened bottle of Bragg Organic Vinaigrette salad dressing in the pantry. It is supposed to be refrigerated after opening, and you should probably do that. :)
We buy a lot of food at Whole Foods, Sprouts, Trader Joe's, and Costco. And And most of these items can be found on Amazon as well. No one has paid me to feature their brands in this video.
If you liked this video, you might also like my videos What's In My Fridge? and What I Ate Today, which will show you a typical day of plant-based meals in our house.
You might also like this post: Super Healthy Food We Buy At Costco
…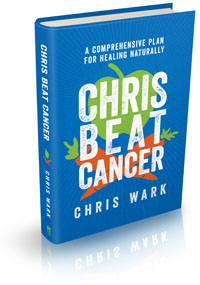 Chris Beat Cancer: A Comprehensive Plan for Healing Naturally,
published by Hay House, is a National Bestseller as ranked by USA Today, The Wall Street Journal, and Publishers Weekly!
Get it on Amazon here
, or anywhere books are sold.
I've interviewed over 60 people who've healed all types and stages of cancer. Check them out
here
. Or use the search bar to find survivors of specific cancer types.
I also created a coaching program for cancer patients, caregivers and anyone who is serious about prevention called SQUARE ONE. It contains the step-by-step strategies used by myself and everyone I know who has healed cancer with nutrition and natural, non-toxic therapies.
Watch SQUARE ONE Module 1 for free here
(((c)))
Chris Beat Cancer is reader-supported. If you purchase a product through a link on this site I may receive compensation from the affiliate partner (like Amazon). Your support helps fund this blog and my mission so my team and I can continue to do the work that we do. Thank you!