So in my previous blog post my friend and fellow chemo-free cancer survivor Cortney Campbell shared her clean green beauty routine. It was a terrific post with lots of practical ideas and non-toxic brand suggestions. If you haven't read it, you should.
Since that post, people have been asking what brands we use in our house. Well, one of the brands we discovered recently and use is Bella Organics.
Bella Organics is a small company that produces pure and natural skincare products with fair-trade organic ingredients and no toxic chemicals. All of their products are vegan and gluten-free as well.
And with a little gentle persuasion ;) I've convinced my friends at Bella Organics to give away a $250 gift card to one of my subscribers in March 2014!
And on top of that, they are also giving my readers 15% off! (use coupon code CHRIS)
Full disclosure: We haven't used all of their products, but everything we have used we really like.
First up is their lip balm. It's made with organics ingredients like Shea Butter, Cocoa Butter, Mango Butter, Coconut Oil, Almond Oil, Beeswax, and sweetened with Stevia.
I have the Coconut Lime Lip Balm, which is great, but they have eight other flavors including Pina Colada, Chocolate, Mint Chocolate, Juicy Apple, Raspberry and Vanilla Tangerine.
Ok now I'm salivating.

I also use the Vanilla Mint Deodorant Creme. It smells good, and most importantly, passed the smell-my-pits-after-the-gym test. Plus the peppermint oil gives your armpits a nice little minty tingle.
It's made with Organic Shea Butter, Organic Arrowroot Powder, Organic Virgin Coconut Oil, Aluminum-Free Baking Soda, Organic Peppermint Essential Oil, Organic Vanilla Extract and Organic Tea Tree Essential Oil.
My wife Micah really likes the Anti-Aging Facial Serum
It's made with organic oils from Rosehip Seed, Argan, Pumpkin Seed,
Jojoba, Rosemary and Carrot Seed.
She also really likes the Pomegranate Eye Serum
It's made with organic oils from Pomegranate Seed, Rosehip Seed,
Jojoba, Argan, Evening Primrose, Carrot Seed, Rosemary and Geranium.
And she liked their body butter and lip gloss too.
Like I said, we like everything we've tried.
In order to be eligible to win the $250 gift card you have to do two things:
1) Subscribe to my blog 
Enter your name and email in the form below. Current subscribers are automatically entered!
2) Share this post on your favorite social site
You can use the share bar on the lefthand side of the screen, or copy the link from the address bar at the top of your browser. Make sure to post a link to where you shared it (facebook, twitter, blog, etc.) in the comments section below.
That's it!
This contest is over, but you should still subscribe! Here are 7 reasons why :)
Use the coupon code CHRIS to get 15% off your order!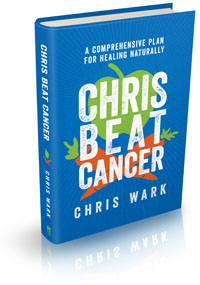 My new book
Chris Beat Cancer: A Comprehensive Plan for Healing Naturally,
published by Hay House, is a National Bestseller as ranked by USA Today, The Wall Street Journal, and Publishers Weekly!
Get it on Amazon here
, or anywhere books are sold.
I've interviewed over 60 people who've healed all types and stages of cancer. Check them out
here
. Or use the search bar to find survivors of specific cancer types.
I also created a coaching program for cancer patients, caregivers and anyone who is serious about prevention called SQUARE ONE. It contains the step-by-step strategies used by myself and everyone I know who has healed cancer with nutrition and natural, non-toxic therapies.
Watch SQUARE ONE Module 1 for free here
(((c)))
Some posts contain affiliate links to products that I have researched, use and enthusiastically endorse. If you purchase a product through an affiliate link, your cost will be the same (or discounted if a coupon code is offered) and I will receive compensation from the partner supplier (like Amazon). Your support helps fund this blog and my mission so my team and I can continue to do the work that we do. Thank you!