"The best diet to be sick and fat is hospital food."
-Dr. Brooke Goldner

Brooke Goldner, MD is a board-certified physician, the founder of GoodbyeLupus.com, creator of the Hyper-Nourishing Nutrition Protocol for Lupus Reversal, and the author of Goodbye Lupus, Goodbye Autoimmune Disease, and Green Smoothie Recipes to Kick-Start Your Health & Healing.
And her story is incredible…
At 16 years old Brooke was diagnosed with lupus with stage IV kidney failure and told she had 6 months until her kidneys failed, leading to either death or dialysis. Along with seven other drugs, she was given an experimental dose of Cytoxan chemotherapy for two years, which saved her kidneys and slowed down her disease but did not cure it. She was told she would progressively get worse over time.
For the next decade Brooke struggled with lupus symptoms and side effects including multiple mini-strokes. Then while in medical residency, she found love, and with the intention of looking good for her wedding, Brooke adopted a high raw 100% plant-based diet and "accidentally" healed her lupus!
Dr. Goldner not only has an incredible understanding and track record reversing lupus and autoimmune diseases with nutrition but she also helps her patients overcome the mental and emotional issues that get in the way of recovery. She is a total package MD!
I know you're gonna love this interview with the amazing, brilliant and joyful Dr. Brooke Goldner. The mental and emotional root causes of disease that we talk about in the second half of the interview are especially powerful. Don't miss it!
Watch our interview below, or listen to it on the Chris Beat Cancer podcast on iTunes or Spotify.
Download interview transcript here.
Show Notes
-Sixteen years old with six months to live [03:30]
-You don't go through illness alone [05:39]
-Her experience with experimental chemo for lupus [8:40]
-What her family of Holocaust survivors taught her about perspective [10:20]
-Facing mortality and making every day count [11:48]
-"The person who is happy and hopeful gets better…" [13:30]
-He wants to marry a sick girl who can't have kids and will die young? [14:25]
-The weirdest med student in Pittsburgh [17:49]
-Multiple mini-strokes caused by lupus [21:35]
-Her 3-month lupus turnaround with plant-based nutrition [14:00]
-OBGYN "Shes the healthiest pregnant lady I've ever seen!"
-Connecting the healing dots [28:05]
-The power of hyper-nourishment and a beta-carotene glow [31:33]
-Why people self-sabotage their healing [35:49]
-Drug-like foods release dopamine and cause food addiction [38:10]
-Replacing the food-addiction high with other things [39:27]
-Food-based insecurities and self-medication [40:30]
-Learning to forgive yourself [46:13]
-Being selfish when it really matters [48:40]
-The emotional and psychological connection to health and healing [52:18]
-Adopting the attitude of a winner [53:38]
Dr. Goldner's next 6 Week Rapid Recovery Program starts in May. Details here.
Connect with Dr. Brooke Goldner:
GoodbyeLupus.com
SmoothieShred.com
YouTube
Instagram
Facebook
Books by Dr. Brooke Goldner:
Goodbye Lupus
Goodbye Autoimmune Disease
Green Smoothie Recipes to Kick-Start Your Health & Healing
…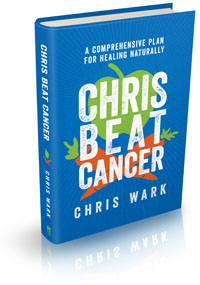 Chris Beat Cancer: A Comprehensive Plan for Healing Naturally,
published by Hay House, is a National Bestseller as ranked by USA Today, The Wall Street Journal, and Publishers Weekly!
Get it on Amazon here
, or anywhere books are sold.
I've interviewed over 60 people who've healed all types and stages of cancer. Check them out
here
. Or use the search bar to find survivors of specific cancer types.
Chris Beat Cancer is reader-supported. If you purchase a product through a link on this site I may receive compensation from the affiliate partner (like Amazon). Your support helps fund this blog and my mission so my team and I can continue to do the work that we do. Thank you!