The Cancer Control Society is a non-profit that distributes literature, books, and videos on Natural and Alternative Medicine. Their mission is to help people prevent and control cancer and other diseases through Nutrition and Non-Toxic Therapies.
Since 1973 they have brought life-saving information to thousands of patients and their families. The highlight of the year is when the CCS sponsors their annual Cancer Control Convention, featuring Medical Doctors, Clinical Researchers, Nutritionists, and Authors on Alternative Medicine sharing their latest findings for treating cancer and other diseases. Over 50 speakers, 6 movies, and 80 exhibits are presented at the Sheraton Universal Hotel in Hollywood California every Labor Day weekend.
Many of my health heroes have spoken at this event like Dr. Samuel Epstein, Dr. Lorraine Day, Richard Schulze, Charlotte Gerson… the list of past speakers is incredible.
They also have a doctor's symposium on the fourth day of the event and a bus tour of Tijuana Cancer Clinics on the fifth. I attended this year (2011) and it was AWESOME.
They publish a directory of doctors practicing alternative medicine and contact information sheet featuring patients that have used natural and alternative therapies.
You can order DVD sets of all the speakers all the way back to 1999 on their website.
Check it out at www.cancercontrolsociety.com
Here's a short video of me sharing my story at this year's event.
The microphone didn't pick up the audience very well, but I swear they laughed at my jokes.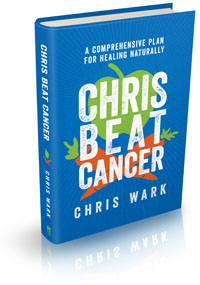 Chris Beat Cancer: A Comprehensive Plan for Healing Naturally,
published by Hay House, is a National Bestseller as ranked by USA Today, The Wall Street Journal, and Publishers Weekly!
Get it on Amazon here
, or anywhere books are sold.
I've interviewed over 60 people who've healed all types and stages of cancer. Check them out
here
. Or use the search bar to find survivors of specific cancer types.
I also created a coaching program for cancer patients, caregivers and anyone who is serious about prevention called SQUARE ONE. It contains the step-by-step strategies used by myself and everyone I know who has healed cancer with nutrition and natural, non-toxic therapies.
Watch SQUARE ONE Module 1 for free here
(((c)))
Chris Beat Cancer is reader-supported. If you purchase a product through a link on this site I may receive compensation from the affiliate partner (like Amazon). Your support helps fund this blog and my mission so my team and I can continue to do the work that we do. Thank you!