September 25th, 2019. Today is the 1-year anniversary of my book Chris Beat Cancer: A Comprehensive Plan for Healing Naturally!
One year ago this week, Chris Beat Cancer became a National Bestseller. It shot all the way up to #3 of all books sold on Amazon, stayed there for several days right under Fear Trump and children's book The Wonky Donky (LOL) and it finished the week at #13 overall.
The biggest surprise was that fact that even though I outsold 6 of the top 10 books in my category according to Bookscan, The New York Times excluded Chris Beat Cancer from their "Bestseller list", which they routinely do to bestselling books they don't like.
When questioned by my publisher, their excuse was, "We don't like to see more than half of book sales from one source." That "one source" is Amazon and nearly half of all printed books are now sold on Amazon. Hello?
This is one of the many arbitrary rules that the NYT conveniently cites to exclude other national bestsellers when it suits them.
Fun Fact: In 1983, the Times was sued by William Peter Blatty, author of the Exorcist books, because his third book in the series, which was a national bestseller, didn't make the list. The Times won the case by arguing that their list is editorial content and not mathematically objective and factual. #fakenews is real.
Despite the NYT's effort to suppress Chris Beat Cancer, the book made it onto the real National Bestseller lists, ranking #8 on The Wall Street Journal and Publisher's Weekly lists, and #24 on the USA Today list thanks to the amazing support of my tribe of survivors and thrivers. And the book been an Amazon Bestseller in multiple categories every day since it was released.
This week, to celebrate the 1-year anniversary of Chris Beat Cancer, Hay House dropped the price of the Kindle e-book version to $1.99 and is giving the Audio Book to everyone who buys a hardcover copy!
Details on the two special book deals happening this week…
The Kindle e-book version is normally $13.99, but this week you can get it for $1.99 on Kindle. And with your purchase Amazon will also give you the option to add the Audible Audio Book version (read by yours truly) for only $7.49! (The audio book is normally $14.69).
If you buy a hardcover copy of Chris Beat Cancer on Amazon (or from any bookseller), Hay House will give you the Audio Book (read by yours truly) for free! Get that deal here
In Chris Beat Cancer the book, I share every detail of my cancer story, more than I've ever told onstage or in an interview. And I spend multiple chapters exposing the perils and pitfalls of conventional medicine.
This book will give you insider information about the medical, pharmaceutical and cancer industries that will empower you to make the best, most-informed healthcare decisions for you and your loved ones now and in the future.
You will also learn natural, non-toxic, evidence-based diet and lifestyle strategies that will enable you to take a holistic approach to health and healing in addition to the treatments recommended by your doctor.
"Makes a great gift!"
If you have my book already, please help me reach more people by sharing my book with them. The holidays are coming up, why not give a copy of Chris Beat Cancer to everyone you care about? The information in this book could save the life of someone you love!
One holistic stage III colon cancer survivor I know has given away 22 copies so far!!!
Get Chris Beat Cancer: A Comprehensive Plan for Healing Naturally here
*Note: The $1.99 Kindle e-book deal and the Free Audio Book with Hardcover Purchase deal both end on Sunday September 29th, 2019.
…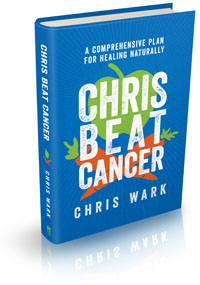 Chris Beat Cancer: A Comprehensive Plan for Healing Naturally,
published by Hay House, is a National Bestseller as ranked by USA Today, The Wall Street Journal, and Publishers Weekly!
Get it on Amazon here
, or anywhere books are sold.
I've interviewed over 60 people who've healed all types and stages of cancer. Check them out
here
. Or use the search bar to find survivors of specific cancer types.
I also created a coaching program for cancer patients, caregivers and anyone who is serious about prevention called SQUARE ONE. It contains the step-by-step strategies used by myself and everyone I know who has healed cancer with nutrition and natural, non-toxic therapies.
Watch SQUARE ONE Module 1 for free here
(((c)))
Chris Beat Cancer is reader-supported. If you purchase a product through a link on this site I may receive compensation from the affiliate partner (like Amazon). Your support helps fund this blog and my mission so my team and I can continue to do the work that we do. Thank you!