This recipe is from my new book BEAT CANCER KITCHEN: Deliciously Simple Plant-Based Anticancer Recipes, in stores November 16th and available for pre-order now! (Links below the recipe)
I absolutely adore Ethiopian cuisine. This plant-based (vegan) dish combines many of the flavors of a traditional Ethiopian vegetable platter all into one salad. The unique combination of rosemary, jalapeño, and garlic adds serious wow factor. Enjoy!
Ethiopian Style Beet and Lentil Salad
Serves 4-6
Ingredients
3 medium beets
1 teaspoon minced ginger
1/2 teaspoon minced garlic
1/2 teaspoon minced rosemary
Juice of 1 lemon
1 tablespoon extra-virgin olive oil
1/4 teaspoon sea salt
1 pint cherry tomatoes, halved
1 cup sprouted or cooked lentils
1 small jalapeño, sliced 2 cups arugula
Directions
1. Preheat your oven to 350°F.
2. Wrap the beets in parchment paper and place on a baking sheet. Bake for 1 hour. Allow the beets to cool enough to handle.
3. Scrub the beets with a paper towel to remove the skin. Discard the skin.
4. Dice the beets, discarding the top roots.
5. Toss the beets, ginger, garlic, rosemary, lemon juice, olive oil, salt, tomatoes, lentils, and jalapeño together in a large mixing bowl.
6. Place the arugula in a serving bowl or on a platter and top with the beet and lentil mixture.
PRO TIP: If you buy beets with the greens still attached, you can use the greens just like any other green leafy veggie. They're delicious sautéed with some onion and a little olive oil or tossed into a smoothie or salad. Just make sure to clean the beet greens thoroughly to remove the dirt. ;)
Share your pics of this recipe on social media and tag me @chrisbeatcancer #beatcancerkitchen :)
…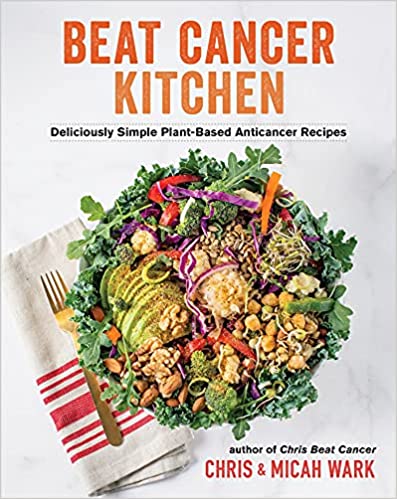 BEAT CANCER KITCHEN is a full-color cookbook with plant-based (vegan friendly) recipes for breakfast, lunch and dinner, plus soups, salads, juices and smoothies galore! There's a section with potent anticancer recipes for healing and a section with recipes for healthy living and prevention.
There are anticancer nutrition factoids sprinkled throughout the book and most importantly, the recipes are all super yummy and super easy to make! :)
BEAT CANCER KITCHEN will be in stores November 16th and is available for pre-order now. You can pre-order from your favorite local bookstore (they need our support!) or get it from one of these online booksellers:
Amazon
Barnes & Noble
Bookshop.org
Booktopia (AU)
Indigo (Canada)
Waterstones (UK)
Hive (UK)
…
Please LIKE and Share. Add your thoughts below!
----------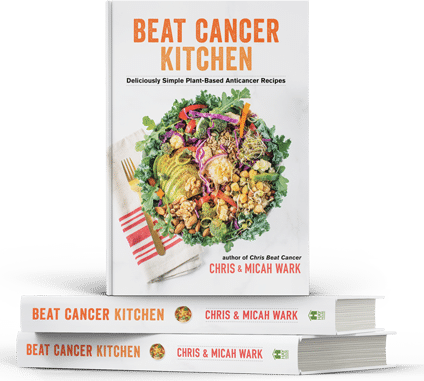 Beat Cancer Kitchen: My New Recipe Book, Deliciously Simple Plant-Based Anti-Cancer Recipes. Get it on Amazon here

----------
Beat Cancer Daily 365 Days of Inspiration, Encouragement, and Action Steps to Survive and Thrive. Get it on Amazon here

----------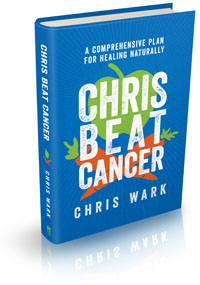 Chris Beat Cancer:
A Comprehensive Plan for Healing Naturally, published by Hay House, is a National Bestseller as ranked by USA Today, The Wall Street Journal, and Publishers Weekly! Get it on Amazon here or anywhere books are sold.
I've interviewed over 60 people who've healed all types and stages of cancer. Check them out here. Or use the search bar to find survivors of specific cancer types.
I also created a coaching program for cancer patients, caregivers and anyone who is serious about prevention called SQUARE ONE. It contains the step-by-step strategies used by myself and everyone I know who has healed cancer.
Watch SQUARE ONE Module 1 for free here
(((c)))
Chris Beat Cancer is reader-supported. If you purchase a product through a link on this site I may receive compensation from the affiliate partner (like Amazon). Your support helps fund this blog and my mission so my team and I can continue to do the work that we do. Thank you!