"Exercise is the best medicine and should be prescribed to every cancer patient."
According to an analysis of 71 existing studies, cancer patients can drop their risk of death and increase their odds of survival with exercise.
People who get at least two and half hours of moderate activity like brisk walking, per week, are 13 percent less likely to die from cancer than those with the lowest activity levels. (That's about 21 minutes per day of brisk walking)
Researchers looked at data in terms of MET-hours, which measures the energy expended in given activities and time spent doing them. Resting represents 1 MET, while a 4-MET activity like brisk walking uses four times as much energy. Doing a 4-MET activity for 30 minutes equals 2 MET-hours.
Cancer survivors who completed at least 15 MET hours per week of physical activity were 27 percent less likely to die from cancer. That's about 35 minutes per day of moderate-intensity aerobic exercise.
"Exercise may change the body's response to cancer, and those who exercise more may live healthier lifestyles in other ways as well," Liu said.
"But many of the high-quality studies included in this analysis accounted for other healthy-lifestyle factors that may have played a role," Liu noted. (Like quitting drinking and smoking and eating tons of fruits and vegetables)
Leisure time physical activity or recreational physical activity, but not occupational activity, is protective against cancer according to most research, Liu said.
"Based on huge evidence of the inverse association between physical activity and cancer mortality, there is no doubt that cancer patients should be physically active," Liu said.
According to new guidelines issued in 2018 by The Clinical Oncology Society of Australia (COCA), exercise should be prescribed to all cancer patients alongside surgery, chemotherapy or radiation – and not doing so could be harmful.
'Really we are at the stage where the science is telling us that withholding exercise from cancer patients can be harmful,' lead author Professor Prue Cormie says.
'Exercise is the best medicine someone with cancer can take in addition to their standard cancer treatments. That's because we know now that people who exercise regularly experience fewer and less severe treatment side-effects; cancer-related fatigue, mental distress, quality of life.'
They also have a lower risk of their cancer coming back or dying from the disease, she says.
Reports indicate that approximately 60-70% of cancer patients do not meet aerobic exercise guidelines and it is estimated that approximately 80-90% do not meet resistance exercise guidelines.
According to the COCA official statement, all people with cancer should progress towards and, once achieved, maintain participation in:
-at least 150 minutes of moderate-intensity or 75 minutes of vigorous-intensity aerobic exercise (e.g. walking, jogging, cycling, swimming) each week; and
-two to three resistance exercise (i.e. lifting weights) sessions each week involving moderate to vigorous intensity exercises targeting the major muscle groups.
Rebound, walk, run, bike, climb, surf, ski, lift weights, do yoga, karate, pilates, Jazzercise… just find a way to move your body 30-60 minutes every day!
Rebound exercise was an integral part of my daily anti-cancer exercise routine. It's the best exercise for your immune system. More about rebounding here.
Source
Reuters
…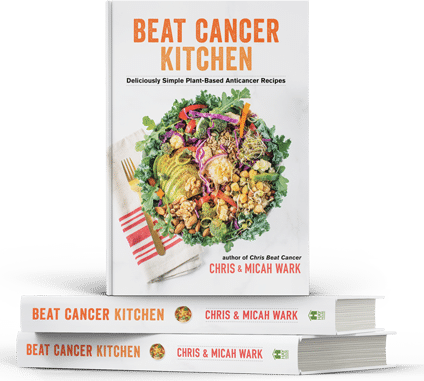 Beat Cancer Kitchen: My New Recipe Book,
Deliciously Simple Plant-Based Anti-Cancer Recipes
Get it on Amazon here
Beat Cancer Daily
365 Days of Inspiration, Encouragement, and Action Steps to Survive and Thrive
Get it on Amazon here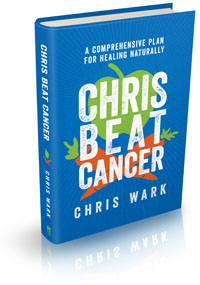 Chris Beat Cancer: A Comprehensive Plan for Healing Naturally,
published by Hay House, is a National Bestseller as ranked by USA Today, The Wall Street Journal, and Publishers Weekly!
Get it on Amazon here
, or anywhere books are sold.
I've interviewed over 60 people who've healed all types and stages of cancer. Check them out
here
. Or use the search bar to find survivors of specific cancer types.
I also created a coaching program for cancer patients, caregivers and anyone who is serious about prevention called SQUARE ONE. It contains the step-by-step strategies used by myself and everyone I know who has healed cancer with nutrition and natural, non-toxic therapies.
Watch SQUARE ONE Module 1 for free here
(((c)))
Chris Beat Cancer is reader-supported. If you purchase a product through a link on this site I may receive compensation from the affiliate partner (like Amazon). Your support helps fund this blog and my mission so my team and I can continue to do the work that we do. Thank you!