Heyo! Here's a brand new exclusive interview with my friend Liana Werner-Gray,
author of The Earth Diet, which comes out today!
Yes, my timing is impeccable.
In our interview we talk about the origin and principles of The Earth Diet, how Liana and her mother both used The Earth Diet to heal from cancer, and much more. Enjoy!
Why do I love The Earth Diet? Because it is the way that I eat! A diet rich in whole foods from the earth is the diet I chose to heal my body of cancer in 2004, and it saved my life.
This book has tons of amazing super healthy recipes. If you're looking for some new ideas (of course you are), get this book!
Also, even though The Earth Diet comes out today, I pulled a few strings so my readers can still take advantage of the pre-launch package deal, which includes…
-a signed copy of book + free shipping
-access to 3 live online webinar classes with Liana
-a money-saving shopping guide with $150 in coupons
-and a 1-hour audio featuring 101 weight loss tips
Go to http://theearthdiet.com to learn more, and use coupon code "chriswark"
to get the mega discounted price.
If you just want the book, get it on amazon.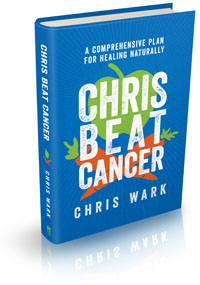 Chris Beat Cancer: A Comprehensive Plan for Healing Naturally,
published by Hay House, is a National Bestseller as ranked by USA Today, The Wall Street Journal, and Publishers Weekly!
Get it on Amazon here
, or anywhere books are sold.
I've interviewed over 60 people who've healed all types and stages of cancer. Check them out
here
. Or use the search bar to find survivors of specific cancer types.
Chris Beat Cancer is reader-supported. If you purchase a product through a link on this site I may receive compensation from the affiliate partner (like Amazon). Your support helps fund this blog and my mission so my team and I can continue to do the work that we do. Thank you!