Here's a video interview I did with Kelley Eidem,
natural cancer survivor and author of
The Doctor Who Cures Cancer: The Story of Dr. Emanuel Revici, MD .
Dr. Revici lived to 102!
In the interview Kelley and I discuss:
-Dr Revici's relatively unknown work and natural cancer treatment approach
-How to determine whether your body is in an anabolic or catabolic state
-What anabolic/catabolic means and how it relates to your specific anti-cancer diet
-What types of foods relieve cancer pain naturally (14:48)
-How Kelly used what he learned from Dr. Revici to heal his own cancer naturally. (19:31)
-Kelly's simple "Anti-Cancer Sandwich" featuring two very powerful cancer-fighting ingredients: Garlic and Habanero peppers.
At 34:38 we discuss the strange and remarkable pain relief some cancer patients are getting from an all natural homeopathic nasal spray called Sinus Buster.
I realize how bizarre this sounds, but the active ingredient in Sinus Buster is Capsaicin, which is what makes chili peppers hot.
FYI: Published clinical research on Capsaicin has shown it to be a pain reliever and to have very powerful anti-cancer effects:
-Capsaicin kills prostate cancer cells by causing apoptosis (cell suicide).
-Capsaicin inhibits prostate cancer tumor growth in mice by 80%.
-Capsaicin directly inhibits the growth of leukemic cells.
-Capsaicin triggers apoptosis in human lung cancer cells.
Those are just a few of the studies. (References at the end of this post)
So yeah, Capsaicin is pretty amazing stuff.
This is why I put cayenne powder on my giant salad and most everything I eat.
If you or anyone you know has cancer-related pain they should try Sinus Buster immediately. And please let us know what the results are!
Here's the interview
If you're interested in learning more about Dr. Revici's life and work,
read The Doctor Who Cures Cancer.
More about Kelly Eidem's research at http://kelleyeidem.hubpages.com/
Capsaicin References: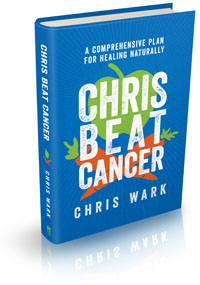 Chris Beat Cancer: A Comprehensive Plan for Healing Naturally,
published by Hay House, is a National Bestseller as ranked by USA Today, The Wall Street Journal, and Publishers Weekly!
Get it on Amazon here
, or anywhere books are sold.
I've interviewed over 60 people who've healed all types and stages of cancer. Check them out
here
. Or use the search bar to find survivors of specific cancer types.
I also created a coaching program for cancer patients, caregivers and anyone who is serious about prevention called SQUARE ONE. It contains the step-by-step strategies used by myself and everyone I know who has healed cancer with nutrition and natural, non-toxic therapies.
Watch SQUARE ONE Module 1 for free here
(((c)))
Chris Beat Cancer is reader-supported. If you purchase a product through a link on this site I may receive compensation from the affiliate partner (like Amazon). Your support helps fund this blog and my mission so my team and I can continue to do the work that we do. Thank you!