My name is Lori McFadden, and I was diagnosed with parotid salivary gland cancer, stage 1, grade 2, in July, 2005, at age 50. Diagnosis occurred during surgery to remove a small lump under my left jaw-line, which developed after a stressful final semester of university. However, it didn't really concern me until a year later, when pain began radiating from the lump. Prior to surgery, the ENT doctor did two needle biopsies that were false negatives for cancer. He wisely suggested surgery "just in case." This type of cancer often spreads to the nerves, then travels to lung and brain tissue to form new tumors. It was an important decision to have the surgery, and I had an excellent surgeon. This type of cancer often returns after 7 to 10 years. Mine came back after 6 years, but was beaten back through nutrition and anti-cancer supplements and hasn't returned in the past year.
After surgery, the ENT surgeon told me he "got it all." However, he was insistent that I talk to a local oncologist about having radiation. When this doc walked in for my appointment, he seemed all excited because he could see the dollar signs on my forehead. While walking out, I was strongly impressed that if I did as he said, I'd be dead within 5 years. He wanted me to do 7 weeks of radiation, 5 days per week. So I researched this type of treatment and discovered that radiation for parotid salivary gland cancer did not add one day to life expectancy. Chemo was not recommended, because the cancer was early stage. However, research also shows that there is no chemo that will increase life expectency for salivary gland cancer either. Yet, I've spoken with a man who was given chemo anyway for parotid salivary gland cancer.
Did you know that two-third's of oncologists' income comes from prescribing chemo drugs? Do you think that is perhaps a conflict of interest?
Also, I would not recommend scans with gadolinium, which is a radioactive metal used in contrast dyes for medical imaging. I was told it was harmless. Not true. I suffered with joint pain for several years, and had many visits to chiropractors for this reason. There's a class action lawsuit over the use of gadolinium.
What alternative therapies did you do and which ones helped you the most?
My father suggested that I read, "World Without Cancer," which I did, prior to refusing radiation treatments. Then I read dozens of other anti-cancer books, or parts of them, over the next 7 years. I had high-dose Vit. C & B intravenous therapy for about 20 treatments over several months after surgery. I was tested and found to be high in toxic metals. Intravenous chelation (10) caused me to become very ill, likely due to neurotoxicity in combining with the mercury in my body. I lost my ability to memorize for several years, but with supplements (bacopa, niacinamide, fish oil, 5-htp, and a dozen others), I am again able to memorize and recall information.
When I relapsed last year, I used the anti-cancer protocol of Miracle Mineral Supplement by Jim Humble, and the amorphous bulge in my neck disappeared. I also used it mixed with DMSO externally, rubbing it all over. MMS costs about $20 for a 2 year supply, and the FDA is trying to shut down suppliers because it works. I intend to use this as part of an anti-cancer regimen 3 weeks per year.
Exercise hard 45 min. (or more) per day, 5 to 6 days per week. I cycle, but do whatever exercise makes you happy.
Pursue relationships that increase your joy and contentment.
Also, nutrition is very important. Try to eat at least one cancer-fighting food at every meal, eat organic foods, use xylitol if you hate stevia, but avoid sugars, sodas, and learn how to make desserts that are tasty but don't harm your health. Avoid eating packaged foods with preservatives or high fructose corn syrup. Remember packaging doesn't tell you that foods such as corn, soy, potatoes, wheat flour and canola oil are all genetically modified and damage your health. Use expeller-pressed oils, especially olive oil and coconut oil (virgin expeller pressed of course!) in cooking and baking. Try organic popcorn popped in coconut oil for a healthier snack, or almonds soaked in vinegar sprinkled with Himalayan Salt. Yummm…good stuff!!
What books, products, and supplements do you recommend?
I would recommend a hair analysis through Dr. Alan Greenberg, chelation expert, and use of his chelation products to lower metal toxins in the body.
Books: "The Healing Code" helps with focused prayer to overcome internalized stressors.
Read the Bible for encouragement and to know where you're going when it's all said and done.
"God's Word for Your Healing," has daily devotions to give you confidence it's God's intention that you regain your health.
Suzanne Somers book, "Knockout," has all the latest cures.
The website for Life Extension allows you to sign up for $45, and you can speak to a naturopath anytime you like; plus as part of the package, you get a monthly magazine with good research info, as well as a huge health book.
Bill Henderson's books are great, and you can hire him as a coach.
Nature's Sunshine Paw Paw (patent given after Jerry McLaughlin's research at Purdue Univ.) helped my mom (along with other nutritional supplements) beat kidney ureter cancer last year.
Dr. Mercola's free on-line newsletter has been very helpful in learning the basics of living in a society that's forgotten what it means to eat real food.
Hallelujah Acres is about beating cancer, and has good products and recipes, especially for vegetarians. I am not – I shot and processed 4 deer, a large hog and a turkey last hunting season. I am from British Columbia, but now that I hunt, I'm officially Texan.
Remember to learn about the glycemic index and eat low glycemic foods.
Whey protein fruit smoothies just before or after exercise; juicing with fresh organic veggies; keeping your weight down, having friends that support and inform you and don't think you're crazy…these are also important.
If someone wants to reach me, they can use my email: l.mcfadden (at)  yahoo.com, but put "Parotid salivary gland cancer" in the subject line so that I know it's not junk email.
Chris's Comments:
Thank you for sharing your story Lori!  Lot's of great practical advice, supplements, books, and links listed above. Here's my endorsement!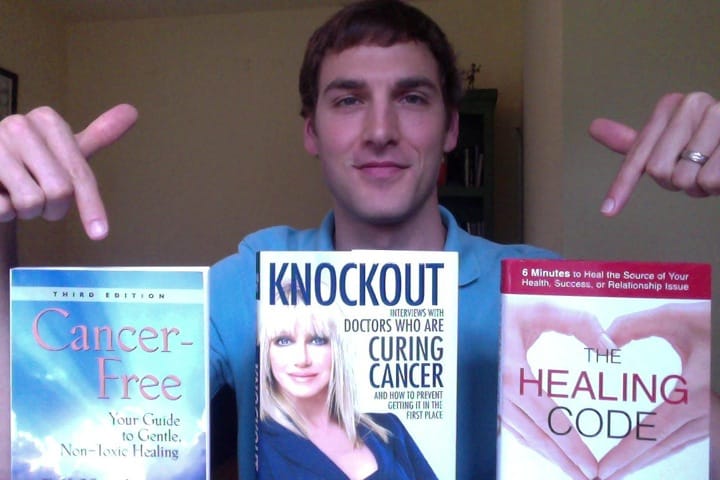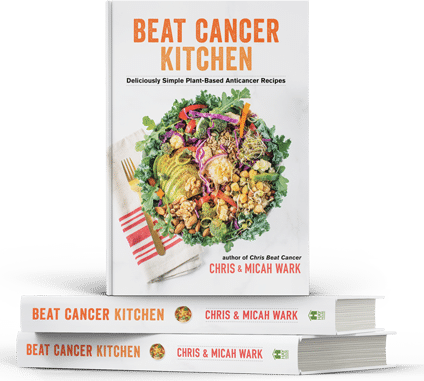 Beat Cancer Kitchen: My New Recipe Book,
Deliciously Simple Plant-Based Anti-Cancer Recipes
Get it on Amazon here
Beat Cancer Daily
365 Days of Inspiration, Encouragement, and Action Steps to Survive and Thrive
Get it on Amazon here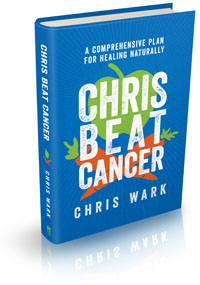 Chris Beat Cancer: A Comprehensive Plan for Healing Naturally,
published by Hay House, is a National Bestseller as ranked by USA Today, The Wall Street Journal, and Publishers Weekly!
Get it on Amazon here
, or anywhere books are sold.
I've interviewed over 60 people who've healed all types and stages of cancer. Check them out
here
. Or use the search bar to find survivors of specific cancer types.
I also created a coaching program for cancer patients, caregivers and anyone who is serious about prevention called SQUARE ONE. It contains the step-by-step strategies used by myself and everyone I know who has healed cancer with nutrition and natural, non-toxic therapies.
Watch SQUARE ONE Module 1 for free here
(((c)))
Chris Beat Cancer is reader-supported. If you purchase a product through a link on this site I may receive compensation from the affiliate partner (like Amazon). Your support helps fund this blog and my mission so my team and I can continue to do the work that we do. Thank you!