May 17, 2012
Today Fox 13 Memphis aired a news story about my decision to fight cancer with nutrition and natural therapies instead of chemo.
As you know the media can easily edit anything you say to make you look like a fool,
so I was a bit apprehensive about how it would turn out…
But surprise, it was really great!
And I think my mom got more camera time than me LOL!
But it's cool, cause she's awesome.
At one point in the segment you will see me chopping vegetables with some sexy saxophone music in the background.
For the record, I have not, nor will I ever, chop vegetables to sexy saxophone music.
Also it comes across a bit like I'm against all doctors, but I'm not. I'm am deeply grateful to gastroenterologist Orin Davidson, surgeon Dr. Guy Voeller; integrative oncologist the late Dr. Roy Page; and Naturopath Dr. John Smothers.
Big thanks to Fox reporter Lauren Johnson for doing such a terrific job with this.
Update June 9, 2012:
Three weeks after this story aired it was completely deleted from the Fox 13 News site!
The story had thousands of likes on Facebook and was one of the most popular on their website. Why would they take it down?
My guess is they got a few angry phone calls from big money advertisers in the medical industry, specifically the local cancer clinics.
Remember: Advertisers control the media. If it wasn't for advertising dollars, the news would be off the air. And the pharmaceutical and medical industry are some of the biggest advertisers around. News stations will do whatever it takes to keep their advertisers happy.
This is a perfect example of how information about nutrition and natural therapies is suppressed.
The Cancer Industry does not want you to be able to heal yourself!
Fortunately I found the video on a third party site called redlasso.com and embedded it here.
Update July 17, 2013
So I today I just noticed that the video was missing…
I did a google search for it and came up with nothing.
I'm going to try to get a copy from the news station.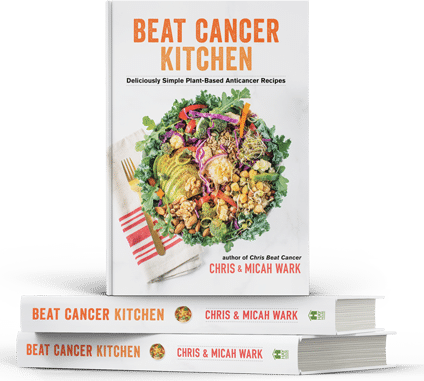 Beat Cancer Kitchen: My New Recipe Book,
Deliciously Simple Plant-Based Anti-Cancer Recipes
Get it on Amazon here
Beat Cancer Daily
365 Days of Inspiration, Encouragement, and Action Steps to Survive and Thrive
Get it on Amazon here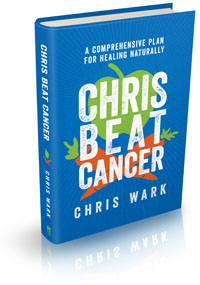 Chris Beat Cancer: A Comprehensive Plan for Healing Naturally,
published by Hay House, is a National Bestseller as ranked by USA Today, The Wall Street Journal, and Publishers Weekly!
Get it on Amazon here
, or anywhere books are sold.
I've interviewed over 60 people who've healed all types and stages of cancer. Check them out
here
. Or use the search bar to find survivors of specific cancer types.
I also created a coaching program for cancer patients, caregivers and anyone who is serious about prevention called SQUARE ONE. It contains the step-by-step strategies used by myself and everyone I know who has healed cancer with nutrition and natural, non-toxic therapies.
Watch SQUARE ONE Module 1 for free here
(((c)))
Chris Beat Cancer is reader-supported. If you purchase a product through a link on this site I may receive compensation from the affiliate partner (like Amazon). Your support helps fund this blog and my mission so my team and I can continue to do the work that we do. Thank you!