Ginger Rollins, 50 years old …. I was diagnosed with Stage 3-4 Brain Tumor June of 2010 with an MRI taken.
I was sent to have surgery to have it removed two days later. They told my children and family I would not live for more than 6 months. I WALKED out of the hospital within 5 days. I was then sent to Duke Hospital for analysis. I was told I would have to take chemo and radiation for 6 weeks. I started the chemo and radiation procedure. I stopped the chemo after 3 weeks because my intuition said so. I finished the radiation. Then was told I would need to go on 15 months of chemo to keep it from coming back. I said no and was told, "Well I guess you just want to die, don't you."
I said, "Yes" and walked out the door.  Then I researched and started alternative therapies.
Now I feel wonderful !!!!
What alternative therapies did you do and which ones helped you the most?
Alkaline diet:
Breakfast most days was a Smoothie: blueberry, strawberries, hemp seeds, coconut oil, juice mixed
Lunch: Greens and mixed veggies …. sometimes with meat of choice
Dinner: Lots more greens ( kale.. collards… some wild greens ) with regular dinner of veggies and meat
Vitamins and Minerals
GNC for Women's Mulitvitamin… I needed iron too (2x day)
Enzymatic Therapy – Doctor's Choice Antioxidant (3 x per day)
1000mg of fish oil from the Zoolies health food store  (2 x day)
Combination Calcium, Magnesium, Zinc with D3 and K2 from Zoolies.(2x per day)
Bio Source Melatonin at night, usually one tablet to sleep
Colloidal Silver was taken at the beginning  for 14 days,  2x a day (not taking it now)
Essiac Tea one cup, 3 x a day
B17 Apricot Kernels started with three kernels 3x per day, added more till I was taking 30 per day.
I take Source Naturals Essential Enzymes once daily at dinner for digestion
Probiotics: At night I take three Jarrow Formulas – Jarro-Dophilus + FOS
What books, products, and supplements do you recommend?
Cancer: Step Outside the Box by Ty Bollinger
Look up "alternative therapy for cancer" on the internet… lots of great websites and groups
DETOX … mental, EMOTIONAL, and physical
Are there any contact details or links you would like to share?:
Contact me at my email address gingermrollins (at) charter.net or www.facebook.com/gingermrollins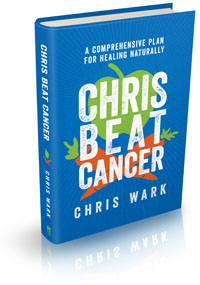 Chris Beat Cancer: A Comprehensive Plan for Healing Naturally,
published by Hay House, is a National Bestseller as ranked by USA Today, The Wall Street Journal, and Publishers Weekly!
Get it on Amazon here
, or anywhere books are sold.
I've interviewed over 60 people who've healed all types and stages of cancer. Check them out
here
. Or use the search bar to find survivors of specific cancer types.
I also created a coaching program for cancer patients, caregivers and anyone who is serious about prevention called SQUARE ONE. It contains the step-by-step strategies used by myself and everyone I know who has healed cancer with nutrition and natural, non-toxic therapies.
Watch SQUARE ONE Module 1 for free here
(((c)))
Chris Beat Cancer is reader-supported. If you purchase a product through a link on this site I may receive compensation from the affiliate partner (like Amazon). Your support helps fund this blog and my mission so my team and I can continue to do the work that we do. Thank you!