Nicola. Aged 40 at diagnosis, January 2010.
Stage IIb/IIIa invasive ductal carcinoma of the breast. 2 tumours measuring 2.5cms combined. Onset of Pagets disease of the nipple. Widespread DCIS. ER/PR positive. HER negative. Grade 2. 1 of 33 lymph nodes involved.
I had a mastectomy followed 2 weeks later by a full axillary clearance. The 2nd op was a difficult decision to make, as I'd already started to research alternatives and understood that the allopathic way wasn't for me.
My breast team recommended chemo/radiotherapy and Tamoxifen which I rejected.
What alternative therapies did you do and which ones helped you the most?
Initially I found a UK based ex-oncology nurse (Patricia Peat) who has a fantastic database of alternative doctors. She recommended High Dose IV Vitamin C, hyperthermia and lymphatic drainage, all of which were great.
My good friend is a naturopath and educated me about diet, nutrition, detoxification, coffee enemas and supplementation. I follow an alkaline, vegan diet, high in raw green veg, but took time over the elimination process. First to go was gluten, sugar, dairy, salt and alcohol. (Eggs and yoghurt were the last to go).
I bought a juicer, and water filter (reverse osmosis and ionizer) immediately, and changed every product that I put on or in my body (toothpaste, body cream etc)
Later came FIR Saunas and hydrogen peroxide treatments.
Finally I found an amazing hypnotherapist who changed my world (I needed to stop sabotaging my healing with old beliefs that I wasn't good enough) and a functional doctor (Dr Robert Jacobs) who is returning my body to health through specific supplementation.
I've recently had minimal residual disease and chemosensitivity tests (Nicola Hembry) done via a lab in Greece (the latter to see which natural compounds my cancer responds to – vitamin C and hyperthermia interestingly being 2 of the best at instigating apoptosis).
I take natural Tamoxifen equivalents in the form of Jarrow BroccoMax and Calcium D-Glucarate, plus lots of raw broccoli, to balance my hormone levels.
Yoga, dry brushing, breathing and relaxation are also important, although I need to step up my exercise regime. I have 2 children, and for me it's been important to approach my healing at a pace which doesn't feel overwhelming or impossible.
I have regular thermograms rather than mammograms.
What books, products, and supplements do you recommend?
The Biology of Belief: Unleashing the Power of Consciousness, Matter, & Miracles – Bruce Lipton
Healing the Gerson Way: Defeating Cancer and Other Chronic Diseases – Charlotte Gerson
Anticancer: A New Way of Life – David Servan Schreiber
Knockout: Interviews with Doctors Who Are Curing Cancer – Suzanne Somers
https://www.facebook.com/thewellnesswarrior
https://www.canceractive.com/cancer-active-page-link.aspx?n=834
https://chrisbeatcancer.com (Thanks for the endorsement Nicola!)
https://drhyman.com/
https://www.yestolife.org.uk/
I'm happy to share doctors/therapists names to anyone who is based in the UK.
I realise that it's early days for me, and I wouldn't label myself as 'cured'. To be honest, I see my healing journey as ongoing, and I've never felt 'weller'. I know from the minimal residual disease test that I have cancer stem cells in my blood/system. The aim is to keep these cells stable at the current level, or ideally reduce them, but the reality is that I will continue to live with cancer (rather than die of cancer). I believe that if I keep my internal environment alkaline I can achieve this.
Here's my blog
https://www.growingthroughcancer.blogspot.co.uk
:)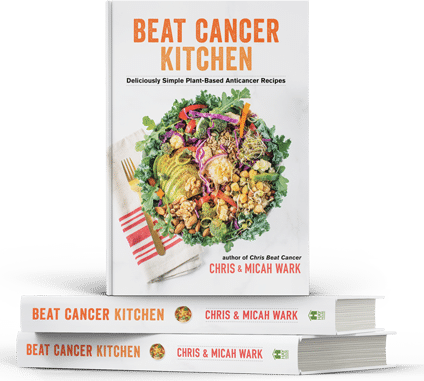 Beat Cancer Kitchen: My New Recipe Book,
Deliciously Simple Plant-Based Anti-Cancer Recipes
Get it on Amazon here
Beat Cancer Daily
365 Days of Inspiration, Encouragement, and Action Steps to Survive and Thrive
Get it on Amazon here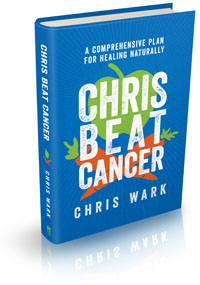 Chris Beat Cancer: A Comprehensive Plan for Healing Naturally,
published by Hay House, is a National Bestseller as ranked by USA Today, The Wall Street Journal, and Publishers Weekly!
Get it on Amazon here
, or anywhere books are sold.
I've interviewed over 60 people who've healed all types and stages of cancer. Check them out
here
. Or use the search bar to find survivors of specific cancer types.
I also created a coaching program for cancer patients, caregivers and anyone who is serious about prevention called SQUARE ONE. It contains the step-by-step strategies used by myself and everyone I know who has healed cancer with nutrition and natural, non-toxic therapies.
Watch SQUARE ONE Module 1 for free here
(((c)))
Chris Beat Cancer is reader-supported. If you purchase a product through a link on this site I may receive compensation from the affiliate partner (like Amazon). Your support helps fund this blog and my mission so my team and I can continue to do the work that we do. Thank you!