"You are what you eat, drink, breathe, think, say and do."
-Patricia Bragg
"Patricia – Love you so much! Your Apple Cider Vinegar is my Secret of ALL Secrets!"
-Katy Perry
Dr. Patricia Bragg ND, PhD is the head of Bragg Live Food Products, one of my FAVORITE organic brands, founded by the legendary health pioneer Paul Bragg, whose 100+ year impact on the health of millions of people is mind-boggling. I consume at least one of the following Bragg products at every meal:
–Bragg Apple Cider Vinegar
–Bragg Sprinkle
–Bragg Sea Kelp Delight
–Bragg Nutritional Yeast
Lifelong health crusader and nutritionist to the stars, Dr. Patricia Bragg is a 5 ft tall GIANT in the health and wellness world. She has never smoked cigarettes, drank alcohol or coffee, taken an aspirin, had a vaccine, or worn a bra. She's in her 80's, with perfect vision and perfect teeth, and still travels all over the world.
Patricia is sweet, funny and brilliant, and this interview is chock full of life and health wisdom, and some fascinating celebrity stories. Enjoy!
Listen to the podcast on iTunes
Listen to the podcast on Stitcher
Or watch it right here!
-When Steve Jobs called [1:20]
-The Bragg Healthy Lifestyle [4:15]
"Taking a nap in the middle of the day gives you two days in one." [6:15]
-Clint Eastwood [11:00]
-How Bragg mentored J.I. Rodale the founder of Rodale Publishing, Organic Gardening Magazine, Prevention, Men's Health, Runner's World, and many more. [11:40]
-How Paul Bragg changd Jack LaLane's life. [14:00]
-How Jack Lalane influenced me [19:00]
"When you take charge of your own life—physically, mentally spirtually emotionally—you become your own captain and you direct your life to be fulfilled—healthy, happy and doing what you love to do." [21:00]
-Apple Cider Vinegar [21:30]
-The exercise she's used to keep her breasts perky her whole life [26:48]
-The 100 year legacy of Bragg Food Products [28:00]
How she eats when she travels [31:00]
-Bill Gates and Vaccines [35:00]
-On going barefoot [35:45]
-Conrad Hilton [36:30]
-Proper toilet posture [39:15]
-Her advice to cancer patients [42:00]
-Katy Perry [45:00]
-The state of American health [47:30]
-The best way to deliver a baby [49:00]
You can find all of Bragg's products on amazon
Recommended Reading
The Miracle of Fasting
Apple Cider Vinegar: Miracle Health System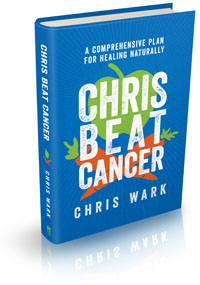 Chris Beat Cancer: A Comprehensive Plan for Healing Naturally,
published by Hay House, is a National Bestseller as ranked by USA Today, The Wall Street Journal, and Publishers Weekly!
Get it on Amazon here
, or anywhere books are sold.
I've interviewed over 60 people who've healed all types and stages of cancer. Check them out
here
. Or use the search bar to find survivors of specific cancer types.
I also created a coaching program for cancer patients, caregivers and anyone who is serious about prevention called SQUARE ONE. It contains the step-by-step strategies used by myself and everyone I know who has healed cancer with nutrition and natural, non-toxic therapies.
Watch SQUARE ONE Module 1 for free here
(((c)))
Chris Beat Cancer is reader-supported. If you purchase a product through a link on this site I may receive compensation from the affiliate partner (like Amazon). Your support helps fund this blog and my mission so my team and I can continue to do the work that we do. Thank you!