Question:
Hi Chris, I just watched Food Matters last night. What are your thoughts/overall views on:
– the Gerson Therapy.
– high-dose vitamin therapy (to prevent and treat cancer), if viewed positively, aren't vitamins contained in chemical-laden capsules with harmful preservatives for the average budget-conscious consumer?
– raw food diet
– being prescribed medication by doctors
I'm always disturbed by the suspicion that big business, government, and some doctors are profiting off our our illnesses and deaths. Sad and scary.
Thanks in advance for your time.
-Jenn
Answer:
Hi Jenn!
I like Foodmatters a lot. It's a great film about raw food and natural medicine.  I own it and think everyone should watch it.
I love Max Gerson and the Gerson Therapy.  He was a pioneer in cancer therapy by using natural methods to detox the body and boost the bodies ability to heal itself.  Survivors like me are the fruit of his labor.  Huge fan.  There are several books and movies about Max Gerson and his therapy HERE.
High Dose Vitamins
I actually did high-dose Vitamin C IVs, where I sat in a chair for four hours and got huge amounts of Vitamin C pumped straight into my veins!  A lot of alternative therapy cancer clinics use this treatment as an immune system booster.
As far as supplements go, you have to be careful, there are a lot of crappy quality vitamin and supplement brands that I wouldn't touch.  Vitamins can be synthesized in a laboratory.  That's not the kind you want.  Look for Organic Whole-Food Supplements.  Not isolated vitamins.  Vitamins work synergistically and are more effective when they are combined in proper ratios like you find them in fruits and vegetables.  Here's the easiest way to understand whole food supplements:  Imagine juicing some organic veggies, then dehydrating that veggie juice into a powder, then putting that powder into a capsule.  That is a whole food supplement.  The nutrients are not chemically altered and basically remain in an absorbable state.
My favorite whole food supplement brand is Garden of Life.
The Raw Food Diet
I'm a big fan of the raw food diet, especially if you are sick, or just want to detox.  I adopted it strictly for a time in my anti-cancer plan and still consume a lot of raw food now.  I wrote a post about it HERE.  Some metabolic types don't do as well on a 100% raw food diet and need a little animal protein like me.  I recommend everyone try the raw food diet for at least a few weeks or months to see how they feel.  It may be something you do for a season, or for the rest of your life.  Either way, the more raw fruits and vegetables you can incorporate into your diet every day, the better.
Prescription Drugs
This deserves a huge post and will get one someday, but generally speaking most prescription medications do not help your body heal.  They only alleviate symptoms.  Those are the type of medicines that I believe can do more harm than good in the long run.  75% of diseases are diet related, but most people would rather take a pill for their indigestion than stop eating Burger King and drinking Pepsi.  Many medications create a lifetime of dependance and cause additional side effects the longer you take them, which require more medications, which cause additional side effects, and on and on.   Read my rant about Restless Leg Syndrome HERE.
Chemotherapy is the worst of all "medicines" because it is pure poison and actually causes cancer.  See my post Why I Didn't Do Chemo.
I personally know a woman who had Crohn's Disease.  The doctors told her they couldn't stop the Crohn's Disease and prescribed medication to help with the pain and discomfort.  They also told her that in a few years, as the disease got worse, she would need to have her intestines removed and have a colostomy bag put in.  She got on the raw foods diet ten years ago and is fine today!  That's just one example of thousands.
I do not take any medications, nor does my wife, or our children. This is a sensitive subject as we all know lots people who take prescription drugs.  If anyone reading this is taking something meds now, don't quit cold turkey.  Please let me encourage you to research natural healing methods and work with your doctor to get well and get off the drugs.
Coming full circle here, God's Way To Ultimate Health is a book full of testimonials from people with every affliction imaginable who have see incredible healing results with the raw food diet.  The information in that book was profoundly influential in my decision not to do chemotherapy.
Big Business
You are abosolutely right.  The pharmaceutical and medical industry definitely profits off of sick people.  They wants us to believe that drugs and surgery are the only solution to illness, because they can't patent and sell natural remedies.  And simply telling you to change your diet and exercise definitely doesn't make them any money.
That being said, If I ever break a bone, somebody better get me to a hospital and on some pain pills quick!
Please LIKE and Share. Add your thoughts below!
----------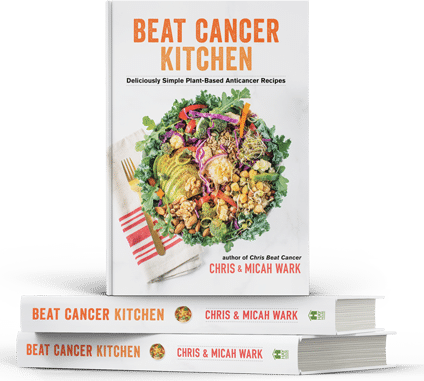 Beat Cancer Kitchen: My New Recipe Book, Deliciously Simple Plant-Based Anti-Cancer Recipes. Get it on Amazon here

----------
Beat Cancer Daily 365 Days of Inspiration, Encouragement, and Action Steps to Survive and Thrive. Get it on Amazon here

----------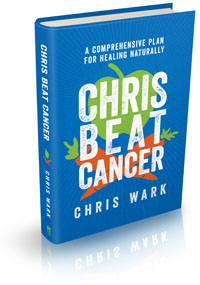 Chris Beat Cancer:
A Comprehensive Plan for Healing Naturally, published by Hay House, is a National Bestseller as ranked by USA Today, The Wall Street Journal, and Publishers Weekly! Get it on Amazon here or anywhere books are sold.
I've interviewed over 60 people who've healed all types and stages of cancer. Check them out here. Or use the search bar to find survivors of specific cancer types.
I also created a coaching program for cancer patients, caregivers and anyone who is serious about prevention called SQUARE ONE. It contains the step-by-step strategies used by myself and everyone I know who has healed cancer.
Watch SQUARE ONE Module 1 for free here
(((c)))
Chris Beat Cancer is reader-supported. If you purchase a product through a link on this site I may receive compensation from the affiliate partner (like Amazon). Your support helps fund this blog and my mission so my team and I can continue to do the work that we do. Thank you!